A-10 Conference Volleyball Schedule

How Competitive is the A-10 This Year?

In the A-10 Conference volleyball race to the championship title, all
eyes are on Dayton.
---
Dayton Flyers

---
---
Davidson 
---
---
Duquesne Dukes

---
---
Saint Louis Billikens

---
The A-10 Conference volleyball schedule officially begins for Saint Louis
on September 27 against Duquesne.

---
VCU Rams

---
Picked to finish 4th in the preseason poll new coach Jody Rogers is
looking to continue her successful Division II record by building a
winning tradition at VCU.
---
George Washington Colonials

---
---
Rhode Island Rhodies

---
---
George Mason Patriots

---
---
Fordham Rams

---
---
La Salle Explorers

---
---
Check out more Volleyball Schedules in the pages below:
---
Return to Volleyball Schedules For Preseason Division I Tournaments
From A-10 Conference Volleyball Schedule

Return To Improve Your Volleyball Performance From
A-10 Conference Volleyball Schedule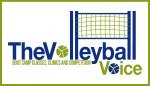 The Volleyball Voice
Boot Camp Class, Clinics and  Competition
Stupak Recreation Center, 251 W. Boston, Las Vegas, Nevada, 89142
Home to the Volleycats Elite Volleyball Club