The Ball Used In Volleyball
The Official Volleyball Ball

Just what are the characteristics of the ball used in volleyball?
Always round, the indoor ball is made of leather or plastic and usually
has anywhere from 8 to 18 rectangular shaped panels that are placed in
various sections and are wrapped around the bladder.
---
What Volleyball Ball Brands
Are The Most Popular?

---
Several volleyball ball manufacturers have grown in prominence and
popularity in the last 50 years.
---
Volleyball Ball Tachikara

---
Best known for their colorful balls, funny ads and innovative
commercials, Tachikara is a 96-year-old Japanese company that
produces volleyball balls and balls for other sports along with specialized
athletic equipment.
The Tachikara SV-5W is the official ball used in volleyball competition in
the NAIA.
The NAIA college volleyball ball specifications for this ball are:
Circumference: 25.6 - 26.4 in./65.02 - 67.06 cm.
Weight: 9.1 - 9.8 oz./257.98 - 277.83 g
Cover: Premium Leather
Construction: Dual Bladder Construction Bladder: Butyl
According to Mike Campbell, NAIA Vice President for Marketing and
Corporate Partnerships "Tachikara is a special partner and supporter of
the NAIA and consistently delivers quality products and exceptional
customer service to our member institutions."
62 years ago, Tachikara used new technology to produce a seamless b
all which revolutionized the sporting good industry.
Previously, sporting good manufacturers produced their balls by hand
stitching them. 
Tachikara wanted to set themselves apart from their volleyball ball
brands, which they did by "pioneering their proprietary Single Unit
Construction method for manufacturing of athletic balls to improve the
spherical shape, air retention, rebound, and overall durability."
Tachikara has sought to elevate their volleyball ball brand by positioning
their company as an innovative leader that uses cutting-edge design,
manufacturing, materials and supply of innovative and quality products
with unparalleled values to propel the brand to a respected and
empowered position within the industry.
---
Volleyball Ball Mikasa

---
Mikasa is the ball used in volleyball competitions, both indoor and beach
that are sponsored the Fédération Internationale de Volleyball, also
known as the FIVB.
Besides being the international governing body for the sport of volleyball
the FIVB's main activity is to plan and organize worldwide volleyball
events.
They also are responsible for defining qualification procedures and
developing the formulae of competition for international volleyball
tournaments they organize such as the Olympics, World Championships,
World Grand champions Cup, World Cup the Men's World League
tournaments, the Women's World Grand Prix volleyball tournaments, Club
World Championships and of course the SWATCH Beach Volleyball World
Tour.
They also organize international youth volleyball tournaments including
the Men's Under-21 Junior World Championships, the Women's Under-20
Junior World Championships, Boys Under-19 Youth World Championships
and the Girls' Under-18 Youth World Championships.
According to Mikasa "it all starts with the ball."
Mikasa was first founded in Hiroshima, Japan in 1917.
In 1973, the company set up headquarters in California where they
continued establishing their reputation in volleyball.
Mikasa claims to understand the passion it takes to be an athlete and
their intended goal is to pair that level of passion with the best
technology in order to make the best ball possible.
In 2006, the Federation Internationale de Volleyball and the Mikasa
Corporation entered into a new contract to make MIKASA's indoor and
beach volleyballs the official game volleyball ball for all the FIVB
volleyball tournaments for 2009 through 2012 including the London
Olympic Games.
---
Volleyball Ball Molten

---
Founded in 1958 and based in Hiroshima Japan, Molten is one of the
world's largest ball and sports equipment manufacturer. Molten USA,
Inc. was established in 1983 to bring these quality  volleyball sports
balls to the U.S. marketplace.
Originally located in Southern California, Molten USA moved to northern
Nevada in 1988.
Four years ago Molten signed a four year contract extension with the
NORCECA federation which is due for renewal in 2014.
NORCECA stands for the North, Central American and Caribbean
Volleyball Confederation and Molten has agreed to supply the ball used
in volleyball competitions.
In addition, to being the official volleyball ball of NORCECA competitions,
Molten is the official ball of USA volleyball in addition to numerous state
associations, collegiate programs and junior programs.
The National Collegiate Athletic Association selected
Molten as the official championship game volleyball ball of the NCAA
Division I, II and III Women's Championships and the National Collegiate
DI and DIII Men's Volleyball Championship.
The Molten IV58L-N Super Touch volleyball featuring the unique NCAA
inspired blue, silver white color combination is used at all Division I, II
and III Women's Championships.
The NCAA and Molten began their partnership in 2005 and according to
Molten USA president Melissa Dawson "It is obvious that both partners
share common goals and philosophies when supporting the growing sport
of volleyball."
For the record, the NCAA is a member-led nonprofit association of
colleges and universities committed to supporting academic and athletic
opportunities for more than 400,000 student-athletes at more than
1,000 member colleges and universities.
Each year, more than 54,000 student-athletes compete in NCAA
championships in Divisions I, II and III. 
In November 2010, Molten was selected to be the official volleyball ball
by the Puerto Rican Volleyball Federation.
For all of its beach and indoor volleyball competitions  both parties
agreed to work together to spread the sport of volleyball throughout the
island and to assist in the development of all categories of Puerto Rican
volleyball.
Besides the use of the Molten volleyball ball for the Superior Leagues
and the use of exclusive models for the different minor divisions, Molten
will also be the exclusive ball for all the beach volleyball events.
---
Volleyball Ball Wilson

---
Wilson has been very busy these last few years building and expanding
their brand in sand and collegiate volleyball circles.
In a truly original move Wilson has sponsored some of the top American
beach volleyball athletes in the world.
Wilson is proud to sponsor a staff of the top professional volleyball
players in the world, including two-time gold medalist Kerri Walsh-
Jennings, April Ross, Cayley Thurlby, Jake Gibb, and Sean Rosenthal.
This past December, Wilson extended their partnership with three-time
Olympic gold medalist Kerri Walsh until 2017, the year after she
attempts to earn her fourth Olympic gold medal.
Wilson has been on a spree creating partnerships with the California
Beach Volleyball Association providing the ball used in volleyball
competitions sponsored by the CBVA.
They also joined the AVCA agreeing to provide them with the ball used
in volleyball events in the sand and sponsored by the American
Volleyball Coaches Association.
Return To Inspiring Female Volleyball Players in Pictures from The Ball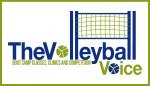 The Volleyball Voice
Boot Camp Class, Clinics and  Competition
Stupak Recreation Center, 251 W. Boston, Las Vegas, Nevada, 89142
Home to the Volleycats Elite Volleyball Club