College Volleyball Player Carly Sahagian 
College volleyball player Carly Sahagian is interviewed by
Improve Your Volleyball.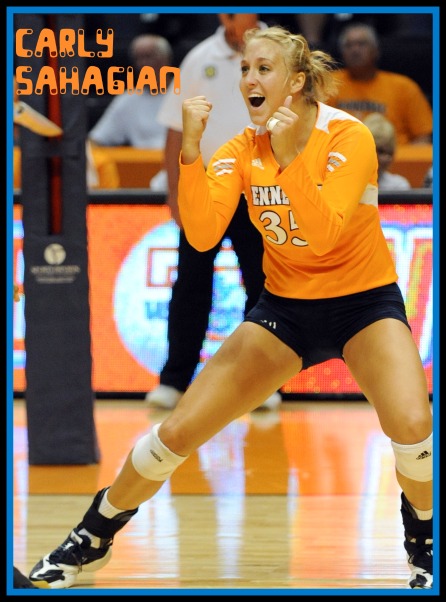 photo courtesy of UT Media Relations
Improve Your Volleyball: What makes you special?
 
My friends and family are what make me special. They have given me
nothing but courage and positive support that created opportunity
after opportunity for me.  
Improve Your Volleyball: What accessories and/or equipment
help you play your best?
My ankle braces keep me balanced and safe from injuries. Also, I can
never have enough bobby pins to keep my hair out of my face.
Improve Your Volleyball: What pregame habits, rituals, or
superstitions do you have to do before every game?
Along with dancing in the locker room and a pep up speech from the
coach, before every game I listen to my iPod that is set to shuffle and
also I study my scouting report of our opponent.
I learned at a young age that superstitions don't hold true
for me. 
Improve Your Volleyball: Who or what inspires you to play well in
each volleyball match that you play?
My mom, dad, and brother inspire me to play my best and hardest in
each game.
My parents have supported me through everything that I have been
through. My older brother is another role model that I look up to when
it comes to volleyball and even in everyday life.
His confidence, strength, and energy he shows on the court come
from playing with nothing but heart. As a volleyball player, I think
heart is the most essential attribute to any game.
What did inspiring college volleyball player Carly Sahagian  do this week? 
Carly Sahagian was voted the Southeastern Conference Offensive
Volleyball Player of the Week by the leagues head volleyball  coaches.
Sahagian tallied 31 kills, 26 digs, three blocks and two services aces
against South Carolina and Florida
Recording double-doubles in both matches, Carly registered a
career-high 19 kills along with 13 digs at the University of Florida,
while registering 12 kills and 13 digs against the University of South
Carolina.
So far for the season, Carly has a hitting percentage of .343, has
registered five double-doubles and ranks seventh in the league
If you are a fan of inspiring volleyball player  Carly Sahagian or the
Tennessee Volunteers volleyball team then scroll down to read more
inspiring stories like this one .