Girls Volleyball Camps
Summer Volleyball Camps For Girls Are Growing In Specialization And Popularity

Girls Volleyball Camps Are Offered at Parks, Gyms And Recreational Facilities All Over The Country
Every year, collegiate team coaches host their own university volleyball
camp on their school campus like the popular University of Texas
volleyball camps, led by Longhorns Head coach Jerritt Elliott

or the Penn State volleyball camp headed by director Russ Rose,
head coach of the Penn State Nittany Lions Volleyball Team.

---
Penn State Head Coach Russ Rose
photo by Penn State News

---
University volleyball camps take place during the summer months
of June, July and August and usually offer two types of camp
experiences.

---
Commuter Camps

---
There are a variety of camps a university coach will offer, first let me
talk about the type called commuter camps.
Commuter camps offer local and area players the ability to commute
back and forth from there nearby and surrounding area neighborhoods to
the school or university camp site location on a daily basis.
During the winter months, players will pre-register online and pay to
attend all three days of camp which they will attend by travelling to and
from their home with parents or car pools with teammates arranged by
their high school coaches.

Most camp directors and camp organizers will offer an early bird 
deadline date by which players can pay camp registration and fees at a
lower price.
---
University of San Francisco Hosts Girls Volleyball Camps On Campus
photo by Shaun Calhoun

---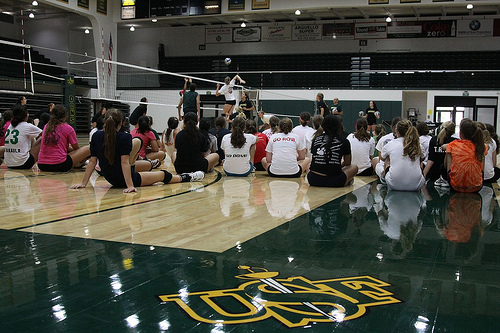 After that particular date then fees for camp registration will go up and
attendees will have to pay more to attend that volleyball camp.

Commuter camp prices will vary depending on what university camp you
attend but they will almost always be lower than what you pay for
overnight residential camps.

---
Overnight Residential Camps

---
Bring your sleeping bag and stay a while!

The college volleyball camp offers commuter camps which are
targeted to local school teams and area players while the overnight
residential camps allow out-of-state teams and players who live further
away to register and participate in the university volleyball camp
experience.
Overnight residential camps allow players to stay on the university
campus overnight to sleep in the dorms after the one-a-day,
two-a-day or three-a-day volleyball practice sessions have
concluded each day.

Participants paying for overnight residential housing at these girls
volleyball camps get to see what its like to sleep in a college dorm and
to live for three days on campus as if they were a college student.

For high school volleyball players interested in attending a certain
college or university, this is an awesome way they can attend one of
the girls volleyball camps hosted by that school, to get a feel for what
its like to be on that campus and get up close and personal with the
school's players.

Overnight residential campers, in many cases will pay twice as much as
commuter campers since they are paying to sleep and sometimes eat on
the campus premises.
---
Click here to see a listing of volleyball camps for 2014
hosted by Division I NCAA coaches.

---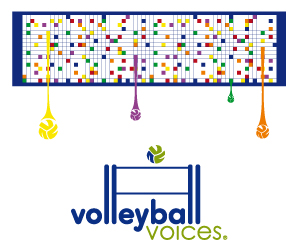 ---
Olympians Host Girls Volleyball Camps Nationwide

---
There are other summer volleyball camps scheduled in various cities all
over the country that are conducted by current and former professional
players like the Misty May Treanor Dream in Gold camps and the Pat
Powers VB Clinics which sell out regularly.
The reputation of these gold medal winning Olympians helps fill their girls
volleyball camps to maximum capacity and are often sold out for months
in advance.
---
                  The Nike Volleyball Camp

---
There are independent organizations hosting their own annual
girls volleyball camps during the summertime like the Nike Volleyball
Camps, held in numerous states throughout the country.
Nike offers overnight residential camp options where their sessions
are hosted on the campuses of various colleges and universities in
California, Connecticut, Florida, Illinois, Indiana, Massachusetts,
Michigan, Mississippi, Missouri, New Jersey, New York, North Carolina,
Pennsylvania, Texas, Virginia, Washington and Wisconsin.
---
All American Volleyball Camps

---
In 2012, I hosted the first All American Volleyball Camp in Las Vegas and
I will be hosting three more coed volleyball camps in 2014 scheduled for
the late July, early August and one week before school starts, the third
week in August at the Stupak Recreation and Dula Recreation Centers
here in Las Vegas.
---
Girls Volleyball Players at the
2013 Las Vegas All American Volleyball Camps

---
All American Volleyball Camps were created in the 1990s by Steve
Pickering, one of the former assistant coaches at the University of
Tennessee Knoxville who coached me when I was a player there in
college. 

Steve came up with a unique format for his girls volleyball camps.
He only hired former All American collegiate players, All Conference
players and/or professional volleyball players who travelled to conduct
camps on location at high schools or middle schools in Arizona, Colorado,
Florida, Georgia, Illinois, Indiana, Michigan, Missouri, Montana,
Nebraska,  New York, Ohio, Oregon, Pennsylvania, Texas and
Washington.

Steve offers a three-day skills camps for individual campers and teams
with 15 hours of instruction that's tailored to a coach's specific needs.

The All American Volleyball camp advantage is that campers save on the
usual travel, food and lodging camp fees since AAVB are satellite camps
where the instructors come to your school or neighborhood to conduct
camp sessions which saves you money. 
I loved my experience working as an All American Volleyball Camp coach
where I travelled to Alaska, Oregon and Washington to conduct camps
for several years.
---
Beginner Volleyball Camps

---
Don't want to commute to a three day volleyball camp everyday?

Most beginner volleyball players aren't use to the rigorous schedule of 8
hour or 15 hours of instruction offered in most girls volleyball camps.
There are numerous youth volleyball camps that offer one day and half
day sessions for elementary aged players as well.
The girls volleyball camps offered to young players usually have larger
sized volleyballs made with softer leather and organizers lower the
height of the net so shorter and younger players enjoy the game thanks
to the modified equipment.
Although there are a growing number of volleyball camps for adults and
for elementary age kids, the majority of girls volleyball camps are offered
to middle school and high school aged players.
---
Basic Volleyball Skills Camps
---
As a young player, if this is your first experience, you may want to
attend a basic skills camp.
These come in all forms and you should expect to learn all the basic
volleyball skills like setting, serving, passing, spiking,defense and
blocking in three, sometimes two sessions throughout the
day for one, two or multi-day camps.
---
Advanced Skills Camps

---
Girls volleyball camps for players with advanced skills are usually three
or more days like the High Performance volleyball camps hosted by USA
Volleyball.

With three-day camps you'll find that there are 15-18 training hours so
that's a morning and afternoon session that lasts for three hours while a
four-day camp averages 21 to 24 or more training hours.
One of the first things to expect as a camper is to be selected by the
camp coaches in a group of other players based on your skill level.
Once you are in your group then you and the other girls should all have
about the same skill level so that you all can participate in skill-
appropriate drills.
This way you won't get discouraged easily because you've been placed
with a group of players that have a lot more experience than you do, or
you won't get bored because you are grouped with players who don't
play as well as you do.
Being placed in a group with other players that have the same skill level
as you do makes it easier to make friends and to enjoy the camp
experience also!
---
Volleyball Team Camps
---
There are volleyball team camps for high school junior varsity and
varsity girls that are designed to offer team building activities, skill
development, team drills for offensive and defensive systems and often
end with a volleyball tournament for participants.
Team camps allow coaches to get coaching lessons and to ask "how to"

questions about offensive and defensive strategies, rotations and new
volleyball drills that the camp coach can teach the school coach. 
---
Middle School Volleyball Day Camp
---
Middle school volleyball day camps are for girls with little experience
and who want to learn the game. 
They usually serve as an introductory camp that focuses on all of the
basic skills, volleyball rules and concepts of the game. 
One-day positional skills camps present a less expensive
option, if you don't want to attend an overnighter and is ideal for the
young player looking for more specialized training in a specific
position.
These types of girls volleyball camps are usually available for
players entering grades 6-12 with varying amounts of training and
experience.
Players are usually grouped by age and ability and receive training and
drill instruction specific to a particular skill.
What's great about these types of camps is that they are usually more
affordable than overnight camps.
---
Volleyball Setters Camps

---
A setters camp is one of those girls volleyball camps where players
concentrate on setting techniques and training repetitions in footwork,
decision making, leadership and various play sets.
For advanced instruction, young female players are trained in advanced
concepts that typically include setting various quick sets and running a
volleyball team offense.
---
Libero Volleyball Camps
---
One day or multi-day libero volleyball camps are available to those
players who are concerned about their defense and back court game.
The defensive volleyball instruction covers forearm
passing, serve receive, individual defensive techniques and team
defensive systems.
Your goal when you attend this type of clinic is to be able to play the
back row successfully, regardless of the regular position you play.
---
Volleyball Boot Camps
---
Girls volleyball players can even attend volleyball boot camps
that offer opportunities for you to radically improve your talents.
There are some boot camps that may offer sessions for volleyball
video breakdown and review, movement training, and a lot of
competition and group games.
Players learn how to improve their ball control, increase ball delivery
accuracy and expand their repertoire of specific skills.
You'll find that a lot of boot camps are offered in late July and early
August, so that girls volleyball players can get off on the right foot for
their high school volleyball team season.
I offer my own series of boot camp classes and clinics year round here
in Las Vegas at Stupak Recreation Center.

---
---
Check out more information about
local volleyball camps in the pages below.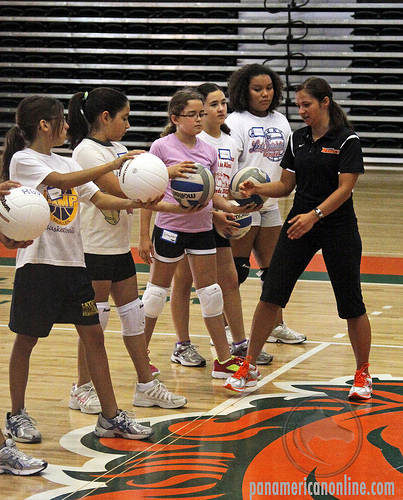 Youth Volleyball Camps for Hitters

Las Vegas Volleyball Boot Camp For High School Players

---
---
Return To Volleyball Summer Camps From Girls Volleyball Camps
Return To Inspiring Female Volleyball Players in Pictures From Girls
---
Head Caption Photo by Panamericanonline.com

---