Iowa State Cyclones Volleyball Player Hannah Willms
Iowa State Cyclones volleyball player Hannah Willms Improve Your Volleyball interview
Iowa State Cyclones volleyball player Hanna Willms answered some
interview questions for Volleyball Voices.
Improve Your Volleyball: What makes you special?
I keep going after it. Even when a match isn't going well, I'll continue
to cheer the team, even if we're down by ten points in a set.
Improve Your Volleyball: What accessories and/or equipment help you play your best?
We always try to pick the best looking "white" jerseys. Some of them
are off-pink (bleeding from the red accents and lettering).
Improve Your Volleyball: What pregame habits, rituals, or superstitions do you have to do before every game?
I always do my hair and my makeup before I go onto the court. We
dance around the locker room and listen to music to get ready for the
games.
Improve Your Volleyball: Who or what inspires you to play well in each match that you play in?
My teammates. I feel we all keep each other accountable and none of
us want to let the others down. They really push me to do my best.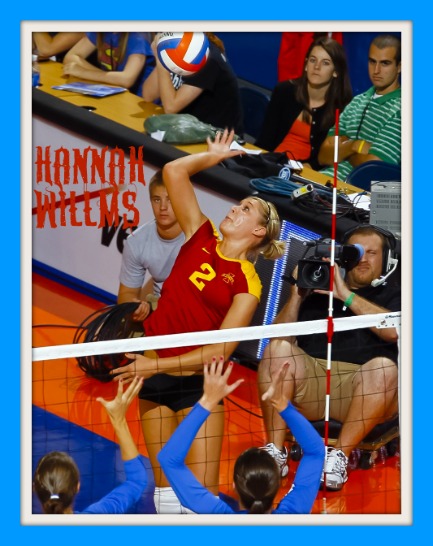 What did inspiring Iowa State volleyball player Hannah Willms do this week? 
Hannah Willms was voted the Big 12 Conference Freshman Volleyball
Player of the Week by the leagues head volleyball  coaches.
Iowa State volleyball redshirt freshman Hannah Willms has been named
the Big 12 Rookie of the Week, which marks the first conference honor
for Willms.
Last month Hannah was named the Big 12 Preseason Newcomer of 
Willms hit .340 and averaged 3.50 kills per set last week while
assisting the No. 16 ranked Iowa State Cyclones to a 2-0 conference start
with three-set victories over Missouri and Texas Tech 
Hannah was second on the team with 21 kills during the week and 
added two blocks each against the Tigers and Red Raiders.
With the conclusion of the first week of Big 12 conference play, Willms 

ranks in the top 10 in the league in kills per set (ninth), hitting 
percentage (10th) and points (10th)
So far with 11 matches this season, Willms has posted four matches 
with at least 10 kills and recorded her first double-double with 12 kills 
and 12 digs in the Cyclones' win over No. 9 Florida on Labor Day.
Discover More Improve Your Volleyball.com Interviews
If you are a fan of inspiring Iowa State Cyclones volleyball player 
Hannah Willms or the Cyclones volleyball team then here's a 
chance to read even more inspiring stories in the pages below.
University of Illinois Volleyball Player Erin Johnson

Iowa State Cyclones Volleyball Player Hannah Willms

University of Kansas Volleyball Player Tayler Tolefree

LSU Womens Volleyball Player Meghan Mannari

TCU Volleyball Player Kristen Hester

Xavier University Volleyball Player Aubree Smith

College Player Amanda Vialpando

UC Irvine Volleyball Player Kristin Winkler

UCF Volleyball Player Rachel Vukson

Texas State University Volleyball Player Amari Deardorff

University of Miami Volleyball Player Lane Carico

Hofstra University Volleyball Player Kelsie Wills

University of Dayton Volleyball Player Rachel Krabacher

University of Dayton Volleyball Player Megan Campbell

UWM Volleyball Player Morgan Potter

Cal Poly Volleyball Player Jennifer Keddy
College Volleyball Player Carly Sahagian
Colorado State Womens Volleyball Player Katelyn Steffan
Inspiring College Volleyball Player DeeDee Harrison
Inspiring USC Girls Volleyball Player Kendall Bateman
Lamar University Volleyball Player Sierra Whitaker
Liberty Volleyball Player Lillie Happel

Liberty Volleyball Player Loren Thomas
Long Island University: Annika Foit
Michigan Girls Volleyball Players Lexi Dannemiller
Northern Illinois University: Lauren Wicinski
Penn State Girls Volleyball Player Katie Slay
University of Denver Faimie Kingsley
University of Houston: Katie Norris

University of Memphis: Hajnalka Molnar