Local Volleyball Camps Build Confidence
Volleyball College Camps Offer 
Offseason Training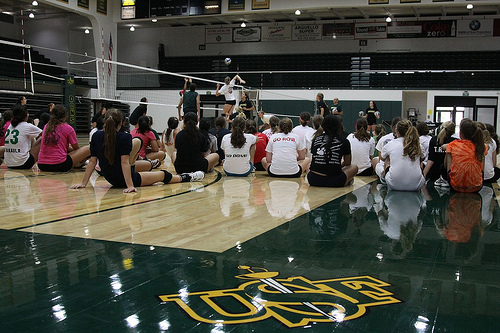 Local Volleyball Camps: Increased Registration Due To The Variety Of Camps Offering Specialized Off Season Training

Camps for volleyball have become so specialized that regardless
of what grade a player is in, or whether you are a beginner or
advanced, youth, middle school, high school junior varsity or varsity
player, it is possible to find a volleyball camp specifically for your
situation.

Let me clarify.
That means that despite whatever position you may play
or if you want to participate in a camp by yourself or attend one with
your school team, it is possible to find a camp or a clinic that fits your
needs.
When I went to camp, practically all of the college and local volleyball
camps being offered for high school players were "all" skills training
camps lasting three days and offering three three-hour sessions for a
total of nine hours of volleyball a day.
That meant that by attending only one camp I learned about all six
basic volleyball skills in that three day camp.

That was then.
Times have changed and so have the many different local volleyball
camps currently being offered on college campuses around the country.
And when I say all over the country, I mean all over the entire country
because everybody seems to be offering camps  for volleyball these
days, from high schools who find ways to keep their teams training
together to qualified collegiate coaches to current and former
professional players who fill their down time with classes and clinics that
Now, parents have a smorgasbord of options where they can send their
daughters and sons who are interested in learning the game, because
there are beginner volleyball camps for new players or college volleyball
camps for players who are looking for advanced training in order to 
Its just a matter of picking the right one that meets your goals.

---
Local Volleyball Camps For Liberos

---
For example, local volleyball camps for liberos are for defensive
specialists, liberos and players who want to learn about improving their
What's usually taught at these types of camps are individual and team
defense skills and strategies,
Defensive specialists also learn how to serve and where to serve a
volleyball for maximum points and effectiveness.
Most importantly liberos and back court players learn new drills and
ways to improve their serve receive along with the
technique and skill it takes to consistently pass the ball in a way to set
up the offense.
Here's what I think is pretty cool about these local volleyball camps
for liberos and players who want to play in the back court positions.
Liberos, who are usually the shortest players on high school volleyball
teams around the city or in many cases around the country, will register
to attend these local volleyball camps and they will find themselves
surrounded by other short or shorter volleyball players.
---
University of Texas San Antonio Volleyball Libero In Defense
photo by Michael E. Johnston

---
These volleyball players get to see how important and integral they are
to the success of their team and they get to reinforce each other's
confidence and learn to support and teach each other how to
appreciate their own and each other's abilities.
---
Butler Volleyball Libero Passing A Ball
photo by R. Leslie Dalmore

---
Local volleyball camps for liberos, like other specialized camps are
important places for volleyball liberos and defensive specialists to find
each other, share stories and experiences, to bond and to learn from
each other's successes and mistakes.  
---
Butler Volleyball Team Celebrating A Point With Their Libero
photo by R. Leslie Dalmore

---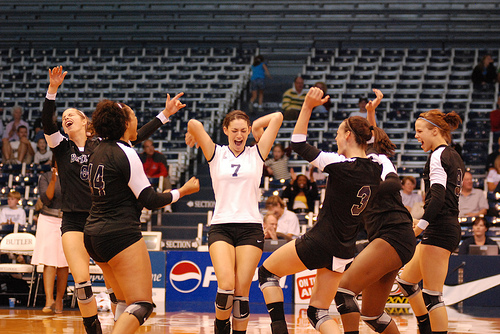 After all, playing volleyball, is learning about teamwork and building self
esteem and self confidence, right?
This way if you are a libero at one of these local volleyball camps you'll
be surrounded by other liberos and defensive specialists.
You can share and compare stories, you can bond and vent with other
liberos like yourself, you will learn things from each other, cry together
and create long lasting friendships.
---
The Most Frequently Asked Question
From Short Volleyball Players

---
Shorter female volleyball players especially young ones who have such a
high level of competitiveness and desire to play, but are
surrounded by tall girls, which often makes them feel self conscious, out
of place and has them questioning whether their contributions and
role on their team is valuable, often ask me one question.
The question is "Can short girls play volleyball and can they make a
difference?"
Yep, they sure can. And there are roles like the libero volleyball position
that they can excel in and be great at.
Another volleyball position to consider playing is that of the setter.
---
Local Volleyball Camps For Setters

---
Michigan Volleyball Setter

photo by Joy Van Buhler

---
If you're a parent with a volleyball setter in your household, then you
might want to look into sending her to one of the volleyball setter
camps being offered on local college campuses nationwide.
What's cool about attending one of these local volleyball camps for
setters on a college campus is that often one of the coaches on the
camp staff is the current college team's setter or the coach of that
Talk about putting yourself in a great position to get valuable feedback
about your skills!
Or how about getting all those questions answered that you always
wanted to ask a collegiate coach or player if you were to meet one in
person?
Young volleyball setters can expect to learn the fine points of running a
team's offense, they learn how to deliver different types of volleyball
sets and , how to outsmart the opposing team's block and they should
also receive tips on how to be a leader on the court since the setter in
volleyball is considered the quarterback of the team.
Click here to learn more about volleyball setter camps.
---
Local Volleyball Camps For Hitters

---
We can't talk about local volleyball camps and leave the hitters and
blockers out.
---
Creighton Volleyball Hitter Against A Double Block
photo by White and Blue Review

---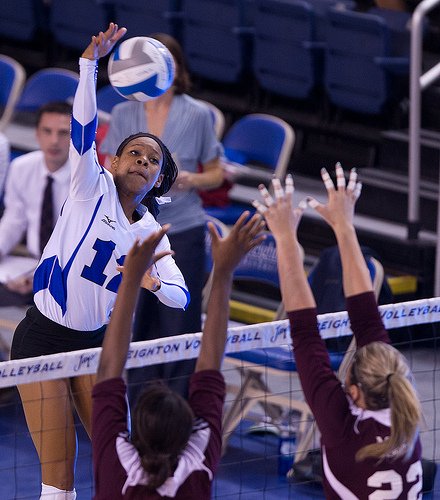 Hitters can learn more about their craft at local volleyball camps
especially the ones created specifically to train front row specialists,
which are the players in the hitting and blocking positions.
If you want to get even more focused training, some college coaches
offer outside hitter volleyball position camps and middle hitter volleyball
camp sessions and clinics as well.
---
Villanova Volleyball Hitting Warm Ups
photo by Charlie J

---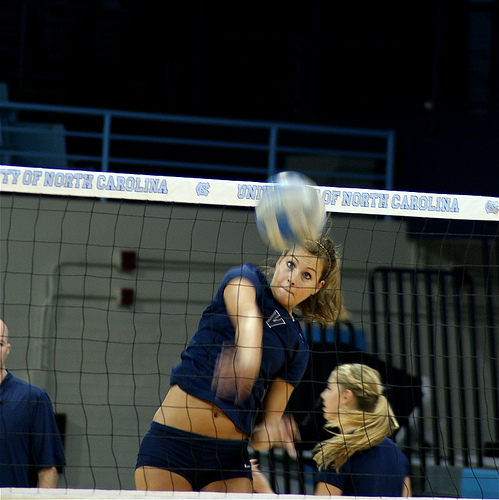 This quite often is the place where the taller volleyball girls on the team
learn how to bring the heat, they learn how to be aggressive and they
learn the importance of consistency.
Volleyball hitting and blocking techniques are covered and quite often
the setter clinic or camp is run concurrently so that hitters and setters
learn how they should work together in the front row.
Here's another benefit for players if you plan on sending yours to
one of these hitter/blocker camps.
Being the tallest girl on the volleyball team in high school may or may
not always be the most confidence building thing to do if you're a
female pre-teen or teen.
Remember those years full of doubt and uncertainty? I don't know about
you but I stuck out from the crowd because I was 5' 10' by the time I
was 14 when all my other friends were shorter.
5' 10" these days in some places is relatively short, so consider the 12,
13, or 14 year old who is six feet tall or taller?
Guess where you or your daughter can go to be surrounded by volleyball
girls that are as tall as she is, that have the same interests, that think
and act like her and with whom she can bond with, on all sorts of levels.
---
Butler Volleyball Team Celebrating A Point
photo by R. Leslie Dalmore

---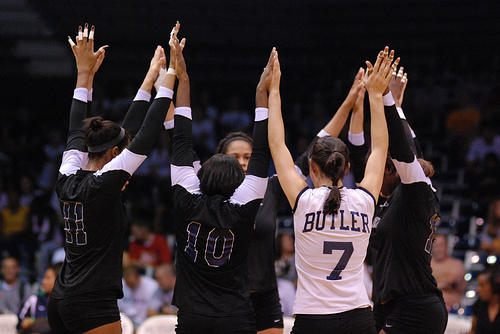 At that age, volleyball players are looking for other players that
they have something in common with and if you or your daughter, sister
or teammate is six feet tall, just being around other six footers can do a
lot for her or their own inner sense of girl power and self appreciation.
---
Local Volleyball Team Camps

---
There are commonly two types of local volleyball team camps.
There are those that take place on a college volleyball campus and are
attended by middle school teams or high school teams with coaches
who want their players to work together on practicing their
offensive and defensive strategies while receiving feedback
from college camp staff.
The other type of team camp is called a satellite camp.
A relatively recent "invention' by college volleyball teams, a satellite
camp is where a staff made up of collegiate team coaches and players
comes to your location and conducts a personalized camp experience
just for your team or players who've signed up to attend this satellite
camp event.

By your location, I mean your middle school or high school can host a
college volleyball camp staff on their school premises.
This type of camp can be tailored to your team's needs.
I call this type of volleyball camp the "a la carte camp" because high
school coaches can ask the college camp staff to focus on specific
skills after they've covered basic volleyball skill training.
Another added benefit of satellite camps is that the host school can
invite neighboring school teams and players to participate as well, which
may reduce the costs for the host school and its participants.
---
Skill Improvement At
Local Volleyball Camps
---
Improving volleyball skills is not the only reason you would consider
attending one of the college volleyball camps taking place around the
country this summer.
This is a great opportunity for young volleyball players to see
first hand what its like to be on a college campus, play in a college gym
and meet members of the college team, who often make up the majority
of the college camp coaching staff.
Its a great way to see if that is the school or university that she would
be interested in attending in the future.


Being able to ask questions about the university experience, both from
an athletic and academic standpoint goes a long way towards helping a
young player decide where they might consider going to school.
Attending one of these youth volleyball camps may also increase the
chances of a player meeting the camp director who often may happen
to be that college volleyball team's head coach.
And this concept works both ways, the head coach gets the chance to
see how a particular camper practices and plays as well.
Are you considering which volleyball camp you may want to attend this
summer?
---
Check out more information about
local volleyball camps in the pages below.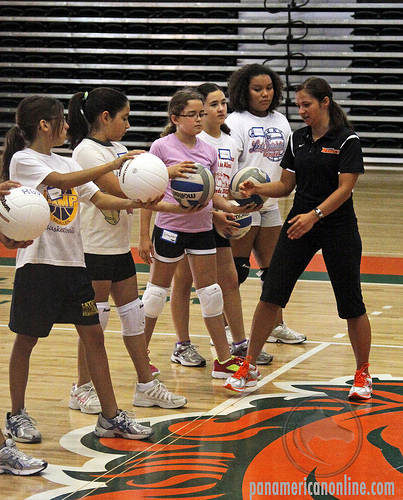 Youth Volleyball Camps for Hitters

Las Vegas Volleyball Boot Camp For High School Players

---
Return To Inspiring Female Volleyball Players in Pictures From Local
---
Headline Caption Photo of USF Volleyball Summer Camps
photo by Shaun Calhoun
---