Missouri Valley Conference Volleyball Schedule

The top three teams picked in the Missouri Valley Conference preseason
coaches poll
Missouri State
were last season's conference runner ups Wichita State,
followed by Northern Iowa who received three votes in the national
AVCA Preseason Volleyball coaches poll and Missouri State.
Wichita State, ranked 24th in the country, was the only Missouri Valley
Conference team to receive enough votes to be ranked in the AVCA
Preseason Volleyball Coaches Poll Top 25 teams in the country.
---
Northern Iowa

---
The Utah Classic is the first tournament of the season with teams from
Fairfield, Utah State and Utah competing in Salt Lake City on August 30
- 31.
Iowa State is next as Northern Iowa plays their first home match on
September 4, followed by a trip to Fargo, North Dakota for the NDSU
Doublewood Inn Classic with Wisconsin, Louisville along with North
Dakota State on September 6 - 7.
---
Wichita State Shockers
---
Photo by Michael E. Johnston

---
Creighton Jays
---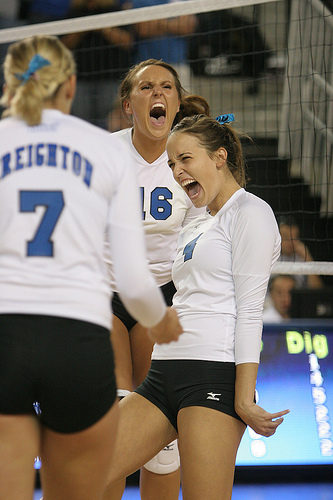 Photo by White and Blue Review

---
Missouri State Bears

---
---
Drake Bulldogs

---
---
Illinois State Redbirds

---
The IUPUI tournament is the first event for the Redbirds on August 30 -
31 with Florida Gulf Coast and VCU coming to Indianapolis.
Photo by Bill Shaner

---
Evansville Purple Aces

---
---
Southern Illinois Salukis

---
---
Indiana State Sycamores
---
---
Bradley Braves



---
---
Loyola Ramblers

---
---
Check out more Volleyball Schedules in the pages below:
---
Return To Volleyball Schedules From
Missouri Valley Conference Volleyball Schedule
Return To Improve Your Volleyball Performance From
Missouri Valley Conference Volleyball schedule