Northern Illinois University Volleyball Player Lauren Wicinski

Northern Illinois University volleyball player Lauren Wicinski answered
some interview questions for Volleyball Voices.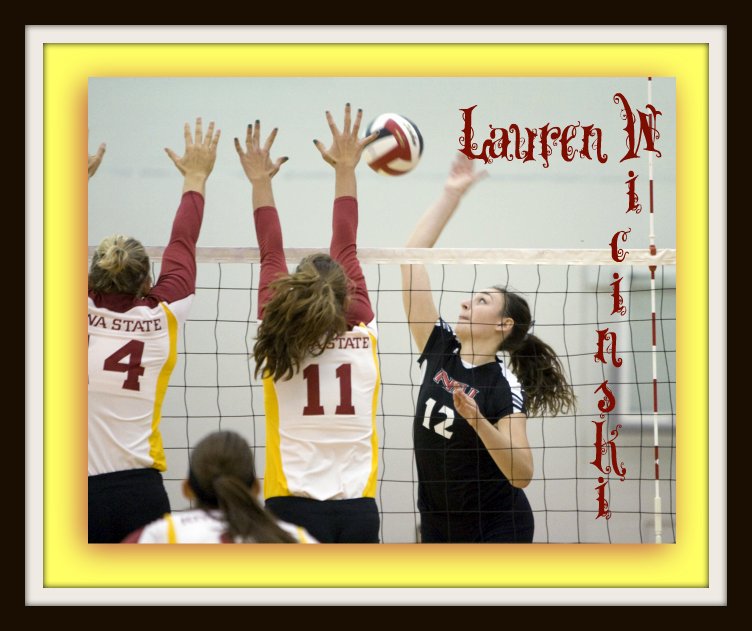 Volleyball Voices: What makes you special?
I think what makes me special is how I have always grown up with the
love of volleyball. My mom played volleyball at NIU.  
So from a young age I would always watch her play in adult leagues and
she would take me to NIU matches.
She showed me her love for volleyball and I wanted
it to be my love as well. I also think what makes me special is the way
that I can keep improving my game to help the team. I think that I am
able to learn new things about the game and I am able to take that to
the next level.
Another thing that makes me special is my mentality
during a game. I am there to win and I will do everything that I can so
that our team can get a victory.
 


Volleyball Voices: What accessories and/or equipment help you
play your best?

My headband, ribbons, kneepads and ankle braces.

Volleyball Voices: What pregame habits, rituals, or superstitions
do you have to do before every game?

I always listen to the same songs on my iPod to get me pumped up for
games and I always have to wear my ankle braces on the same foot.  
They can never change feet.  Also, one important pre-game ritual is the
dance party that goes on in the locker room.  It has to happen before
every match.

Volleyball Voices: Who or what inspires you to play well in each
volleyball match that you play?
I think my team inspires me to play well in each volleyball match
because I want to win the match for others. I want the team to work
together as a unit to win the match. I also think the goal of winning a
MAC championship is always in my mind and makes me try to perform my
best.
Volleyball Quote about Lauren Wicinski
"It's nice to see Lauren and the NIU volleyball program honored like
this," said NIU head coach Ray Gooden.  "Lauren played really well in our
first conference weekend against two solid teams in Central and
Eastern.  Her teammates did a nice job of creating opportunities for her
to score and she was able to put balls away like she's been doing her
whole career."
-NIU head coach Ray Gooden
What did inspiring college volleyball player Lauren Wicinski  this week? 
Lauren Wicinski was voted the Mid American League Volleyball Player of
the Week by the leagues head volleyball  coaches.
Wicinski led the Huskies to a 1-1 record in their first conference
weekend as she totaled 48 kills (6.86/set) and spiked for .287 adding
four aces in two matches.
In a 3-0 victory over Central Michigan, Lauren registered  21 kills and
scored a .452 hitting percentage, in addition to adding two aces.
In Northern Illinois' four set loss to Eastern Michigan, she garnered a
season-high 27 kills and served up two aces.

With back-to-back 20-kill matches, Lauren has reached the 20-kill mark
seven times this season.
As a 2010 All-American and CVU.com Freshman of the Year honoree,
Wicinski currently, leads the Mid American Conference in kills (5.40/set)
and aces (0.62/set), while ranking 10th in hitting percentage (.309).  As
of Sept. 18, she ranks second in the nation in kills and sixth in aces.
What did inspiring college volleyball player  Lauren Wicinski  do the next week?


Lauren Wicinski, was named the West Division Offensive Player of the Week

Wicinski came up huge for the Huskies in their first conference road
weekend as she totaled an astounding 64 kills (7.11/set), hitting .420,
along with 29 digs (3.22/set), and six aces in nine sets over two
matches.
In a tough 3-2 loss at Ball State, she had 25 kills, hit .345, notched a
season-high-tying 19 digs, and added three aces.
In a 3-1 win at Toledo, she registered a career-high 39 kills, hitting
.484, while adding 10 digs and three aces for her third straight double-
double and 10th of the season.
Her kill total against UT was one shy of the NIU record set in 1999, six
short of the MAC record and most in the league since 2003, and eight
away from the NCAA record established in 1997.
She is now 14 kills away from reaching the 1,000-kill plateau as a
sophomore.
If you are a fan of Northern Illinois University volleyball player Lauren
Wicinski or of college volleyball in general then check out more inspiring
stories in the pages below.
University of Illinois Volleyball Player Erin Johnson

Iowa State Cyclones Volleyball Player Hannah Willms

University of Kansas Volleyball Player Tayler Tolefree

LSU Womens Volleyball Player Meghan Mannari

TCU Volleyball Player Kristen Hester

Xavier University Volleyball Player Aubree Smith

College Player Amanda Vialpando

UC Irvine Volleyball Player Kristin Winkler

UCF Volleyball Player Rachel Vukson

Texas State University Volleyball Player Amari Deardorff

University of Miami Volleyball Player Lane Carico

Hofstra University Volleyball Player Kelsie Wills

University of Dayton Volleyball Player Rachel Krabacher

University of Dayton Volleyball Player Megan Campbell

UWM Volleyball Player Morgan Potter

Cal Poly Volleyball Player Jennifer Keddy
College Volleyball Player Carly Sahagian
Colorado State Womens Volleyball Player Katelyn Steffan
Inspiring College Volleyball Player DeeDee Harrison
Inspiring USC Girls Volleyball Player Kendall Bateman
Lamar University Volleyball Player Sierra Whitaker
Liberty Volleyball Player Lillie Happel

Liberty Volleyball Player Loren Thomas
Long Island University: Annika Foit
Michigan Girls Volleyball Players Lexi Dannemiller
Northern Illinois University: Lauren Wicinski
Penn State Girls Volleyball Player Katie Slay
University of Denver Faimie Kingsley
University of Houston: Katie Norris

University of Memphis: Hajnalka Molnar


Return To College Volleyball Player Interviews From Inspiring College
Volleyball Player Lauren Wicinski


Return To Inspiring Female Volleyball Players From Inspiring College
Volleyball Player Lauren Wicinski