Poko Pano Brazilian Bikinis  
The Perfect Beach Volleyball Bikini
Poko Pano Brazilian bikinis are perfect for smart and fashionable beach
volleyball girls.
These bikinis are some of the most popular on the market today.
Remember that the next Olympics in 2016 will be in Rio de Janeiro Brazil,
so between now and then its a good idea to get use to the Brazilian
style bikini which tends to show a bit more leg and derriere.
---
Mercedes-Benz Fashion Week Swim 2013
---
Prominently featured in the 2011 Sports Illustrated Swimwear edition
these bikinis, look good, feel good and work well for savvy beach
volleyball girls looking to make a statement on the beach scene this
summer.   
You'll find these Poko Pano Brazilian bikinis come in solid, in color blocks,
exciting shades and innovative prints that will complement all
different skin tones especially those tanned naturally or by the sun.
Offering great bikini options for beach volleyball girls after they are done
competing,  many Poko Pano styles offer the Brazilian cut bottoms
which often offer less than moderate coverage, perfect for the well-
traveled, fun-loving beach girl looking to improve her tan or just show
off her great physique.  
---
Are you shopping for
Poko Pano Brazilian bikinis?
---
Did you come to this page because you were shopping for
volleyball apparel, shoes, beach volleyball bikinis or equipment?
Great! Then you've found the right place.
Here is my disclosure about this section. Read it before you get
started.
In this section dedicated to shopping for volleyball apparel some of
the pages contain affiliate links.
This means, if you buy a product after clicking my link, I might be paid
a "commission" on the sale. I may also earn money from
advertisements appearing on my blog.
I just wanted to let you know that and I thank you in advance for
your time and consideration.
Speaking of shopping, check out the stuff you can
buy on this site...
---
 Junior's Monkey Print Bikini Set
---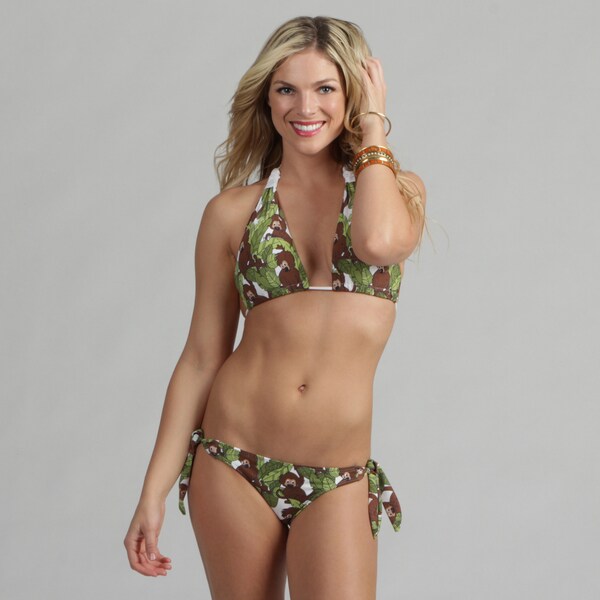 Celebrate the spirit of exotic adventure with the whimsical monkey bikini
from Pako Pano.
The adjustable halter is so comfortable it can be worn during any
activity.


Monkey print
Adjustable halter top
Tie closure
Fully lined
Double-tie side bottoms

Fully lined

Juniors
Junior's Monkey Print Bikini Set
---
Junior's Pineapple Striped Bikini Set
---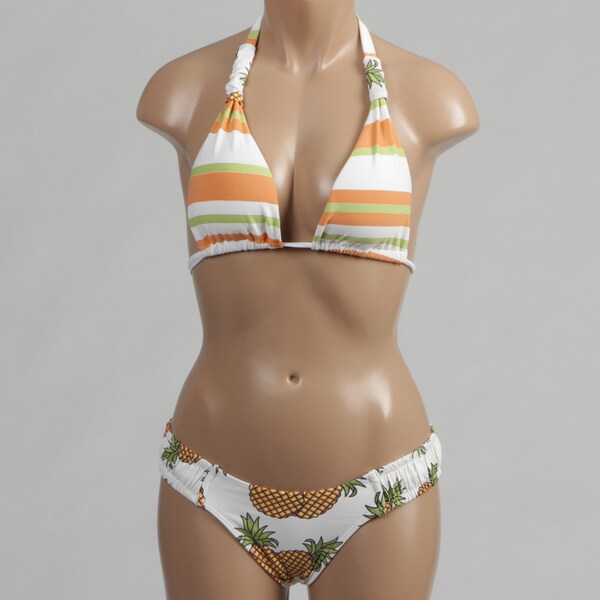 The striped adjustable halter top includes pads and the bottoms feature
a whimsical pineapple print.
Striped top, pineapple print bottoms
Tie closure at back and neck
Halter top includes pads
Junior's Pineapple Striped Bikini Set
---
Julia Print Push-Up Bikini in Black
---
Poko Pano offers high quality, unique and innovative swimsuit designs
with a great fit!
This bikini features a push-up top with an adjustable front, back clasps,
and ties at neck or over the shoulder.
The hipster is fully lined and has ruched sides.
Tops Size Chart: XS = A, S = A-B, M = B-C, L = C-D Brazilian Cut
Bottom Size Chart: S = 00-0, M = 2-4, L = 4-6
Fabric Content: 83% Polyester, 17% Spandex Details: Push-up Top,
Adjustable Front Tie, Back Clasps, Versatile Ties at Neck or Shoulder,
Hipster with Ruched Sides Bottom Fit: Minimal Coverage
Product Care: Hand Wash Cold Designer Style No. 3927215
Please note: The Brazilian cut runs small. We suggest ordering a size
larger than you would of a moderate coverage suit.
 Julia Print Push-Up Bikini in Black
---
Lola Print Triangle Bikini in Red
---
Lola Print Triangle Bikini in Red
---
Check out more beach volleyball bikinis in the pages below:
---
ONeill Bikini Tops and Bottoms
Billabong Bikini Tops and Bottoms
Return To Beach Volleyball Bikinis From Poko Pano Brazilian Bikinis
Return To Inspiring Female Volleyball Players in Pictures From Poko Pano