Short Volleyball Quotes
To Bring in the 2018 New Year 
Oldies but goodies  these short volleyball quotes stand the test of time. 
These short volleyball quotes have been around for a long time but they
are still faves among players. 
Short Volleyball Quotes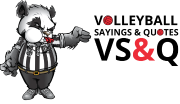 "
Serve Strong. Dig Fierce. Spike Hard. 
Never let anyone tell you, you are too short to play this game. 
Bump, set, spike it.
That's the way we like it. 
"Pass like your life depends on it.
Set like its the last thing you'll ever do
And spike like you're hitting your ex-boyfriend!"
"Volleyball players with goals succeed because they know where they're going."
When you win
you win as a team.
It doesn't matter if one person had more hits or one person barely
touched the ball.
You won as a team. 
Short Volleyball Quotes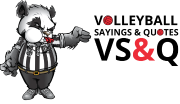 Keep Calm and Play Volleyball
Getting a kill off a tip is the best feeling!
Kiss my ace!
A day without volleyball probably wouldn't kill me...
but why risk it? 
"I was too cute to be a cheerleader..
so now I play volleyball"
"Remember...there is always a little girl in the crowd that wants to be just like you, don't disappoint her. "
Pass it better
Set it higher
Hit it harder
Give it all you got
Never let the FEAR of hitting it out, keep you from playing the game. 
I will not stop until I'm remembered. 
If volleyball was easy, they'd call it 
FOOTBALL!
To play me you must be tough
To dig me you must be quick
To block me you must be strong
To beat me you must be joking. 
Got, net?
You can hit on us, but you won't score!
Volleyball.
Its a sport.
It's a passion.
Live it.
Love it.
Play it. 
You just got SERVED!
"Volleyball is just a more intense version of "Don't let the balloon touch the floor."
If you wanted a soft serve, you should've gone to Dairy Queen.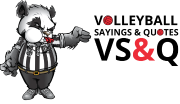 Related Links: 
The Quote Volleycats Elite Club Players Were Inspired By
Motivational Quotes For Players
Coach Quotes Inspired By Volleycats Elite Players
Our Quotes and Sayings Collection VS&Q
Famous Quotes about Confidence and Developing your Mental Game
Confidence Quotes To Inspire and Motivate Players 
Short Quotes to Bring in the New Year