TCU Volleyball Player Kristen Hester
TCU volleyball player Kristen Hester is interviewed by Improve Your Volleyball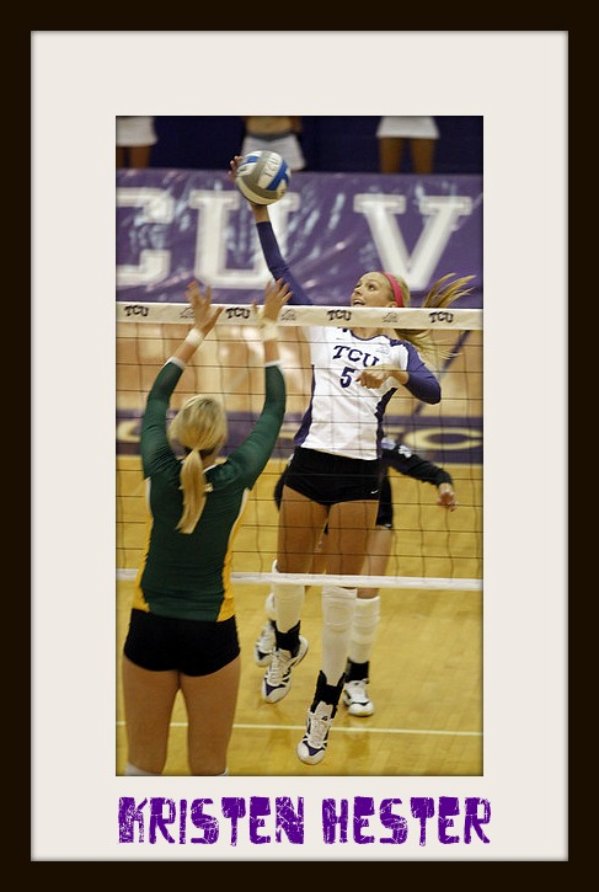 TCU volleyball player Kristen Hester answers some interview
questions from Improve Your Volleyball.
Improve Your Volleyball: What makes you special?
I wouldn't neccessarily say there's anything special about me, but what
makes my team special is our team chemistry.
Get To Know TCU's Kristen Hester
On and  off the court we are all best friends and that's what really helps 
you trust your teammates when playing. I think that plays a big role in 
helping us be so successful.
Improve Your Volleyball: What accessories and/or equipment help you play your best?
I don't know if there is an accessories or a type of equipment that helps
me play my best, but our coaching staff does an amazing job at making
sure we have everything we could possibly need.
Improve Your Volleyball: What pregame habits, rituals, or superstitions do you have to do before every game?
My team can be very superstitious, before each game we listen to a
certain playlist, pray and do the same chant every game.
For myself, I have certain head bands and sports bras that I have to wear
for games.
Improve Your Volleyball: Who or what inspires you to play well in each match that you play in?
There are a lot of stuff that inspires me to play well, of course I want
to play well for my team because I know if I have a good game and I'm
giving it my all my teammates will do the same.
It's my last year and I don't want to end the season with any regrets. 
My older sister, Irene inspires me to make sure I give 100% every 
time I step on the court.
What did inspiring college volleyball player Kristen Hester do this week? 
TCU senior middle blocker  Kristen Hester was voted the Mountain
West Conference Volleyball Player of the Week by the leagues
head volleyball coaches.
Hester was named MVP of the Villanova Classic
Kristen Hester, from Fort Worth, Texas, led the Horned Frogs to a 3-0
record, giving Texas Christian University its third tournament title of the
season with a 3-2 win over Loyola (Md.), and two 3-1 wins over Colgate
and host Villanova TCU, led by Kristen Hester on the offense, is now 9-
0 on the season, tying the record for best start in program history
Hester began the weekend with 11 kills and a .391 attack
percentage against Loyola on Sept. 9. She recorded 16 kills with a .519
attack percentage against Colgate on the morning of 9/10/11, followed
up that evening with another 16-kill performance with a .361 percentage
against Villanova.
Eight of her 16 kills against Villanova came in the fourth set for the win.

For the second week in a row, inspiring TCU volleyball player Kristen
Hester earned volleyball  tournament Most Valuable Player honors
along with her third all-tournament team appearance of the season
Discover More Improve Your Volleyball.com Interviews
If you are a fan of inspiring TCU volleyball player Kristen Hester or
the TCU Horned Frog volleyball team then scroll down to read more
University of Illinois Volleyball Player Erin Johnson

Iowa State Cyclones Volleyball Player Hannah Willms

University of Kansas Volleyball Player Tayler Tolefree

LSU Womens Volleyball Player Meghan Mannari

TCU Volleyball Player Kristen Hester

Xavier University Volleyball Player Aubree Smith

College Player Amanda Vialpando

UC Irvine Volleyball Player Kristin Winkler

UCF Volleyball Player Rachel Vukson

Texas State University Volleyball Player Amari Deardorff

University of Miami Volleyball Player Lane Carico

Hofstra University Volleyball Player Kelsie Wills

University of Dayton Volleyball Player Rachel Krabacher

University of Dayton Volleyball Player Megan Campbell

UWM Volleyball Player Morgan Potter

Cal Poly Volleyball Player Jennifer Keddy
College Volleyball Player Carly Sahagian
Colorado State Womens Volleyball Player Katelyn Steffan
Inspiring College Volleyball Player DeeDee Harrison
Inspiring USC Girls Volleyball Player Kendall Bateman
Lamar University Volleyball Player Sierra Whitaker
Liberty Volleyball Player Lillie Happel

Liberty Volleyball Player Loren Thomas
Long Island University: Annika Foit
Michigan Girls Volleyball Players Lexi Dannemiller
Northern Illinois University: Lauren Wicinski
Penn State Girls Volleyball Player Katie Slay
University of Denver Faimie Kingsley
University of Houston: Katie Norris

University of Memphis: Hajnalka Molnar