UC Irvine Volleyball Player
Kristin Winkler

Improve Your Volleyball interviews
UC Irvine Volleyball Player Kristin Winkler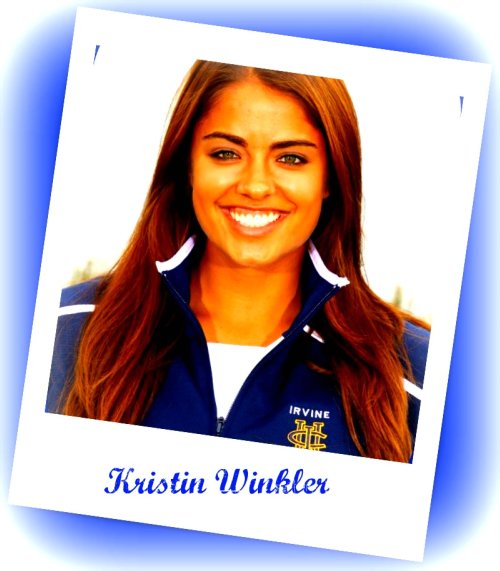 Improve Your Volleyball interviews inspiring UC Irvine volleyball player
Kristin Winkler.
Improve Your Volleyball: What makes you special?
If anything, it would have to be that I am never completely satisfied
with my performance.
Even if I have a great game, I am always thinking about the plays I could
have made better.
I guess I could say that I am always striving for perfection.
Improve Your Volleyball: What accessories and/or equipment help you play your best?
Being a libero, I would say my kneepads. The extra padding is crucial
when we throw ourselves around as much as we do!
Improve Your Volleyball: What pregame habits, rituals, or superstitions do you have to do before every game?
I definitely love to listen to my Ipod. I have a few songs that I have to
listen to before every match that get my blood flowing and heart racing.
I also have to drink coffee before every game, no matter what time it is
at.
Improve Your Volleyball: Who or what inspires you to play well in each match that you play in?
My family, especially my father. They are responsible for making me the
competitor I am today by always challenging me to make myself better.
What did inspiring college volleyball player Kristin Winkler do this week?
After strong defensive performances that marked the UCI single-match
records twice, Kristin Winkler was named the Big West Player of the
Kristin was voted to the Comcast/Sheraton Lobo Invitational
All-Tournament team, tied the third-best single-match mark with 31 digs
in the five-game match against host New Mexico
She set a new UCI match record with 34 digs in the win against
Portland State, surpassing her previous best of 32 digs recorded in 2010.
It is the first time in her career that Winkler has posted 30 or more digs
in the same weekend and with the effort, she climbs to fifth in the UCI
career records with 1,173 digs.
Discover More Improve Your Volleyball.com Interviews
If you are a fan of UC Irvine volleyball player Kristin Winkler
then here's a place where you can read more information and news 
about inspiring players like her.
University of Illinois Volleyball Player Erin Johnson

Iowa State Cyclones Volleyball Player Hannah Willms

University of Kansas Volleyball Player Tayler Tolefree

LSU Womens Volleyball Player Meghan Mannari

TCU Volleyball Player Kristen Hester

Xavier University Volleyball Player Aubree Smith

College Player Amanda Vialpando

UC Irvine Volleyball Player Kristin Winkler

UCF Volleyball Player Rachel Vukson

Texas State University Volleyball Player Amari Deardorff

University of Miami Volleyball Player Lane Carico

Hofstra University Volleyball Player Kelsie Wills

University of Dayton Volleyball Player Rachel Krabacher

University of Dayton Volleyball Player Megan Campbell

UWM Volleyball Player Morgan Potter

Cal Poly Volleyball Player Jennifer Keddy
College Volleyball Player Carly Sahagian
Colorado State Womens Volleyball Player Katelyn Steffan
Inspiring College Volleyball Player DeeDee Harrison
Inspiring USC Girls Volleyball Player Kendall Bateman
Lamar University Volleyball Player Sierra Whitaker
Liberty Volleyball Player Lillie Happel

Liberty Volleyball Player Loren Thomas
Long Island University: Annika Foit
Michigan Girls Volleyball Players Lexi Dannemiller
Northern Illinois University: Lauren Wicinski
Penn State Girls Volleyball Player Katie Slay
University of Denver Faimie Kingsley
University of Houston: Katie Norris

University of Memphis: Hajnalka Molnar