ULM Volleyball Player Marcela Urbina
Improve Your Volleyball interviews ULM volleyball player Marcela Urbina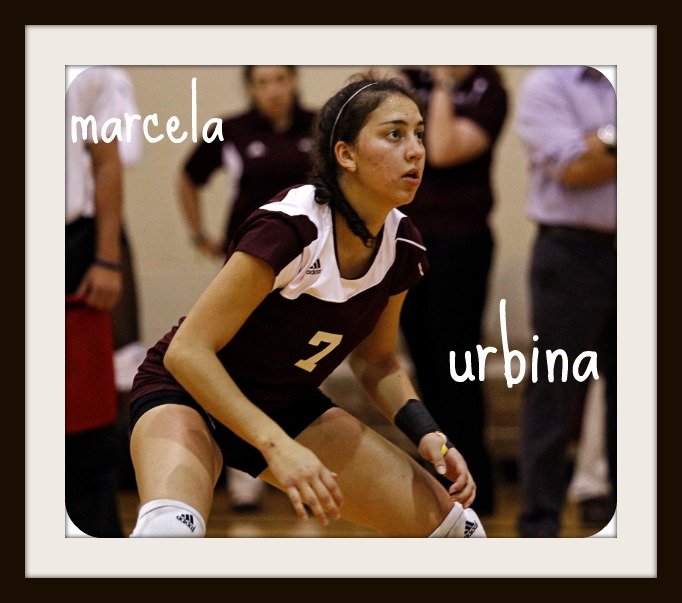 Improve Your Volleyball.com interviews ULM volleyball player Marcela
Urbina, the first ever Sun Belt Conference volleyball player of the Week.
Improve Your Volleyball: 
What makes you special?
"My sense of humor and positive attitude when facing adverse
circumstances is something I feel sets me apart.
My perseverance is also something I'm proud of. I have a good work
ethic which involves a lot of effort, but it always pays off in the end.
I fight for what I want.
I also appreciate what I have and the opportunities I've been given."
Improve Your Volleyball: 
What accessories and/or equipment help you 

play your best?
"My knee pads help me feel more fearless on the court.
Otherwise, nothing really. We are not allowed to wear jewelry or anything
I would consider helpful on the court."
Improve Your Volleyball: 
What pregame habits, rituals, or superstitions 

do you have to do before every game?
"I don't have any traditional superstitions or rituals I must do before each
match.
One habit of mine though is to make sure I focus and get ready
for the match, though. I make a concerted effort to get into the
competitive mindset and be ready to fight."
Improve Your Volleyball: 
Who or what inspires you to play well in each volleyball match that you play?
My family and the people that support me the most in my life. My
teammates also play a huge role in inspiring me to play the
absolute best I can, because we are a unit. We must all work together
and make sure we are on our game, so they definitely inspire me as
well."
What did inspiring college volleyball player Marcela Urbina  do this week? 
Marcela Urbina was voted the Sun Belt Conference Volleyball Player of

the Week by the leagues head volleyball coaches.

Marcela Urbina was instrumental in the ULM Warhawks breaking
their 83-match losing streak in Sun Belt action this week and three
days later helped her team put an end to their 17-match losing streak
against North Texas. 
The freshman starting libero besides earning a starting position has 
quickly moved up the rankings after seven days, where she averaged 
4.43 digs per set and tied her career-high.
Urbina picked up 18 digs and 19 digs in the Warhawk's victories over 
UL-Lafayette and North Texas, respectively, before tying her 
career-best in digs with 25 against Denver, the third time she has 
reached that mark this season.
In the Sun Belt Conference, Urbina currently ranks fifth in digs in 
conference matches only, averaging 4.00 per set while ranking ninth 
with 3.35 per set when including all matches.
If you are a fan of inspiring ULM volleyball player Marcela
Urbina or the University of Louisiana-Monroe Warhawks team then
here's a place where you can share your action shots and
match-day pictures.
Discover More Improve Your Volleyball.com Interviews
University of Illinois Volleyball Player Erin Johnson

Iowa State Cyclones Volleyball Player Hannah Willms

University of Kansas Volleyball Player Tayler Tolefree

LSU Womens Volleyball Player Meghan Mannari

TCU Volleyball Player Kristen Hester

Xavier University Volleyball Player Aubree Smith

College Player Amanda Vialpando

UC Irvine Volleyball Player Kristin Winkler

UCF Volleyball Player Rachel Vukson

Texas State University Volleyball Player Amari Deardorff

University of Miami Volleyball Player Lane Carico

Hofstra University Volleyball Player Kelsie Wills

University of Dayton Volleyball Player Rachel Krabacher

University of Dayton Volleyball Player Megan Campbell

UWM Volleyball Player Morgan Potter

Cal Poly Volleyball Player Jennifer Keddy
College Volleyball Player Carly Sahagian
Colorado State Womens Volleyball Player Katelyn Steffan
Inspiring College Volleyball Player DeeDee Harrison
Inspiring USC Girls Volleyball Player Kendall Bateman
Lamar University Volleyball Player Sierra Whitaker
Liberty Volleyball Player Lillie Happel

Liberty Volleyball Player Loren Thomas
Long Island University: Annika Foit
Michigan Girls Volleyball Players Lexi Dannemiller
Northern Illinois University: Lauren Wicinski
Penn State Girls Volleyball Player Katie Slay
University of Denver Faimie Kingsley
University of Houston: Katie Norris

University of Memphis: Hajnalka Molnar