University of Dayton Volleyball Player Rachel Krabacher

Improve Your Volleyball interviews University of Dayton volleyball player Rachel Krabacher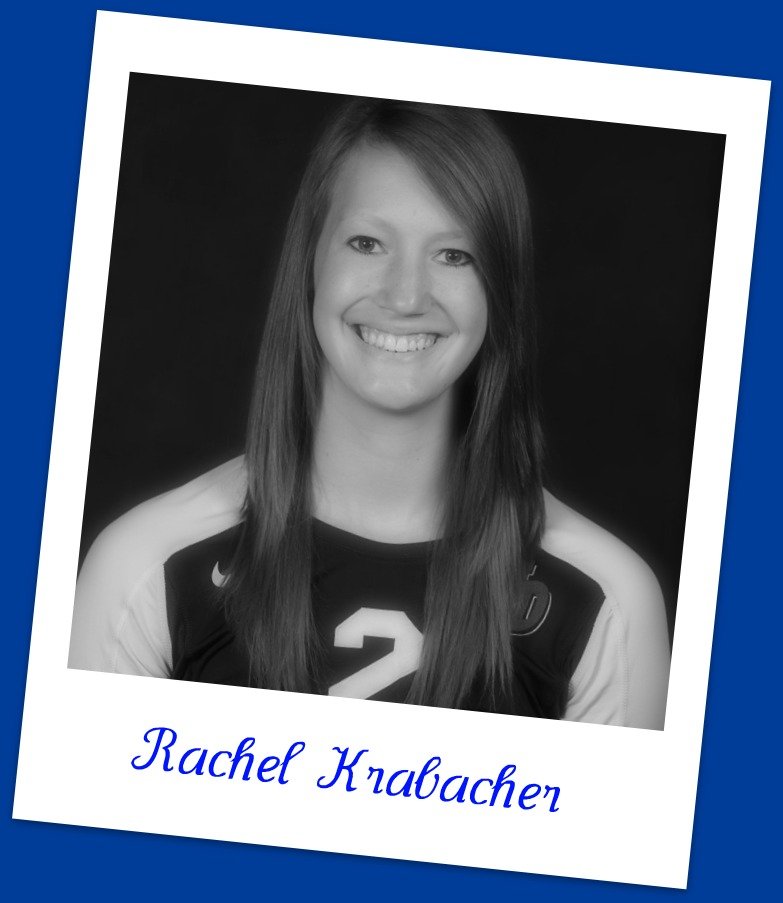 Improve Your Volleyball interviews University of Dayton volleyball player
Rachel Krabacher.
Improve Your Volleyball: What makes you special?
"I think I'm special because I'm well rounded.  
I play volleyball, am an engineer, am learning the guitar and have great
friends and family."
Improve Your Volleyball: What accessories and/or equipment help you play your best?
"I play my best when I'm wearing the Flyers jersey and my ribbon and
hair clip."
Improve Your Volleyball: What pregame habits, rituals, or superstitions do you have to do before every game?
"Before every game we have to have a team dance party in the locker
room to the same two songs every time."
Who or what inspires you to play well in each volleyball match that you play?
"I am inspired by the drive to win as well as the competitiveness of my
teammates who push me everyday."
What did inspiring University of Dayton player Rachel Krabacher do this week? 
University of Dayton Rachel Krabacher was voted the Atlantic 10 
Conference Volleyball Player of the Week by the leagues head
coaches.
Krabacher, a junior outside hitter, was named Most Valuable Player
at the Blue and White Classic in Buffalo, N.Y., as the Flyers swept all three 
opponents to win the event title.
The Cincinnati, Ohio, native led the tournament field with 4.33 kills per 
set while recording a hitting percentage of .388.
Krabacher opened the tournament with back-to-back double-doubles – 
her eighth in UD's 12 matches – against Cornell and Syracuse, while 
adding a career-high of four aces against the Orange, with all four 
occurring consecutively.
She capped off the Classic with 12 kills on a .409 clip against host 
Buffalo. 
Krabacher currently leads the A-10 in kills per set (4.53) and points (5.10).

If you are a fan of University of Dayton volleyball player Rachel

Krabacher or the Dayton Flyers then here's a place where you can
read more interviews like this one.
photo courtesy of UD Athletics Communication
Discover More Improve Your Volleyball.com Interviews
University of Illinois Volleyball Player Erin Johnson

Iowa State Cyclones Volleyball Player Hannah Willms

University of Kansas Volleyball Player Tayler Tolefree

LSU Womens Volleyball Player Meghan Mannari

TCU Volleyball Player Kristen Hester

Xavier University Volleyball Player Aubree Smith

College Player Amanda Vialpando

UC Irvine Volleyball Player Kristin Winkler

UCF Volleyball Player Rachel Vukson

Texas State University Volleyball Player Amari Deardorff

University of Miami Volleyball Player Lane Carico

Hofstra University Volleyball Player Kelsie Wills

University of Dayton Volleyball Player Rachel Krabacher

University of Dayton Volleyball Player Megan Campbell

UWM Volleyball Player Morgan Potter

Cal Poly Volleyball Player Jennifer Keddy
College Volleyball Player Carly Sahagian
Colorado State Womens Volleyball Player Katelyn Steffan
Inspiring College Volleyball Player DeeDee Harrison
Inspiring USC Girls Volleyball Player Kendall Bateman
Lamar University Volleyball Player Sierra Whitaker
Liberty Volleyball Player Lillie Happel

Liberty Volleyball Player Loren Thomas
Long Island University: Annika Foit
Michigan Girls Volleyball Players Lexi Dannemiller
Northern Illinois University: Lauren Wicinski
Penn State Girls Volleyball Player Katie Slay
University of Denver Faimie Kingsley
University of Houston: Katie Norris

University of Memphis: Hajnalka Molnar