University of Kansas Volleyball Player Tayler Tolefree

Improve Your Volleyball interviews 
Kansas Volleyball Player Tayler Tolefree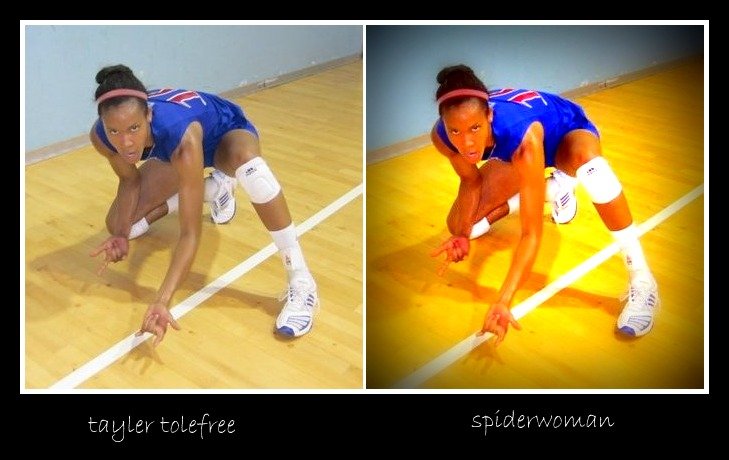 Improve Your Volleyball.com interviews University of Kansas volleyball
player Tayler Tolefree.
Improve Your Volleyball: What makes you special?
"What makes me special is not volleyball related. I am special because
of the people in my life who care about me and love me."
Improve Your Volleyball: What accessories and/or equipment help you play your best?
"I don't require much accessories/equipment, I just like to have a good
headband that won't fall off! :)"
Improve Your Volleyball: What pregame habits, rituals, or superstitions do you have to do before every game?
"Pre-game habits usually include listening to my iPod and lately my
favorite song is 'I'm Gonna Get You' by Bizarre, Inc."
Improve Your Volleyball: Who or what inspires you to play well in each match that you play in?
"My teammates inspire me to want to play well in each match. We work
hard in the off season and in practice and when it's game time, I want
to do my part to help us win and prove we are a good team."
-University of Kansas volleyball Taylor Tolefree
What did inspiring University of Kansas volleyball player Tayler Tolefree do this week? 
University of Kansas junior middle blocker Tayler Tolefree was
voted the Big 12 Conference Volleyball Player of the Week by the
leagues head coaches.
Tolefree paced the Jayhawks to their third tournament championship of
the non-conference season at the DePaul Invitational last weekend,
powering Kansas to an 11-1 start.
The Lawrence, Kan., junior knocked down a team-best 22 blocks over
the weekend, good for 1.83 blocks per set.
She and fellow middle blocker Caroline Jarmoc helped the
Jayhawks block more than three blocks (3.17) per set in the three-match
span to propel KU to the tournament title.
She and Jarmoc now have the Jayhawks blocking 2.84 balls per set,
which ranks third in the Big 12.
Tolefree's 1.25 blocks per set on the season is tied for fifth in the
conference.
She highlighted her weekend in a five-set battle against second-place
Valparaiso on Saturday. Tolefree broke her old personal best in kills (13)
by the end of the third set on the way to collecting 17 total against the
Crusaders.
Adding to her brilliant effort, the junior blocked a career-best 11 balls
for the first double-double of her career.
This marks the first Big 12 Player of the Week award for Tolefree and
the Jayhawks' first weekly honoree since Melissa Manda earned the
Defensive Player of the Week nod on Oct. 11, 2010.
Discover More Improve Your Volleyball.com Interviews
University of Illinois Volleyball Player Erin Johnson

Iowa State Cyclones Volleyball Player Hannah Willms

University of Kansas Volleyball Player Tayler Tolefree

LSU Womens Volleyball Player Meghan Mannari

TCU Volleyball Player Kristen Hester

Xavier University Volleyball Player Aubree Smith

College Player Amanda Vialpando

UC Irvine Volleyball Player Kristin Winkler

UCF Volleyball Player Rachel Vukson

Texas State University Volleyball Player Amari Deardorff

University of Miami Volleyball Player Lane Carico

Hofstra University Volleyball Player Kelsie Wills

University of Dayton Volleyball Player Rachel Krabacher

University of Dayton Volleyball Player Megan Campbell

UWM Volleyball Player Morgan Potter

Cal Poly Volleyball Player Jennifer Keddy
College Volleyball Player Carly Sahagian
Colorado State Womens Volleyball Player Katelyn Steffan
Inspiring College Volleyball Player DeeDee Harrison
Inspiring USC Girls Volleyball Player Kendall Bateman
Lamar University Volleyball Player Sierra Whitaker
Liberty Volleyball Player Lillie Happel

Liberty Volleyball Player Loren Thomas
Long Island University: Annika Foit
Michigan Girls Volleyball Players Lexi Dannemiller
Northern Illinois University: Lauren Wicinski
Penn State Girls Volleyball Player Katie Slay
University of Denver Faimie Kingsley
University of Houston: Katie Norris

University of Memphis: Hajnalka Molnar