Volleyball Class: New Vegas Boot Camp Class and Clinic Schedule For 2018
Boot Camp Classes Are Now Weekly Monday - Friday
Seven years ago in 2010 Coach April brought her  unique volleyball class
to Stupak Community Center near the Stratosphere in Las Vegas,
Nevada.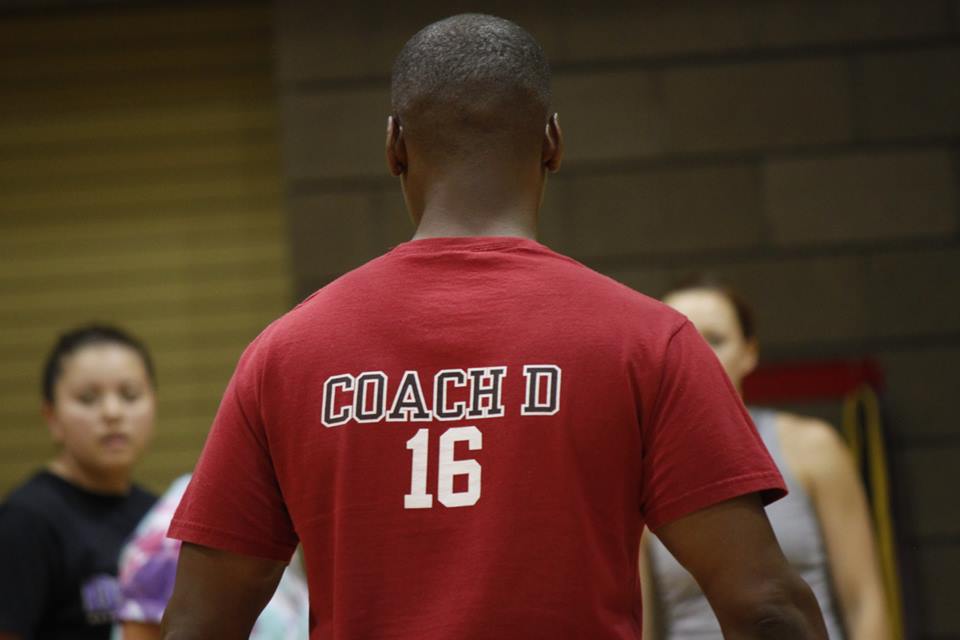 Along with "Coach D" Dermot Thomas and Coach Rick McNelis and his
daughter Rochelle, the Volleyball Voice Boot Camp Class on Saturday
mornings quickly became a weekly "must attend" event. 
I created a circuit training class with a strength and
conditioning component, the Volleyball Voice Boot Camp class
was the first of its kind in Vegas and Saturday classes regularly reached
its max capacity, which often forced us to turn latecomers away. 
Based on personal experience, I insisted that strength and conditioning
be an important and necessary element to the Boot Camp classes.
Conditioning is how to grow and develop faster, stronger players who 
jump higher than their opponents.
Strength training insures
the development of quick twitch muscles that lead to quicker reflexes, 

the development of stronger leg muscles that allow you to stay in lower defensive positions longer,

increases flexibility which allows you to extend one body part in one direction while the rest of your body is going in another direction

the development of balance, body control, body part awareness and self confidence
Best of all strength and conditioning is a great equalizer for smaller
players playing a big girl's game. Volleyball is a big girl's game the older
a player gets. 
With conditioning and weight training, short girls can develop muscles
that allow them to out jump tall girls. They also develop speed to out run
slower, taller teammates. 
Conditioning and strength training, flexibility and balance work, these
elements were all components of our Boot Camp classes and were
included to contribute to the development of a complete elite athlete. 
Were we successful?

Each year, we increased the number of incoming freshmen who made
their Las Vegas varsity high school team.
We kept developing 8th graders who were strong enough and 
technically skilled enough to beat out the older high school returning 
players for a spot on their varsity team. 
2017 Nevada State Gatorade Player of the Year Sydney Berenyi and Silverado teammate Kaylynn Smith have been Boot Camp class regulars and/or semi private training clients for five years.
Many of them earning starting positions immediately. 
The Last Saturday Morning Boot Camp Class November 18
For seven years we hosted the widely popular 9am Saturday Morning
Boot Camp Class at Stupak.
After that we hosted the Breakfast Club, from 10:30 to noon, an invitation
only advanced volleyball training clinic just for varsity players. 
On Saturday, November 18 we will host our last Saturday morning

Volleyball Voice Boot Camp class and Breakfast Club at Stupak. 
The New Weekly Boot Camp Volleyball Class Schedule
Monday Volleyball Class (ages 11 - 14) - Stupak Community Ctr. 6 - 7:30

Tuesday Volleyball Class (ages 13 - 18) - Mirabelli Community Center 6 - 7:30

Wednesday 

Advanced/Varsity Only Class

 - Chuck Minker Sports Complex - 4:30 - 6pm - 

begins Dec 27 

 

Thursday Volleyball Class (ages 13 - 18) - Stupak Community Ctr. 6 - 7:30

Friday Inter/Adv Skill Clinics (ages 13 - 18) - Veteran's Memorial Leisure Services - 5pm - 6pm - 

begins Dec 1 

Friday Volleyball Class (ages 9 - 13) - Veteran's Memorial Leisure Services 6 - 7:30
Getting to Volleyball Voice Boot Camp Classes at
City of Las Vegas Facilities
(off the I - 15 Exit Sahara: Stupak is one block west of the Stratosphere across the street from the parking lot)
(Off 515 take Eastern Exit to corner of Mojave and Eastern)
(off 95 South at Jones)
(adj to Palo Verde High School in Summerlin)    
Related Links: