Volleyball College Camps

How To Choose The Right
Camps For Volleyball

What Things Do You Look For When Choosing Volleyball College
Camps For Summer Training?
Players decide to attend volleyball summer camps with the intent of
improving the quality of  their skills, in an environment where they are
surrounded by other players with similar goals.
Wow, that sounded great. Well guess what? Its true.
Since you are making a personal investment in yourself, you want to
make sure that you get the most out of your time, dedication,
commitment and money.
One tip I have that might help you get the most out of your
camp experience is to take the time, when you are reading the

volleyball college camp brochures or web sites, to check to see the ratio
between the number of volleyball campers there are to each instructor.
If you can attend a camp that has a 1:8 ratio, which means for every
group of eight campers there's only one coach, then you've found an
optimal situation.
If you can do that, you will put yourself in a position where you should
be able to get your questions answered and your skills properly
evaluated and assessed.
---
USF Volleyball College Camps Instructor
photo by Shaun Calhoun

---
You should also expect to get a tremendous amount of opportunities to
touch the ball repeatedly, participate in many different volleyball drills
depending on which of the volleyball college camps you've chosen and
also get the near-personalized training that you deserve to have.
---
University of San Francisco College
Volleyball Camps Spiking Demonstration 
photo by Shaun Calhoun

---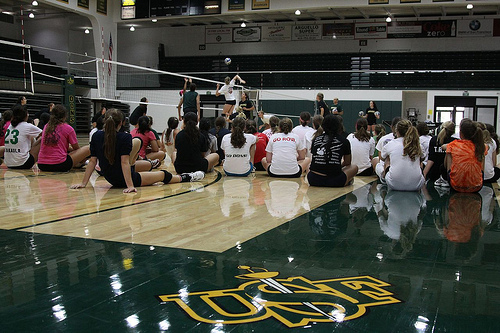 The typical camp will offer between a 1:8 to 1:14 camp to coach ratio
which means that if you attend a camp with a 1:14 camp to coach ratio
you will be in a group with 13 other girls (you plus 13 others equals 14).
That's already almost twice as many girls per group than if you were in
a camp with a 1:8 ratio where only 7 girls would be in your group.
See the difference?
Usually this means that you may get a few less opportunities to touch
the ball and that you may have to wait longer or work a bit harder to
get the coaches attention so that you can get your questions
answered.
---
Pros and Cons of Attending
Volleyball College Camps

---
In most volleyball college camps you will usually have a 1:10 to 1:12
ratio which isn't a bad thing but many colleges can find ways to add
more sessions if they have a lot of campers so that they can keep their
camper-to coach ratio lower.
If you can find one with an even lower ratio then you are definitely on
the right track.
Another extremely valuable tip I'd like to share is to try and attend one
of the volleyball college camps where you may want to after high
---
USC Head Coach Volleyball College Camps Director
Mick Haley
photo by Neon Tommy

---
Nowadays its evident that the earlier you narrow down your
list of colleges and universities you think you may want to get a degree
from, the better.
As a junior high school or high school freshman, it is the perfect time to
draw up a list of about 50 to 100 colleges you may think about
attending.
Even if you aren't sure as to what your major or your school of study or
specialization is going to be just doing this exercise will point you in the
right goal-setting direction.
From this list of 100, which should contain the names of the schools
that have your major, you can start choosing the ones that offer the
type of volleyball camp that you want to attend, summer after summer,
year after year.
See, why it's best to get started early?
Now this is a way of getting on the campus to see the school or several
schools, possibly meet the coach, be coached by the volleyball team
members and play in the gym of some of the college teams at the top of
your list.
---
USF Head Coach and Volleyball Summer Camp Director, Gilad Doron
photo by Shaun Calhoun

---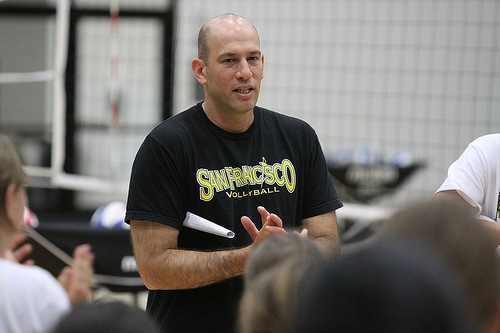 Knowing and experiencing these things firsthand in camp, should help
you gather the information you need to make a decision on what college
you will attend and what team you want to play for in the future.
---
---
Check out more information about
local volleyball camps in the pages below.
Youth Volleyball Camps for Hitters

Las Vegas Volleyball Boot Camp For High School Players

---
Return To Local Volleyball Camps From Volleyball College Camps
Return To Inspiring Female Volleyball Players in Pictures From Local