Volleyball Defense Drills
Volleyball defense drills are done everyday in practice by
liberos and defensive specialists trying to improve their digging skills.

If you are the parent of a player that has been named as a

defensive specialist or libero on her team, or a player looking for
individual defensive drills,  then it might be
a good idea for you to know a little bit more about defense.
With two teams competing against each other, one team will
always be on offense while the other will be on defense, and both teams
will alternate constantly being either one or the other during a match
depending on which team has the ball.
So, let's say your daughter's team has just served the ball over the net,
to the opposing team.
After the serve crosses the net, your daughter's team is now "on
defense."
Her team's three front row hitters are now called "blockers"
and lined up facing the net in their left front, middle front and right front
positions watching the other team take their one, two, or three
contacts to get the ball back over to your daughter's team's side of the
net.
The responsibility of the front row players who are now called "blockers"

is to stop the hitters from getting the ball across the net.
To do this correctly, they must place themselves, either one, two or
three blockers in front of the hitter who is trying to spike the second or
third contact back over to their side of the court.
Your daughter's blockers may either "block the ball" with their hands
and arms extending over the net and timing their block jump with the
spike approach of the hitter they are in front of, while managing to
deflect the ball hit by the spiker, back into the spiker's court.
If they don't manage to block the ball, the next strategy they are

taught is to use the block to re-direct the ball so that it is
funneled/redirected to one of your daughter's teams' three back
row players who are waiting to "dig the ball" by making the first
contact on the ball after it has been hit back into your daughter's court.
So, now that the ball is in your daughter' court, her team uses 
defense techniques to get the ball back up to her team's setter.
Once her team defends the ball and gets it back up to her setter, then
her team is now on offense.
See how that works?
It takes a lot of practice to be able to defend a ball back up from the

back row to the front row.
Coaches use a lot of volleyball defense drills during a practice in order
to coordinate what happens between the front row blockers and the
back row defensive specialists and liberos on a team.
If you are a parent or coach or player who is interested in knowing more
about individual defense technique and team defense strategies, so
that you can share what you know with your volleyball playing daughter,
I've listed a selection of Championship Productions DVDs produced by 
some of the top college volleyball coaches in the game today 
explaining the basic concepts in volleyball defense.
Volleyball defense drills help players learn the basic digging skills,
the various methods of hitting the floor after digging up a ball like 
the dive, the sprawl, the roll and the barrel roll as well as learning
about court placement behind the block.
Here are what the top volleyball coaches suggest as their preferred

volleyball defense drills.
Affiliate Disclosure 
Here is my disclosure about this section.
Read it before you get started.
In this section dedicated to Drills, some of the pages contain affiliate
links.
This means, if you buy a product after clicking my link, I might be paid a
"commission" on the sale. I may also earn money from advertisements
appearing on my blog.
I just wanted to let you know that and I thank you in advance for your
time and consideration.
Best Seller! Mick Haley's Defensive Strategies Series presented by
Todd Dagenais and Mick Haley
Mick Haley's Defensive Strategies Series - Volleyball -- Championship Productions, Inc.
with Todd Dagenais,

University of Central Florida Head Coach;
former USC Assistant Coach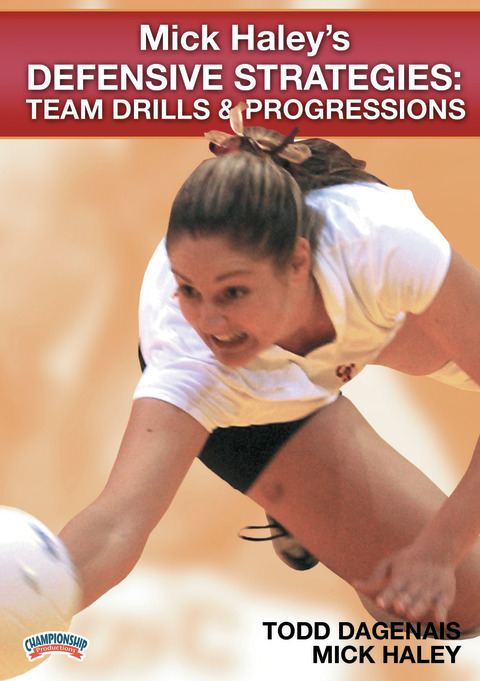 In this team defense video, Haley assistant Todd Dagenais shares the volleyball defense drills and progressions that are at the heart of training Haley's defensive system. 
In Part 1, Ball Control Drills, Coach Dagenais shares two drills that work short and deep arc passing skills. 
Part 2, Pepper Series, includes three different volleyball defense drills that incorporate several technique options that incorporate individual defensive skill techniques into the drills. 
In Part 3, Dig and Set Series, Dagenais includes 10 different volleyball defense drills along with several variations to focus on specific aspects of digging. 
In Part 4, Run Through Series, Dagenais picks up the pace with a five drill series that challenges the players to read and react at game speed. 
Part 5, Team Defense Drills, includes over seven different team drills that challenge the defense with nearly every imaginable situation. 

Not only will you learn volleyball defense drills, you can watch the positive high-energy coaching styles of both Haley and Dagenais and see how they coach to bring out the best in their players and team.
44 minutes. 
Best Seller! The Complete Guide to Volleyball Defense Drills: Technique, Tactics, & Drills presented by Joe Lynch

Train tough, fearless defenders
Volleyball defense drills for all phases of defending
Learn technical and tactical aspects of training defenders
The Complete Guide to Defense: Technique, Tactics, & Drills - Volleyball -- Championship Productions, Inc.
The Complete Guide to Defense: Technique, Tactics, & Drills - Volleyball -- Championship Productions, Inc.

with Joe Lynch,
Iowa State University Assistant Coach,
former Head Coach Milwaukee Sting, 2005 AVCA Prep Coach of the Year 
A tough and fearless defensive mindset is a trademark of Iowa State 
University volleyball. 
In this four-part instructional volleyball DVD, Coach Lynch shares the techniques, tactics and drills that he has implemented with his team. 
Lynch's goals for defending are simple: let no ball hit the floor on your side of the net and make defensive plays with minimal arm movement and efficient leg movement.
Part 1: Lynch details the skill set for successful digging along with partner drills to ingrain positive technical aspects of digging.
Part 2: Lynch highlights pepper drills including four volleyball defense drills to train various defensive aspects.
Part 3: Features Coach Controlled Run-Throughs. Lynch demonstrates run-through drills that allow you to control the difficulty, court-areas and pace of the volleyball defense drills.
Part 4: In the final segment, Digging Off the Hit, Lynch shares a series of positional drills that require a player to move from their established base position to play defense.
This presentation will teach you how to train tough-minded, fearless defenders while improving your defensive technique. 40 minutes. 2009.
Becoming a Champion: Volleyball Defense and Blocking
presented by John Dunning
Become a relentless defender
Learn individual and paired strategies and volleyball defense drills for digging and passing
Pick up blocking strategies for both shorter and taller players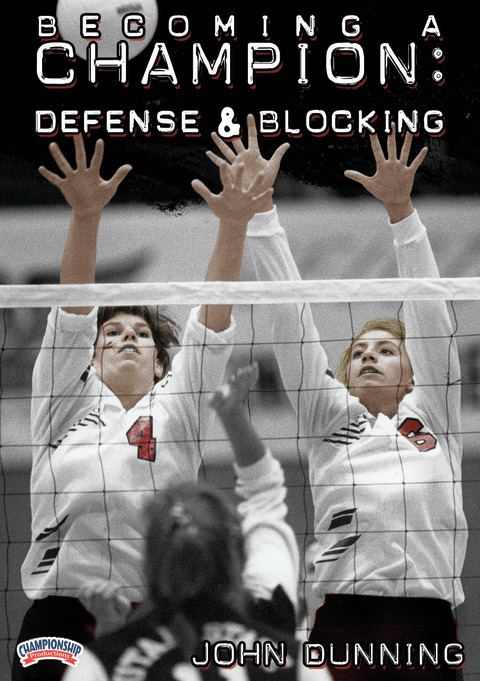 Becoming a Champion: Defense and Blocking - Volleyball -- Championship Productions, Inc.  

with John Dunning,
Head Coach Stanford University,
2004 & 2001 NCAA Champs;
former University of Pacific Head Coach,
1985 & 1986 NCAA Champions
Part 1: Volleyball Defense Drills. John Dunning begins the defensive portion of this video by sharing the ingredients he feels are necessary for becoming a better defensive player: Attitude, relentless in pursuit of the ball, Vision, what you see on the court, Balance, Individual techniques, and Feel for the game. 
He then leads you through an eight-part demonstration of detailed sequences of individual defensive ball handling drills designed to increase fundamental defensive skill development. 
Dunning then moves into the skills of digging: 2 arm, 1 arm, overhand single and 2 hand, plus slide digs, all taught and demonstrated by Coach Dunning, who also shares both individual and paired strategies and volleyball defense drills and discusses the importance of constant communication with teammates, as an important factor is successful defense. 
Part 2: Blocking. Dunning shares detailed skill instruction on how to develop a strong blocking move and teaches the side step and swing block techniques. 
Coach Dunning spends time at the net showing blocking technique for both taller and shorter players as well. 
Individual, paired, peer-coached, and transition drills are demonstrated in the final segment of this information packed video.
53 minutes.
Dave Shoji's Defensive Techniques & Responsibilities:
Keeping the Ball Off the Floor
Keep the ball off the floor
Get to the ball faster
See optimal positioning for better defense
Dave Shoji's Defensive Techniques & Responsibilities: Keeping the Ball Off the Floor - Volleyball -- Championship Productions, Inc.
with coaching legend Dave Shoji;

2010 AVCA Hall of Fame inductee;
4x National Champion,
9x WAC Coach of the Year; National Coach of the Year (1982); named to the list of all-time great coaches by USA Volleyball (2002); named coach of the NCAA 25th Anniversary team. Shoji ranks second in NCAA history in career victories (950+) and in career winning percentage (.849).
Defense starts with attitude, but players must also know the proper volleyball defensive techniques to keep the ball off the floor. 

In this DVD, Coach Dave Shoji stresses the keys to good defense - the proper defensive stance and keeping the shoulders square. 
He explains the proper footwork and stance to dig techniques, running to the ball and rolls. Shoji explains the responsibilities of the base position and middle back position and also shares what he has found to be the most effective coordination between the right front and off blocker and the right back and middle back. 
All of the techniques and responsibilities are explained and demonstrated in live volleyball defense drills settings. 
These techniques will help your team keep the ball in the air and give your setter options.
51 minutes.