Volleyball Lessons in Las Vegas
with Coach April
Semi Private and Private Advanced Volleyball Lessons and Training by Coach April
Spring registration is open for semi-private and private volleyball lessons with Coach April here in Las Vegas. 

Lessons are offered on Tuesdays and Thursdays between 4pm and 6pm. 
New rates go in effect March 1st 2018

 One package of (10) ten semi-private or private sessions are offered:
Ten (10) One Hour Sessions
Private training class pack is $1050 for 10 classes. This includes gym rental fee 
         ($300 = $30/hr x 10 sessions and registration fees.)
Semi-private training class pack is $850 for 10 classes. This includes gym rental fee  
         ($300 = $30/hr x 10 sessions and registration fees.)
Payment should be made at 

https://www.paypal.me/volleycatselite

Major credit cards accepted.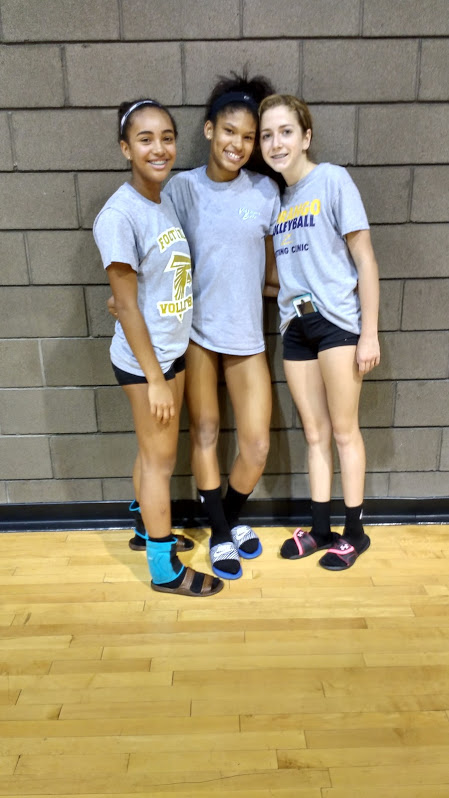 Semi Private Volleyball Lessons with April Chapple, Volleycats Elite Club Director

Private or Semi-private lessons are an excellent way for young Las Vegas high school volleyball players to quickly improve their individual skills through a private or semi-private coaching experience.
These lessons are conducted by former pro volleyball player April Chapple on a monthly basis.
Sign up now!
Ten (10) - intensive 60-minute sessions of semi-private (small groups of six) volleyball practices 

Our sessions are a specially designed mix of skills conducted by Coach April within the one hour session
Why Take Volleyball Lessons With Us? 



Volleyball is composed of six individual volleyball skills.

Setting, blocking, serving, spiking, defense and passing. When a player has a problem, we break down the skill into its multiple upper and lower body performing parts. Then we focus on building, strengthening or correcting the body parts that perform specific aspects of the setting skill. That's why we are successful.  
Because we break down the multiple parts of each skill...and then, body part by body part, we focus and apply specific strength building, foot speed increasing, arm swing rotation speed increasing, spike approach foot speed increasing exercises and/or drills to each particular body part that has to perform that skill.  
That's what sets us apart. 
Volleyball lessons are tailored to help
identify weaknesses, then strengthen them.

To breakdown, then build up proper performance skills, in order to enhance the use of the correct technique of each of the six basic skills

To create and enforce muscle memory in order to re-program and correct bad habits

With the ultimate goal of helping players visualize, develop and identify realistic volleyball playing goals

increase the workload and stress load within a positive learning environment
My Mission
My mission is for each privately and semi privately trained player to
perform a minimum of 100-200 reps of a targeted skill in a one hour session

assist and support players in developing confidence in playing their specific position on the court, while developing a college prep mentality

teach players how to work hard and think fast under/in stressful situations

provide a confidence building environment where players appreciate hard work and discipline and can see and appreciate their own improvement 
---
Tuesday Lessons 
Beginner III/Intermediate Group 
5pm - 6pm
---
This class is for the Intermediate skill level young player who can perform 5 out of 6 skills consistently.
Consistently means you have good technique and can keep the ball in play for 5 or more reps minimum. 
For players age 13 - 16. 
This is an ideal learning experience for players currently on:
a) a high school B or JV team 
b) has two years of travel club ball experience and who are already familiar with the six basic skills of volleyball. 
c) who have played travel club ball for two years 
---
Thursday Lessons 
Advanced Semi Private Volleyball Lessons 
5pm - 6pm
---
This is an ideal learning experience for players currently on:
a) a high school varsity team or collegiate team ONLY 
b) has 2-3+ years of club ball on a competitive travel team and who are already familiar with the faster pace and higher intensity practices 
c) who have specific goals such as making the starter roster, training at a higher intensity level to prep for college training, training to stay in shape to return to a collegiate team during the summer, training for a Junior National or USA High Performance team. 
Announcements
Coming soon:
Related Links: 

Las Vegas Volleyball Instruction 
Coach April on Coaching in Vegas

Improve Your Playing with Coach April
The History of Volleyball Voice Boot Camp Classes