Videos of Volleyball Blocking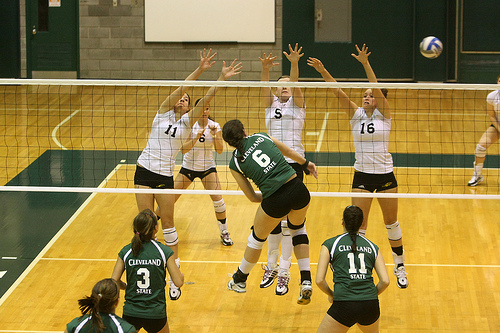 Videos of Volleyball Blocking.

What types are there and how can they help you improve your
defensive skills at the net?
Blocking videos come in many forms including..
videos illustrating a team or individual player's blocking strategies

coaches talking about blocking patterns their teams utilize in defense

players discussing their defensive positions and how they improved their individual technique

coaches talking about their philosophies toward team blocking and individual blocking

coaches clinics where well-known clinicians use players to illustrate the drills they do in club or their own collegiate volleyball practices 
interviews of collegiate middle blockers who discuss the difference between playing in high school and blocking in college

profiles of the best front court and back court defensive players of the week in Division I women's volleyball competition

All these types of videos of volleyball blocking instruction are helpful and
provide valuable information for players and coaches who want to learn
more about the blocking skill.
---
Volleyball Videos: Middle Blockers

---
If you are an aspiring collegiate middle blocker or a coach looking for
insight into the middle blocking skill, there are interviews of middle
blockers sharing their inspiring volleyball stories, talking about their
personal experiences and what goals they've set for themselves in high
school and college, all of which provides valuable advice and information
that can be used as educational resources.
In addition, these players discuss what fears they've had to overcome
and what their greatest struggles have been and still are.
Their inspirational stories of achievement should enlighten you on ways
to block a volleyball better or help answer any questions about defense
and blocking in volleyball you, your teammates or other players and
coaches may have.
These types of volleyball videos of middle blockers talking about blocking
are filled with useful volleyball quotes that you should use to boost your
confidence while you apply the information, discover new ideas or follow
their suggestions in your next practice or competitive situation.
---
Learn How To Dissolve Your Fears!

---
Interview with University of Illinois Fighting Illini
Redshirt Junior Middle Blocker Anna Dorn
---
I find it extremely helpful when I hear directly from a student athlete or
professional volleyball player who takes the time to explain how they
spend their practice time or their time away from the gym learning or
practicing aspects of the volleyball blocking technique which they then
apply to game situations.
Just say this to yourself!
"If they can do it, I can do it too! I just need to learn how."
Then do some research on the volleyball videos on blocking that can
inspire and motivate you.
Begin learning from an expert, someone with credentials who's
playing in Division I, who's coaching in Division I, who's playing
professionally or played in the Olympics or who has proven to be very
good at producing other players who earn scholarships to play in Division
I or top Division II or championship winning high school teams.
---
Become A Better Blocker!

---
WMU Volleyball - The Sam Viox Show
Sam Viox Interviews Sophomore Middle Blocker Jessica Brown

---
Everyone seems to find that learning this skill in the beginning is difficult
to master.
---
Copy The Best To Become The Best

---
Penn State Women's Volleyball Outside Hitter Deja McClendon Interviews Nia Grant for Insight on the Role of a Middle Blocker.
---
If I was a volleyball player who was trying to get better, once I knew
that, and I realized that I'm not the only player having difficulty and
that many players go through the same process I have to to go through
in order to get better, I would probably feel a lot better about applying
myself and working harder to get more volleyball blocks during my games
and competitions.
I find that when volleyball players realize this, they work harder at their
craft and they are motivated a lot faster to improve all aspects of their
blocking technique.

That's why I feel that the inspirational volleyball stories often told on
video in player interviews are extremely educational and valuable.
---
Inspiring Female Volleyball Players Interviews

---
Some inspiring volleyball stories aren't on video but they are in
the section of this site where players wrote down their responses to my
interview questions about what it's like to be a collegiate player.

One of the best ways to improve volleyball blocking is to learn from
those players who do it in college and who play it at higher levels.
---
Volleyball Player Picture Gallery of
Blockers In Action

---
This is a fantastic opportunity to read the firsthand inspiring volleyball
stories, tips and advice from players who were chosen to represent their
NCAA conference as Player of the Week during one of the 15 weeks of
Division I women's volleyball competition.
---
Volleyball Players Profiles On Video

---
Each year, some collegiate teams produce volleyball video profiles of the
players on their team, so fans can get to know the bios and
backgrounds of the current players.
---
Washington State Cougars Volleyball
Middle Blocker Profile
Marcelina Glab
---
---
During preseason when new team members join a Division I
team, the Sports Information department will produce a
"Getting to Know The Players" series of volleyball videos where each
student athlete on the team introduces themselves, they talk about
where they are from and many give background information on how
and why they chose to attend that university or play for that coach.
Additionally, some players will be asked to share their expectations for
themselves, and/or for their team for the upcoming season.
Since many players are recruited from out-of-state these volleyball
video profiles allow larger numbers of team followers, family members
and fans to get to know each player faster.
---
Washington State Cougars Volleyball
Middle Blocker Profile 
Ver'Leea Hardaway
---
---
This opportunity gives the fans their first chance to get to hear about
the accomplishments of new standout players or new recruits statistical
performances which include hits, digs and volleyball blocks per game
that they may have achieved on previous teams they were members of.
---
Freshman Middle Blocker Sara Hattis Talks About
Her First Season With the Texas Volleyball Program
---
Similar to the volleyball video interviews, these profiles give players a
chance to talk about how they feel about their practices, about their
team and individual goals, about their relationship with the coaches and
coaching staff and also gives them a chance to share something
personal about themselves.
---
Get To Know Georgia Tech Volleyball
Middle Blocker Annie Czarnecki in Her Senior Profile
---
How do these types of profiles differ from interviews?

What differs from interviews is that profiles tend to be more personal
and focus mostly on the player where many interviews happen after the
game or in press conference situations and focus on a player giving their
feedback and insight on their team's or individual game performance.
To watch more volleyball videos on blocking, middle blockers
Inspiring Female Volleyball Players Videos.com.
---
Coaches With Volleyball Videos On Blocking

---
Use free videos of volleyball blocking instruction presented by
knowledgeable college coaches as tools to help you improve your
defensive game at the net.
I've found that there are usually three categories of volleyball videos on
blocking either featuring or produced by top college volleyball coaches
who take center stage in teaching volleyball blocking fundamentals.
---
Enrollment At The Aggie Academy Is Open at New Mexico State

---
---
If you're looking for ways to improve your individual volleyball
blocking skills there are Division I coaches who are very good at
explaining how to block a volleyball.
They produce volleyball videos on blocking that start with an
explanation of the ready position a player should adopt, the blocking
hands they should use with the proper blocking finish at the end, the
correct footwork patterns for traveling short and long distances along
the net and the best upper and mid body positioning a player should use
to get as much of their shoulders and hands to penetrate over the net
---
AVCA Video Tip of the Week
Featuring
Northwestern University Coach Keylor Chan

Middle Blocking and Tracking The Ball

---
There are a select few coaches in Division I in NCAA competition, who
star on the website the Art of Coaching Volleyball and I would
recommend a few reputable sites like this one which I think are the
best at explaining the advanced block rules in volleyball for specific
individual blocking techniques like staying squared to the net
and watching the hitter with your eyes open during the block, two
blocking skills which often take longer for players to learn.
---
Serving and Blocking With
Six-Time NCAA Volleyball Champion, Russ Rose

This is a quick preview to Russ Rose's Serving and Blocking session at The Art of Coaching Volleyball Atlanta Clinic

---
Team blocking strategies is the other category of videos of volleyball
blocking that I've identified online and these types of videos feature
coaches who talk about team defense and how the
block in volleyball is related to the back row defense and how the two
In these advanced videos of volleyball blocking, the coaches will detail
various types of defense their teams run which can range from the man
up defense, the man back defense, rotation defense or a read defense
to name a few.
When explaining all the aspects of each defensive strategy, it's crucial
that they review what the roles each of the blockers play and how
important their block is to each type of defense.
---
The Box Drill

presented by

The Art of Coaching

---
---
The third category of videos of volleyball blocking are the drills.
Whether they are individual drills which focus on static
movement used to improve technique or team drills which focus more on
dynamic movements, videos that focus on volleyball blocking drills are
the most popular and the most in demand.

---
College Volleyball Players With
Volleyball Videos On Blocking

---
Another category of volleyball videos on blocking feature collegiate
volleyball players teaching viewers aspect of the blocking game.

I love it when teams produce videos that educate their fans on the
simple and advanced aspects of volleyball skills.
---
Iowa State Cyclones
Volleyball Blocking Lessons

---
---
Pro Volleyball Players With
Videos Of Volleyball Blocking

---
Volleyball 1on1.com is another resource where volleyball videos about
blocking featuring professional-players-turned-instructors provide a
As an instructional volleyball coaching website, visitors to Volleyball
1on1.com have a choice of viewing free videos or paying for a
monthly-to-18 month membership.
---
Videos of Volleyball Blocking from AVP Pro Matt Fuerbringer

---
Six year AVP player, NCAA Champion and FIVB pro beach volleyball
player Matt Fuerbringer has proven to be one of the top blockers on the
American and international pro beach tours.
Matt shares his personal tips in these first of six videos of volleyball
blocking in his coaching series on Volleyball 1on1.com.
---
Videos of Volleyball Blocking With
World Class Olympic Coaches

---
Olympic Australian Gold Medal Winning Coach Steve Anderson

---
American born Steve Anderson moved to Australia and became a legend
in his own right by coaching the first Aussie women's teams to gold
medals in the Atlanta Olympics.
He has coached numerous Australian beach volleyball players and is
featured in this Volleyball 1on1 series of videos of volleyball blocking
instruction. 
Listen to what he has to say about blocking a ball on the beach...
---
Two Time Olympian Kim Oden The Complete Guide To Blocking

---
---
Beach Volleyball Blocking Videos

---
AVP Pro Beach Player Lauren Fendrick
Talks About Blocking on Volleyball 1on1

---
Six year AVP Pro Lauren Fendrick has excelled at her net game raising
her quality of play both on domestic and international beach tours.
She has grown her reputation as being one of the AVP's best blockers
through hard work and practice.
Listen to what she says in this series of videos of volleyball on how to
block a ball on the beach.
Discover more volleyball blocker information below.
Blocking Volleyball Players Successfully
The Middle Blocker in Volleyball
Return To The Volleyball Block From Videos of Volleyball Blocking
Return to Inspiring Female Volleyball Players in Pictures From Videos of
Volleyball Blocking Instruction

---
Headline Caption photo by Horizon League

---