Adidas Volleyball Uniform Reveal Videos, 4 College Teams Show New Gear

The Adidas volleyball uniform is the official apparel brand for USA Volleyball National teams and several high profile collegiate teams. 
The Adidas volleyball uniform is the official apparel for both of the USA National teams and is featured on sponsored athlete, U.S. Women's National Team setter Lauren Carlini and 16 other USA Volleyball players including outside hitters Jordan Larson, Kim Hill and Sarah Wilhite, setter Carli Lloy, middles Tori Dixon, Hannah Tapp and Paige Tapp and opposite Kelly Murphy.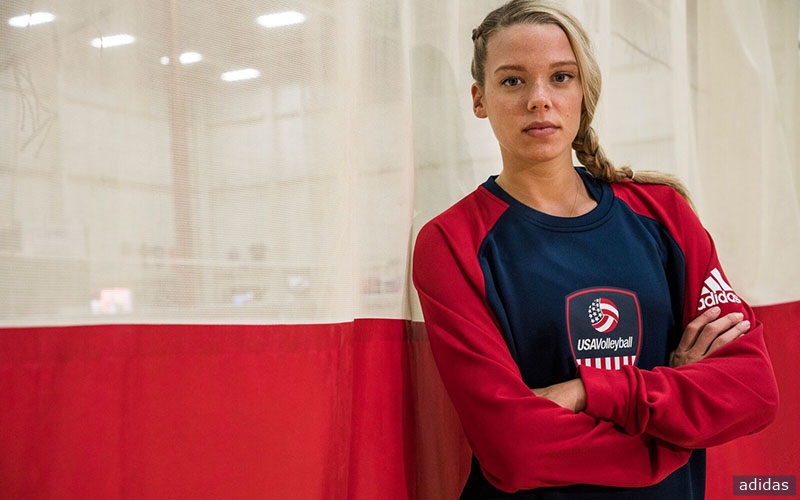 Paige Tapp one of 16 USA volleyball players has signed a sponsorship deal to wear Adidas volleyball uniforms, shoes, sneaker, accessories and apparel. (Adidas)
From the U.S. Women's Sitting Volleyball Team, outside hitter Katie Holloway joins the adidas family. 

Not only are the US National teams sporting the Adidas volleyball uniform, but a growing number of college teams are jumping on board. 
Check out some of the volleyball uniform reveal videos of four teams proud of their new Adidas gear. 
The Adidas Volleyball Uniform on College Teams and Players
The newest Adidas volleyball uniform is featured on these reveal videos by four teams in Division I including Miami, Mississippi State, Holy Cross and Louisiana Tech. 

Every year, new videos pop up at the beginning of each new season with more drama, camera angles and soap opera lighting to capture the fans and viewers attention and draw it to the designs, colors and styles of the teams new players and new uniforms. 
To be clear what's considered a volleyball uniform reveal video?

Volleyball uniform reveal videos are used to hype and promote the new uniforms that will be worn the current season during travel matches, home matches and at tournaments by the team.

Watch as these four collegiate teams reveal their new uniforms on video.
Be sure to let us know which Adidas volleyball uniform styles and designs are your faves in the comment section below!  
Video Uniform Reveal: 

Adidas Volleyball Uniform - Miami
The Miami Adidas Volleyball Uniform. 
Just had to show this pic of Miami's new jersey.
How fresh is that?
Sporting the Miami skyline on the court...I love this way to rep your city...one of my top faves so far.  Nice artwork....Great job Adidas...
This next reveal video is awesome...have you ever taken inventory of how many volleyball jerseys long sleeve and short sleeve, travel and home, spandex, yoga pants, kneepads, pullovers and pairs of shoes you get for every new season.

Here's a countdown of all the pieces of volleyball apparel one player has....for one season!

The Adidas Volleyball Uniform Reveal for 

Mississippi State 
Christmas came early for Mississippi State.
Watch as they discover what they got from Adidas this season...
The Adidas Volleyball Uniform Reveal for 


Holy Cross Crusaders 
Holy Cross Crusaders Adidas Uniforms 
Watch as the Holy Cross women's team get surprised by the discovery of their new purple, black and white Adidas jerseys, spandex and gear in their lockerroom.
The Adidas Volleyball Uniform Reveal for 
Louisiana Tech 
Louisiana Tech Adidas Uniforms 
The whole Louisiana Tech team took part in this uniform reveal.

Sponsored by Adidas, the uniform jerseys come in creatively styled version...short sleeves in blue with front and back bodice in red or white. 

Ever Loyal Be. 
Do You Follow Me on Instagram?
Follow me on Instagram @coach_apchap to improve your game even faster!
I share alot of individual, partner and easy-to-do volleyball serving drills we do in class with my followers.
Many of these volleyball practice drills you can do at home by yourself or try at your next practice with your teammates.

If you're a B team or JV player trying to make varsity next year...your goal should be to complete 1000 reps a day of at least three of the basic skills on your own...volleyball passing, serving and setting should be at the top of the list. 
Learn More About Volleyball Apparel
Apparel

What Do Volleyball Apparel Giants Asics, Adidas, Nike Mizuno UA Make?
Under Armour Volleyball Apparel The Newest Athletic Brand Players Love
Attire
10 New Volleyball Attire Rules For Indoor Players To Remember 
Jerseys
Volleyball Jerseys  Do You Think You Can Pass My Jersey Trivia Quiz! 

Uniforms
My Top 8 Volleyball Uniform Reveal Videos Features Adidas, Nike, UA
USA Players Rock Adidas Volleyball Uniforms After Official Sponsorship
Adidas Volleyball Uniform Reveal Videos, 4 College Teams Show New Gear

Under Armour Volleyball Uniforms Volleyball Teams Reveal Gear On Video

Nike Volleyball Uniforms Worn By 9 Collegiate Teams Revealed on Video
Asics Volleyball Uniforms How They're Featured in Sponsored Videos