Digging and Hitting Volleyball Drills To Help You Sideout and Score

Also called 'Hit and Dig' volleyball drills these are used frequently in our volleyball practices to work on hitting and defense technique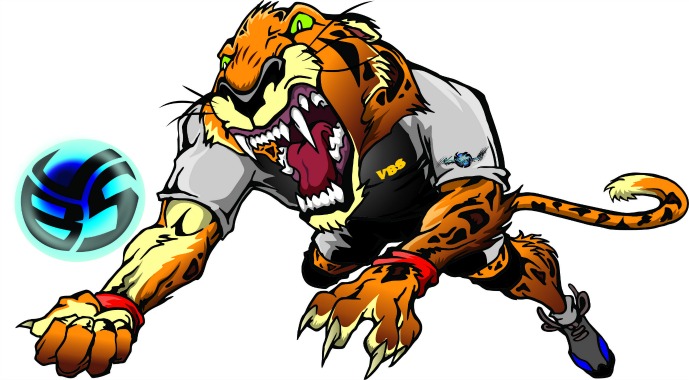 We do alot of different versions of the digging and hitting volleyball drills in our practices, classes and semi-private volleyball training. 
Usually done in warmups, I adapt this drill to use in one on one, two on one and two on two drills to improve hitting technique and digging technique skills. 
'The Classic'
Digging and Hitting Volleyball Drills
Tehani, Anu and Brooklyn work on "The Classic" Hit and Dig Drill

They're working on..
Contacting the top third of the ball with flat palm and wide fingers that control where you want the ball to go and so the ball travels from high to low (stays in the court) 

Practicing hitting line ... working on contacting the ball in front of your hitting shoulder

Maintaining a loose shoulder with a slightly bent elbow but contact is made with elbow ABOVE the level of the ear

Hips and shoulders stay open to the wall on the right until after the toss. 

After contacting the ball arm finishes downward motion with the thumb to thigh
"Coach on Three" 
Digging and Hitting Volleyball Drills
Coach on Three Drill
Defensive digging drill with 3 groups of 3 players.

-One group digs
-One group shags balls positioning themselves around the court they keep balls from interrupting the drill. 
-One group is target for diggers to dig to. .
Establish a goal a number the digging group of 3 as to get that many balls to the target without making the target move...to finish the drill. Or.... go for time...

Hitting coach should remember to hit from different zones in the front court so the diggers work on platform angles, reading and believing what they see. 

Not Digging Balls That Are HiT Right At Your Feet? 

One digging problem you might have is that you are putting your hands together too late!

When I use my phone to show players what they're doing wrong more Times than not they can see what I'm telling them to correct and they fix it fast. 

 Day 2 Middle School VB Clinic

I showed this group of middle school liberos Dafne, Delaney and Selena on Day II of our first clinic how long it was taking them to put their hands together before digging. (Swipe Left and Volume Up)

If you wait too long to put your hands together before you dig the ball.. it gives you less time to make minor tweaks and corrections to your platform angles. 

Keeping your platform arms a ball's distance away from your body and putting your hands together once you've landed in your adjusted defensive position is the key to touching more balls hit right at you and controlling those balls so they're more likely to reach their target .

When they saw what they were doing they corrected themselves. 
Then they started digging balls like this...way to go ladies!
Do You Follow Me on Instagram?
Follow me on Instagram @coach_apchap to improve your game even faster!
I share alot of individual, partner and easy-to-do volleyball serving drills we do in class with my followers.
Many of these volleyball practice drills you can do at home by yourself or try at your next practice with your teammates.

If you're a B team or JV player trying to make varsity next year...your goal should be to complete 1000 reps a day of at least three of the basic skills on your own...volleyball passing, serving and setting should be at the top of the list. 
For more volleyball drills check out:
Dope Youth Volleyball Drills We Do To Improve Our Ball Control Skills
Beginner Volleyball Drills You Can do At Home To Improve Ball Control
3 Volleyball Passing and Serving Drills We Do in Semi-Private Training

7 Fun Volleyball Drills To Do At Home, Camp and In Volleyball Practice
Digging and Hitting Volleyball Drills To Help You Sideout and Score

Hitting and Digging Volleyball Drills To Increase Ball Control Skills