Volleyball Defense
What To Do After You've Served The Opposing Team

How To Defend Your Front and Back Court Against An Opposing Attack
When playing defense, the ultimate goal of the defensive team is to keep the ball off their floor.
Volleyball Defense
Covering The Court
A team in defense has blockers that take one area at the net while diggers plant themselves in the back court outside of the area that the block takes.
In the video above the serving team (in white) is on defense. The team receiving the serve is in serve receive.  Once the serve crosses the net, the defensive team's three blockers wait at the net to try and stop the ball from coming into their court.
If the ball gets past the blockers, then the players in the back row play volleyball defense by digging the ball into the air to keep it off the ground. 
If they do, the team has two more contacts, for a total of three, to get the ball to one of their hitters and attack the ball back over the net. 
When the blockers  take away a certain area of the court, the diggers should systematically cover the other parts of the court.
This way most of the open spaces on the court are covered in team defense, making it harder for the opposing team to hit the ball to an open space. 
This is a basic explanation of volleyball defense.

Individual volleyball defense skills like
As players learn more about the game, then they learn more advanced defense strategies like digging the seam of the block or playing more advanced defenses like rotational defense, perimeter, man up or man-back defense.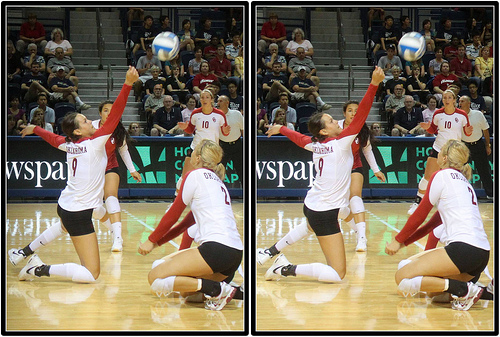 Oklahoma Sooners Volleyball Players In A Defensive Dance Dig Volleyball Photography by Michael E. Johnston
All these things are a part of learning how to adopt your team's volleyball defense strategies.
Do You Follow Me on Instagram?
Follow me on Instagram @coach_apchap to improve your game even faster!
I share alot of individual, partner and easy-to-do volleyball serving drills we do in class with my followers.
Many of these volleyball practice drills you can do at home by yourself or try at your next practice with your teammates.

If you're a B team or JV player trying to make varsity next year...your goal should be to complete 1000 reps a day of at least three of the basic skills on your own...volleyball passing, serving and setting should be at the top of the list. 
How To Play Volleyball:
Where To Go From Here
Alright, alright, alright! Time to study something something. You still have those three options: 

Let's learn more about defense, blocking, digging and how to defend your court by exploring the Related Links below. 

Or you can choose the suggested reading on our Sitemap page   

Learning How To Play

 (Sitemap)

Or visit the pages in the How to Play Volleyball section in the drop down menu at the 

top of the page to 

get started.