Volleyball Hype Video (M-Z)
The Best of 2016
The best volleyball hype video collection from Division I teams of 2016 (M - Z)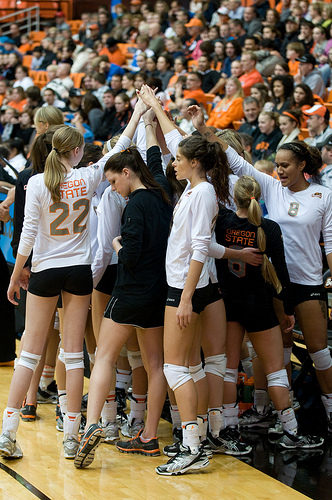 Hype videos come in the form of "intro videos"...these are created
especially for home games when the home team gets introduced to
their fans...the "intro video" begins..when the stadium house lights are
darkened and the video is played as the home team players are
introduced and run into the stadium. 
Hype videos usually have a couple of common themes from volleyball
video clips of team action, to clips of strength and conditioning workouts
to specially choreographed scenes with players around campus. 
Nowadays, the production of volleyball hype video is becoming more
and more elaborate with intricate camera shots, Go Pro wide angle shot
usage, mandatory makeup and hair, creative lighting and
sophisticated camera angles.  
Volleyball hype video categories  include

Preseason hype
Volleyball Team Intro
Hype video for specific big match team rivalry games
Post season conference playoff and tournament
NCAA playoff tournament
NCAA Elite Eight, Final Four and Finals
Season highlights
All the above categories are occasions in which schools of Division I
volleyball teams may produce a hype video used to market or promote
or advertise the success, or progress, or participation ..of their home
team in an event. 
Videos on this page are from teams in one of the conferences listed below: 
Metro 

Atlantic Athletic

Mid American

Mid Eastern Athletic

Missouri Valley

Mountain West

Northeast

Ohio Valley 

Pac 12

Patriot League

Southeastern

Southern

Southland 

Sun Belt

Summit League

Western Athletic 

West Coast
Hype Video: Mid American Conference
The Mid American Conference produced a hype video featuring all the
teams in their conference in action!
Focusing on alot of hitting action, this video was used to promote the
beginning of the Mid American Championship playoff season. 
Bowling Green
Cool BGSU video with opening scene of the team in their lockerroom
preparing for battle!
#Compete
Northern Iowa
Lots of purple and white for the Panther warriors at Northern Iowa. 
Illinois State
The united team of Redbirds is the opening shot in this video.
The viewers actually get to know the names of each athlete since they
are included next to presentation images of each student athlete. 
---
Volleyball Hype Video: 

Ohio Valley Conference
---
Belmont
Volleyball court floor and Belmont logo is the first shot in this video of
the bruins in an intra squad staged scrimmage.  
---
Volleyball Hype Video

: Pac 12 Conference
---
Arizona
Pink! Just like Fire!
The Wildcats are featured in action along with shots of family, fans
coaches, timeouts and Pac 12 action. 
USC
Trojans video starts in black and white, build momentum and then ..
ethiphoppreacher!
Eric Thomas, motivational speaker begins talking...awesomeness...
then Les Brown starts....."It's not ever, until I win!"
UCLA
Here's the intro video that airs at  all Bruin volleyball team matches when
the players are introduced. 
Utah
Utah includes shots of their shirtless and "enthusiastic" supporters!
Washington
Although from 2014, featuring Cassie Strikland and Krista Vansant this
video is quite impactful.
---
Volleyball Hype Video

: Southeastern Conference
---
Arkansas
Arkansas look like they come to battle, lots of intense action highlighted
along with TV commentator comments.
Be Undeniable!
Auburn
From the lockerroom to the court..the Tigers are on fire!
We going to blow your mind!
Florida
Check out Florida's beginning of the season hype video promoting their
preseason tournament schedule.
Florida produced a hype video to promote excitement around their
volleyball athletes who were participating in the Olympics
Kentucky
We included Kentucky's 2015 into video which was creatively awesome
with their silhouette shadow play opening.
Ole Miss
Don't Let Me Down!
South Carolina
Tennessee
---
Hype Video

: Southern Conference
---
---
 Hype Video

: Southland Conference
---
---
 Hype Video

: Sun Belt Conference
---
Arkansas State
Arkansas State showing off rings in their intro video!
Now that's a statement. 
Troy
This is a super motivational volleyball video featuring 
---
Hype Video

: Western Athletic Conference
---
New Mexico State
New Mexico brings excitement and power to their matches! 
Make some noise!
---
Hype Video

: West Coast Conference
---
Check out more information about videos in the pages below.
Volleyball Hype Videos (A-L)The Best of 2016
Volleyball Hype Video (M-Z)The Best of 2016

Volleyball Spike Video Clips Provide Great Tips
Online Volleyball Training Videos
Beach Volleyball Videos Can Be Beneficial
How To Play Volleyball Video Clips Improved My Skills
Return To Watch Volleyball Videos To Improve Your Game From
Preseason Player Volleyball Awards (M-Z)

Return To Improve Your Volleyball Performance From
Preseason Volleyball Awards (M-Z)