Vegas Volleyball Instruction For Current and Future Varsity Players 

Coach April Chapple's Volleyball Instruction offers training for Vegas Collegiate, Varsity Elite, JV, B Team and Youth Players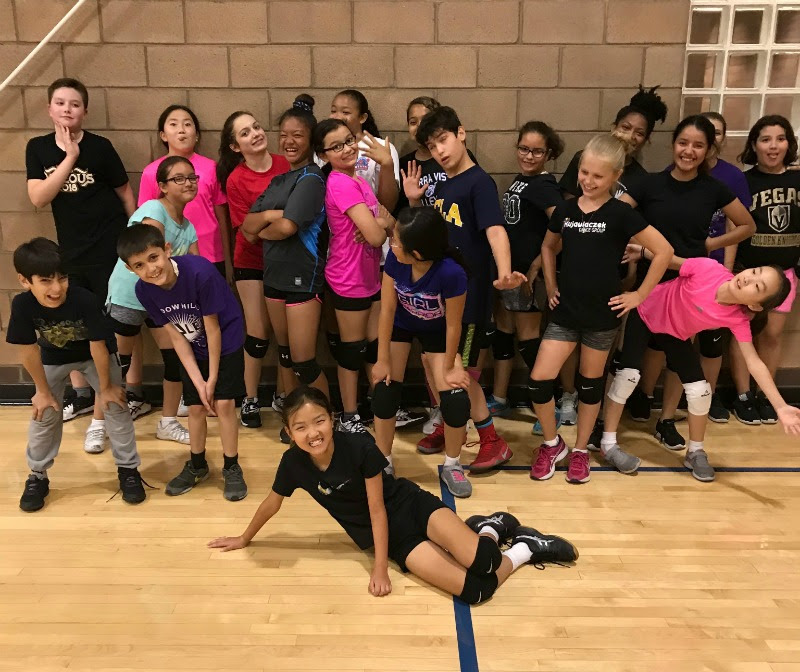 Our regular Friday Night Boot Camp volleyball instruction class for Beginners at Veterans Leisure Memorial after a tough practice...strike a pose!
Vegas volleyball coaching! Nine years and running!
I've provided volleyball instruction to Las Vegas collegiate, high school, middle school and youth players and coaches for more than eight years now. 
I love teaching volleyball skills.  

As a player, I was taught early in my playing career by former Olympic players and elite coaches and what I learned from them, worked!
Providing volleyball instruction based on the elite training I received and giving back to the sport whether

a) it's what I do in the gym or
b) through what I share on this site and social media is one of my favorite things to do.  
With that said......let's get started! 
You came here to improve your volleyball skills so let me tell you about the advanced instruction, weekly classes and semi-private training opportunities. 
For 2019, specific volleyball instruction boot camp classes and clinics are offered weekly for varsity, elite and USA High Performance level and collegiate players. 
Scroll below for more information on who qualifies, how to register and class locations. 
These classes are:

*Wednesdays at Chuck Minker   4:00 - 5:30
Thursdays at Stupak                       6:00 - 7:30
Click the "Weekly Classes" tab above to view our class schedule and information page where you'll learn about class times and days, ages and skills requirements, along with directions to facilities and things to know before coming to your first class. 
Find detailed information about the new 2019 pricing and class packages offered for semi-private training sessions and private volleyball instruction provided by Coach April and the award-winning Boot Camp class coaches. 

Wednesdays: The New Breakfast Club
at Chuck Minker Sports Complex 4:30 - 6
Wednesdays Breakfast Club at Chuck's
$10 at Chuck Minker
Extremely intense volleyball training.

Formerly, the 10:30 invitation-only Saturday Breakfast Club at Stupak is now on Wednesdays from    4:30 - 6pm at the Chuck Minker Sports Complex.
If you've never attended a Breakfast Club Class before... call, email or text Coach April BEFORE making the trip.
If you dont know what it is ...you need to find out BEFORE Wednesday and 

before coming to 

Chuck Minker, otherwise you won't get in. 
VERY, VERY Advanced Division I style of training- focusing on technique and basic skills for players who can maintain the elevated speed, focus, stamina and concentration.
Breakfast Club Class Minimum Requirements
YOU MUST be able to do all 6 skills very well and under pressure....before 

coming to this class....

You must be on a varsity team or invited by Coach April to join 
USA HP and USA National Team level training
On your first visit you will need to allow for 10 minutes of paperwork to be 

filled out before class begins at 4:30 at the front desk.
Thursdays: Thursday Night Boot Camp Class
at Stupak Community Center    6:00 - 7:30
The Thursday night volleyball Boot Camp class is best for experienced varsity high school players who are motivated to take their volleyball game to the next level (college) and need to perform the six basic skills at faster more intense levels under pressure. 
Directions to Volleyball Voice Boot Camp Classes at Las Vegas City Facilities 
Stupak Community Center 
251 W. Boston Ave, LV, NV 89102  702-229-2488
Off the I - 15 Exit Sahara: Stupak is one block west of the 

Stratosphere across 

the street from the parking lot.
Chuck Minker Sports Complex  
275 N. Mojave Rd, LV, NV 89101 702-229-6563
Mirabelli Community Center  
6200 Hargrove Avenue, LV, NV 89107 702-229-6359
Veteran's Leisure Memorial  
101 Pavilion Center Drive, LV, NV 89144 702-229-1100
Learn More
About Classes