My Volleyball Motivation:Why I Charged $5 For Vegas Volleyball Classes
I was recently asked what my volleyball motivation was for coaching in Las Vegas. I decided to share my answer here in hopes it inspires someone to coach also. 
Register For College Breakfast Club or Serve/Pass/Dig Clinics in June and July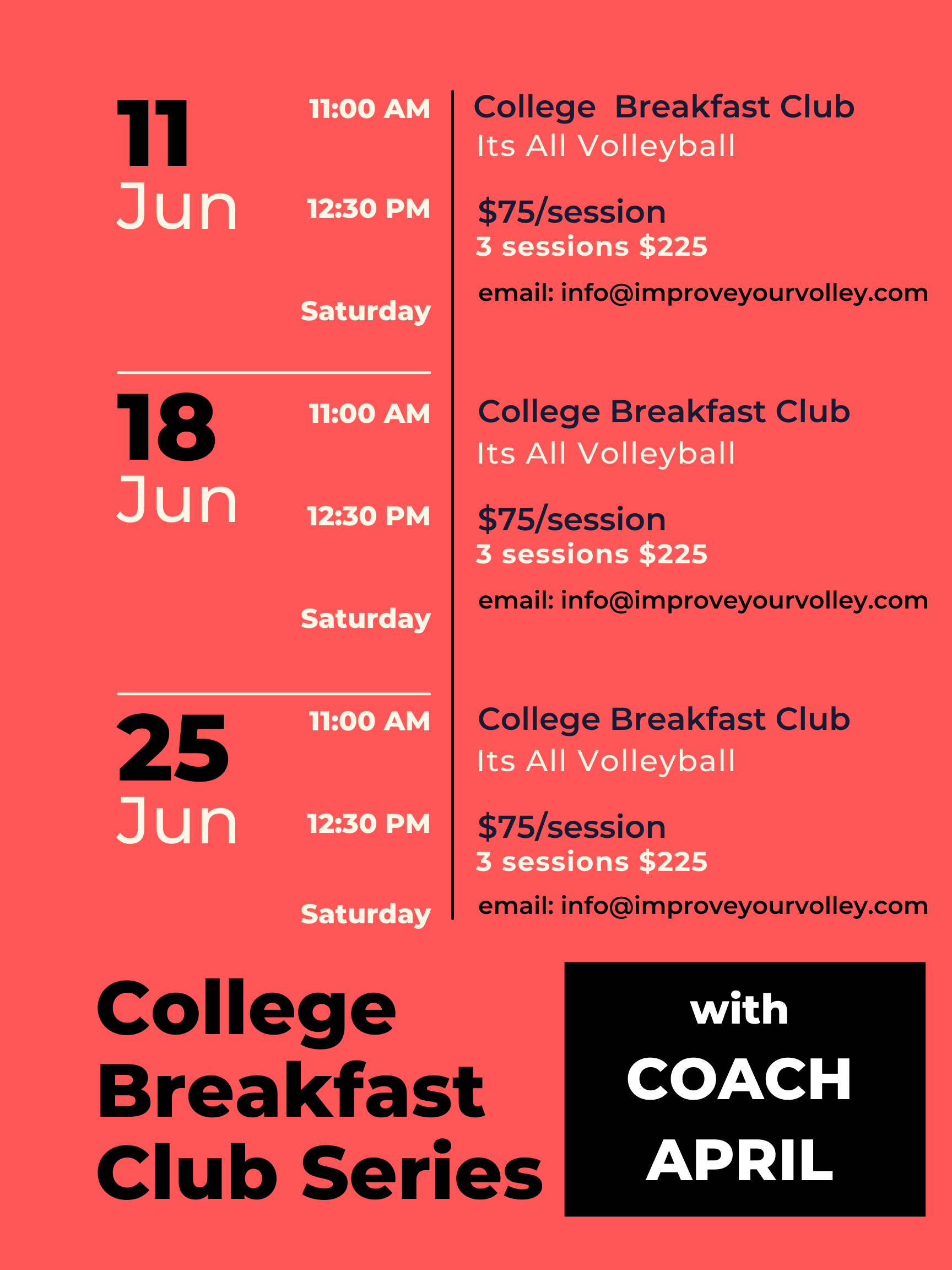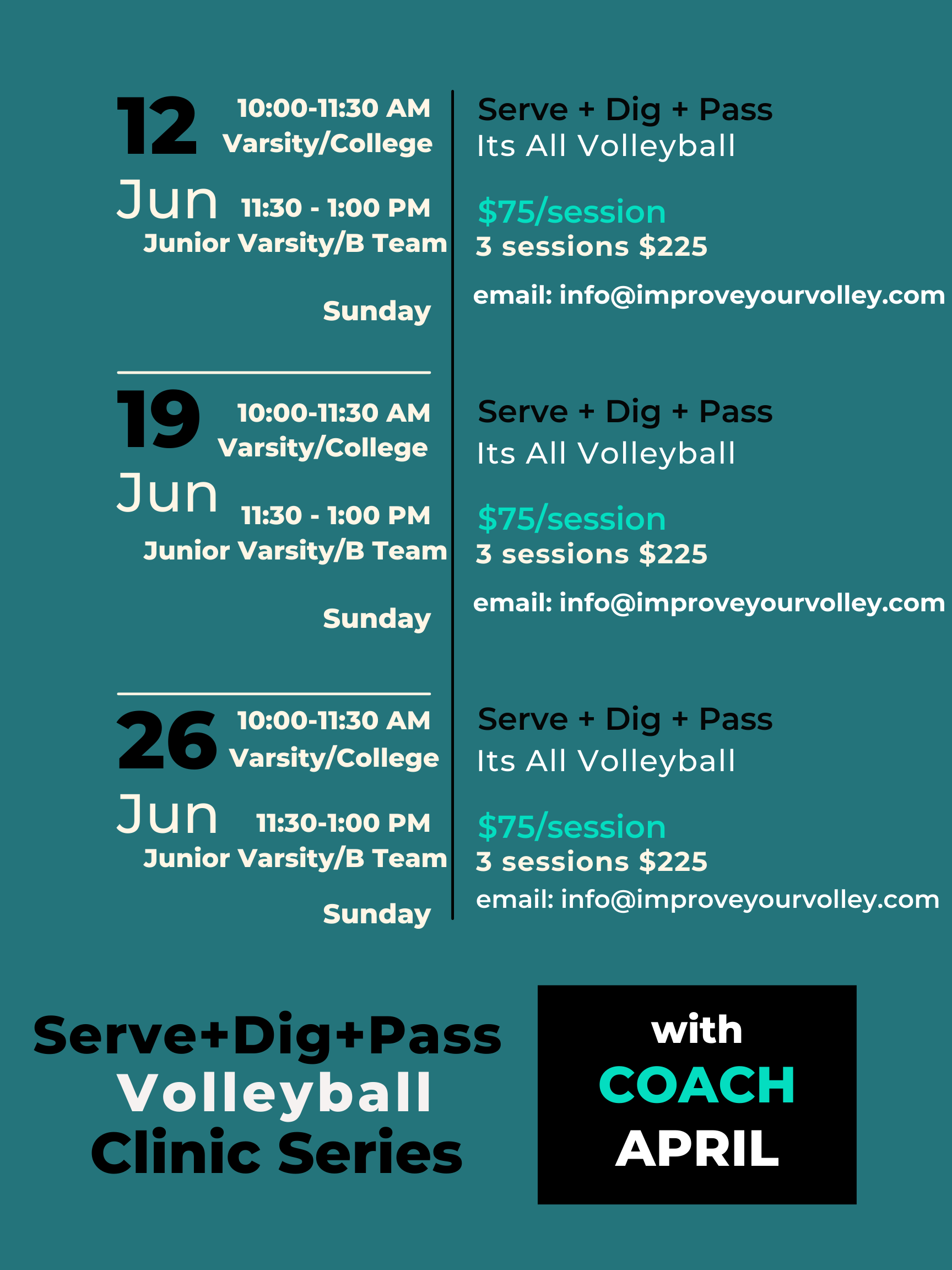 Must have two years experience and be on a high school team for Serve+Pass+Dig clinics. 
Must be an outgoing senior on a varsity team or a college team for College Breakfast Club clinics. 
Email info@improveyourvolley.com for more information on space availability. 
When I was a professional player in Italy in the late 90's early 2000s, because I was there for so long I saw the positive benefits of older more experienced players coming into a country to play along side younger Italian players (both male and female).

I was a national team player playing with and against Olympic gold and silver medalists from all over the world which was a big deal for me.

Can you imagine being an Italian high school player good enough to make a Division I team (at the time) and practice daily along side Olympians and World champions for eight months out of a year every year?

I saw the benefits this had for Italy and the players who learned what to do and how to do it and what to say on the court and just how to be better learning a ton from these visiting pro players.

Almost every summer when I was off I'd visit my parents  who had moved to Vegas from Southern California once my Dad retired in late 80's.
I'd visit them and then check out local volleyball practices or tournaments.
By the time I moved here in 2006 I had an idea as to what was going on in the local scene. 
Once I decided I wanted to coach I already knew several things about Vegas Volleyball. 
My Volleyball Motivation:
Why I Charged $5 For Vegas Volleyball Classes
It didnt seem like any of the local school and/or club players were benefitting in anyway (except 1-2 exceptions Durango/Nevada Jrs back in the day) from the influx of great talent and great coaches that was coming into the city to compete in Vegas, our city 2-4 times a year. Everyone wanted to come to Vegas but it didnt benefit any of Vegas players
No one was really incorporating strength and conditioning into their volleyball training programs

.
The clubs at the time were professional babysitters, I felt, who weren't really educating and fixing or teaching players REAL technique and skill that they could use to play competitive volleyball
My Volleyball Motivation:Why I Charged $5 For Vegas Volleyball Classes
So when I started coaching I did it with a chip on my shoulder. I wanted to make a statement and prove these coaches wrong and send a STRONG message to the parents that basically they were not getting a REAL return on their investment. 

That's why my first classes were $2 classes when I was at the Hollywood Rec Center. We'd get over 60 players from the area and we only had half a court to work with.

By that time my mother found and introduced me to Coach D who was knocking door to door to promote his physical training services. (See how God works?) And Coach Rick dropped in to one of my first classes and NEVER stopped coming for 7 years after that. 

I told them the only way we'd do this is with a strength and conditioning component in every practice so that Vegas kids would get stronger, faster, jump higher and hit harder which was needed to compete at higher levels. 

So the Boot Camp class concept came from that.
It became a volleyball circuit training 90 minute class with one group doing strength and conditioning and two groups doing volleyball skills.

The other thing I insisted on was coaches would learn how to coach without spending so much time talking so players would average 500 reps in an hour.
The more a player touches a ball the better they get.
At club practices most players weren't touching enough balls and definitely weren't sweating or working hard in their club/high school practices..until they came to our Boot Camp class practices. 

My Volleyball Motivation:
Why I Charged $5 For Vegas Volleyball Classes
At Stupak everybody sweats for this reason.
Its become a thing. We dont walk in practices and we train at the speed at which a game is played. 

To this day one of the biggest compliments I hear and love is "Man we dont sweat in our practices but we sure sweat and work hard at Boot Camp class!"
That's one main thing that motivated me and that's what continues to motivate me.
Because with this sweat ethic I know more kids will learn faster how to play better volleyball. Which in turn means more kids get recruited ..which has been happening in the past 2-3 years.

I hope I helped in challenging Vegas coaches in the Valley to get better..improve their coaching skills and to really teach players how to play the game. 
My Volleyball Motivation:
Why I Charged $5 For Vegas Volleyball Classes
It took 2-3 years but when you charge $5 for classes and your players as freshmen are making varsity  and making USA High Performance teams and parents are paying hundreds/thousands of dollars for club volleyball and their kids play at the end of the season with the same skills they started with at the beginning of the season……parents begin to notice and people begin to talk. 


One last thing that motivated me also was that rule about freshmen players not making varsity that seems to only exist here In Vegas.
Everyone else around the country has freshmen players who train to make the varsity team and Gatorade even produces a National All Freshman Team - no Vegas player could ever make that team and that didnt make sense to me. 

So I made it a personal challenge to produce better players at a younger age…and in my mind I dared the coaches to say No to players who HAD to make the team because it was so obvious they deserved to.

Those are my thoughts, inspiration and volleyball motivation for doing what I've done for the love of this sport. 
Do You Follow Me on Instagram?
Follow me on Instagram @coach_apchap to improve your game even faster!
I share alot of individual, partner and easy-to-do volleyball serving drills we do in class with my followers.
Many of these volleyball practice drills you can do at home by yourself or try at your next practice with your teammates.

If you're a B team or JV player trying to make varsity next year...your goal should be to complete 1000 reps a day of at least three of the basic skills on your own...volleyball passing, serving and setting should be at the top of the list. 
My Volleyball Motivation: 
Where Do You Go From Here?
We know where you need to go now! Here are three options: 

Learn more about Training with Me by clicking one of the links in the Related Links below. 

Follow the suggested reading on our Sitemap page 

Learning How To Play

 (Sitemap)

Or visit the pages in the How to Play Volleyball section in the drop down menu at the 

top of the page to 

get started.