My First Gatorade Player of the Year, Sydney Berenyi, Nevada 2016-2017
My first Nevada State Gatorade Player of the Year was Silverado outside hitter Sydney Berenyi in 2016-2017, the first Volleycats captain about to be a mama to be

Registration is now open for March/April 2023 Serve+Dig+Pass+Clinic Series hosted by me, Coach April. Two (2) one hour sessions on March 4, 5 and April 8. For experienced players with two (2) years experience with ages 14 - 16 and for ages 16 - 18 . March 4 9am - 10:30am (ages 14 - 16) and 10:30am - 12pm (ages 16 - 18) March 5 10am - 11am (ages 14 - 16) and 11am - 12pm (ages 16 - 18) April 8 8am - 9am (ages 14 - 16) and 9am - 10pm (ages 16 - 18) Limited spaces available. Spots will sell out. Email info@improveyourolley.com for more information and to reserve your spot..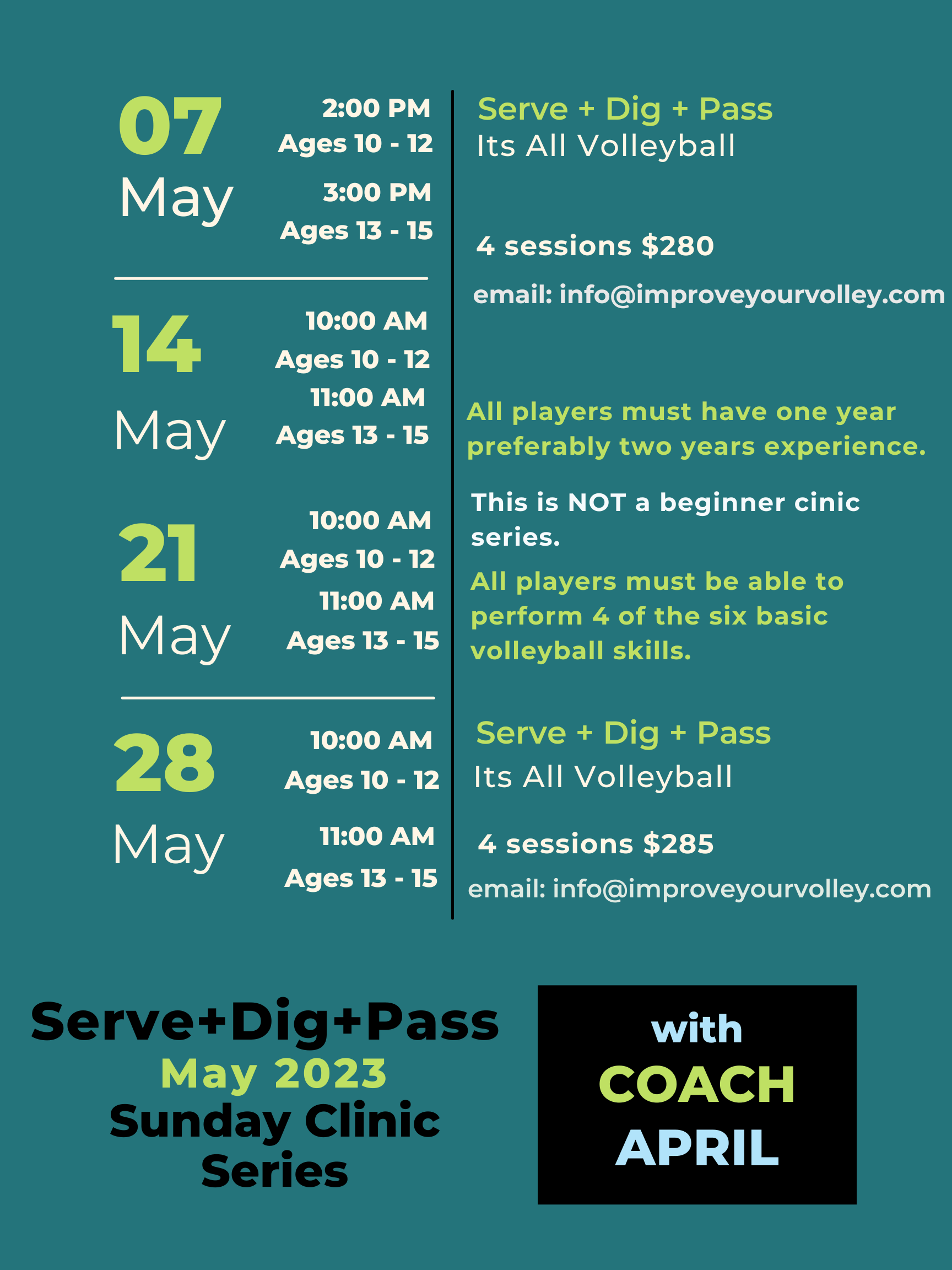 Registration is now open for May 2023 Serve+Dig+Pass+Clinics hosted by me, Coach April. Four two hour sessions on four Sundays in May from 10-11 for ages 10-12 and from 11 - 12 for ages 13 - 15. Must have 1-2 years of experience. Limited spaces available. Spots will sell out. Email info@improveyourolley.com for more information.
2016 - 2017 Volleycats Elite's captain and Silverado outside hitter Sydney Berenyi (now Lasike and a mama-to-be) was my first Nevada State Gatorade Player of the Year. 

Long before entering high school, Sydney Berenyi has had an incredibly strong work ethic along with a relentless drive to improve every aspect of her game (and academics).

Most young players focus on their strengths and work to better those, Sydney once she identified a particular weakness she wanted to improve on, applied hours of practice time to changing her weaknesses to strengths.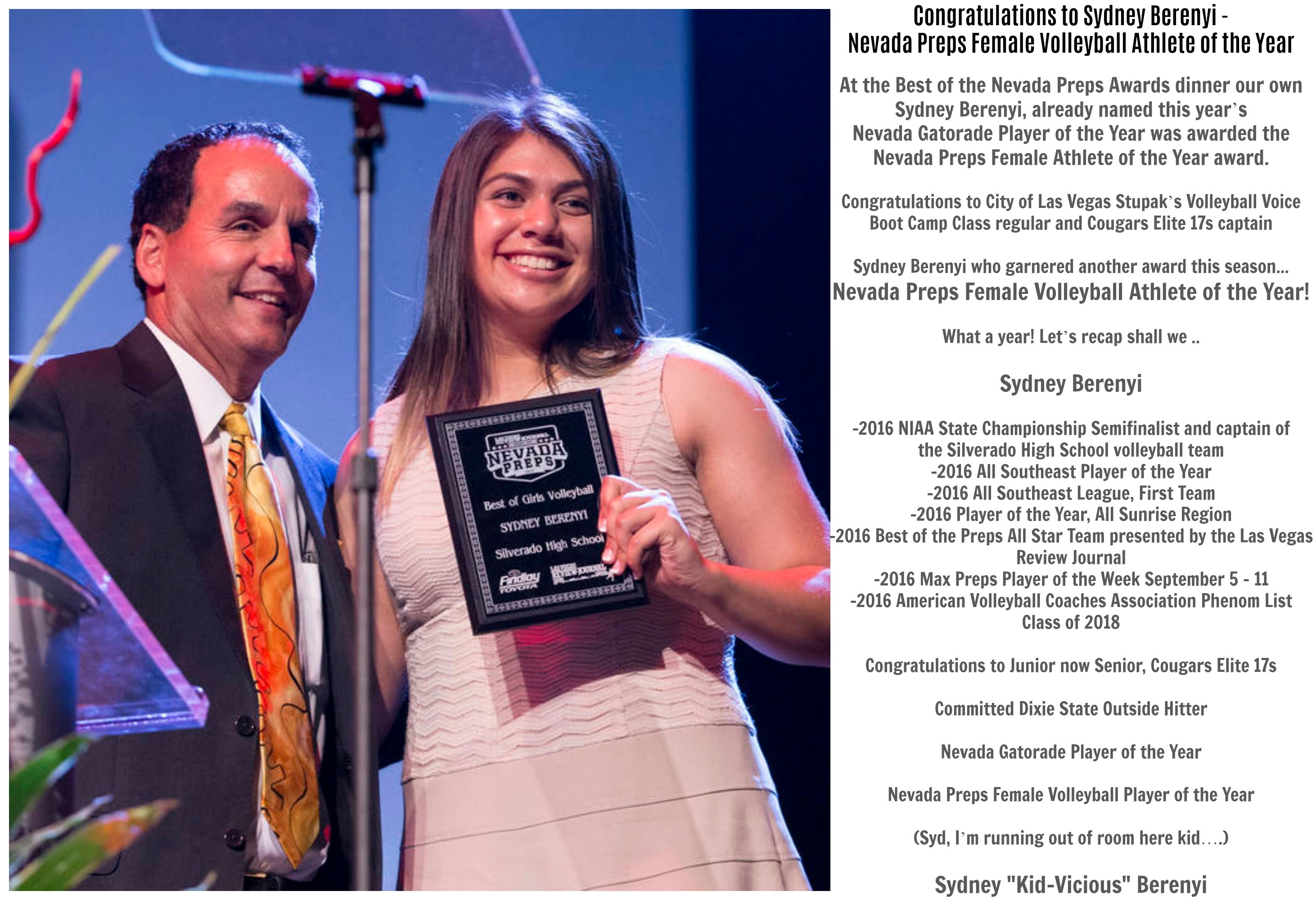 Sydney Berenyi who garnered another award this season....Nevada Preps Female Volleyball Athlete of the Year!
What a year! Let's recap shall we ..

Sydney Berenyi - NEVADA PREPS - Best of Girls Volleyball
SYDNEY BERENYI Silverado High School Findlay TOYOTA
2016 NIAA State Championship Semifinalist and captain of the Silverado High School volleyball team

2016 All Southeast Player of the Year

2016 All Southeast League, First Team

2016 Player of the Year, All Sunrise Region

2016 Best of the Preps All Star Team presented by the Las Vegas Review Journal

2016 Max Preps Player of the Week September 5 - 11

2016 American Volleyball Coaches Association Phenom List Class of 2018
Congratulations to Junior now Senior, Cougars 17s Elite
Nevada Gatorade Player of the Year

Nevada Preps Female Volleyball Player of the Year
(Syd, I'm running out of room here kid....)
Sydney "Kid-Vicious" Berenyi
Relentless, focused and determined is how I'd describe Sydney, the student athlete who would come to volleyball boot camp classes on the same day after competing in school matches because she wanted to get additional training in.

Never leaving anything to chance, Sydney has worked relentless to become the best all-around player she could be.
Always known as a smart and powerful hitter, Sydney has spent hours working to improve her backcourt passing and defensive skills which already rival those of many Division I players.
Gatorade Player of the Year, Sydney Berenyi
Off The Court
Completely dedicated to the sport [volleyball], Sydney has always placed a priority on excelling in the classroom, and she manages to balance her work in these two fields with strong time management skills and relying on her faith to sustain her success as she excels in the classroom, at church, and in the community.

Gatorade Player of the Year, Sydney Berenyi
Attitude
Congratulations to Junior now Senior, Volleycats Elite VBC Cougars 17s Elite 2016-2017 Nevada Gatorade Player of the Year Nevada Preps Female Volleyball Player of the Year
A relentless, aggressive competitor, Sydney has learned, like most champions, how to be comfortable with her on court aggressive "we will win this point and the next five points" persona while simultaneously being a friendly, trustworthy student-athlete and approachable young lady off the court.

Gatorade Player of the Year,
Sydney Berenyi
Leadership
Sydney has been a captain on many of the teams she has played on because of her innate leadership skills.
She has worked hard to be comfortable in her own skin with decision making when dealing with teammates and coaches whose continued reliance on her presence on the court throughout this entire season and previous ones is evident.
Uplifting and positive, she leads by example by giving 110% effort on and off the court.
Fitting the ideal model for an athlete that is "the first in the gym and the last to leave", Sydney has established herself in practices and in matches as the team's go-to player when it's absolutely necessary to score never forgetting to work hard at bringing out the best in other people whether she's in the front court encouraging backrow passers or in the backcourt encouraging her front row hitters.

Having played with many different setters Syd establishes a good working relationship, regardless of the setter she's playing with at the time, often taking the responsibility for any missed opportunities on the court. 
Sydney is a sparkplug whose presence on the court is vital whether the ball is on her team's side or not because she is able to impact the match, starting with her explosive jump serve.
Whether offensively or defensively Sydney has an effect on nearly each and every play on the court. 
Her hard work and sacrifice, leadership, character and exemplary attitude, Sydney Berenyi represents everything good with Nevada prep volleyball and is a stellar candidate for Gatorade Player of the Year. 
April Chapple
Director Volleycats Elite VBC, Las Vegas, Nevada

Sydney Berenyi, Club Coach - Cougars Elite 16s (2014-2015)

Sydney Berenyi, Semi Privates/Boot Camp Class Coach (2012 - 2014)
Cell Phone: 702-439-3064
Congratulations Sydney Berenyi, Gatorade Player of the Year
Congratulations to Nevada State Gatorade Player of the Year Sydney "Vicious" Berenyi who has verbally committed to play for Dixie State University!  
Syd has been a long time member of the Stupak family coming to practice, privates and to play for several years before Volleycats was founded three years ago. 
As an original Boot Camper and Breakfast Club member, we are so excited to see the results of years of Syd's preparation, discipline, sacrifice and hard work pay off! Congratulations from all the Volleycats staff and players, Syd!
Thoughts from mom, Lea Berenyi of Gatorade Player of the Year "Syd Vicious"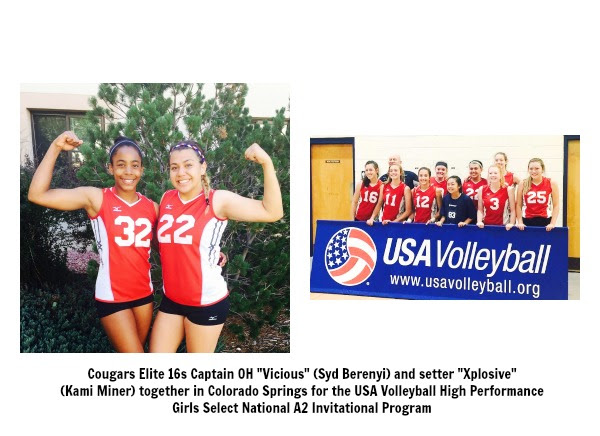 "Great coaches don't just coach. They change you."
You gotta know by now what a gem you are Coach A! You have been an inspiration to Syd (our family) from the get go.
I still remember how excited she was coming home after her first day at Stupak. "Momma, if Coach April ever starts a club, I'm going to quit this one and go play for her," "I love the way she coaches,"...
The big test came when you started your club 3 yrs ago, only playing in the local tournaments. Syd didn't think twice... she believed and understood why you did what you did... she stayed humble, learning all she could to be physically and mentally strong, improving her craft and leadership skills preparing her for travel.
Btw, those essay and video assignments have helped her develop more love, passion, appreciation for the game and pushed her to do well on and off the court.
Thank you for giving her (us) the right tools to go about recruiting. 

We did our part and Syd did hers. She reached out to many D1 and D2 schools. She personally visited some and had wonderful experiences.
Some saw her abilities, skills, but didn't see the kind of person she is... others looked at her size and shape, but didn't see her heart... and finally she came across a Coach who sees her just like you see her... the whole package! 

Dixie doesn't need an OH for 2018, but Coach Robyn saw something special in Syd and couldn't pass her up. 😭😭
And I'm glad Syd happily/gratefully accepted the offer. I know she will be in good hands.
One more step to go in Nov, then we can proudly send her off.
Thanks again Stupak family (every coach, every athlete, every parent who's had a hand in helping and supporting Syd to become the player/person she is today)
Love you all 💙💙
GATORADE STATE PLAYER
OF THE YEAR
What does it take?
According to the website....
The Gatorade State Player of the Year award winners are evaluated and selected on the basis of three criteria:
Athletic Excellence - Standout performance in their respective sport made at the high school, club, national or international levels of competition.

Academic Achievement - Review of GPA and class rank, as well as SAT and ACT scores, and academic honors distinctions.

Exemplary Character - Commitment to sportsmanship, character and community through membership and participation in positive activities.

Now from my point of view having coached quite a few elite players in Nevada..
To be Gatorade Player of the Year you have to put a TON of balls on the floor and you HAVE to know how to completely take over a match and everyone has to remember you doing it time and time again. 
In order to do that..you HAVE to practice and train ...with a disciplined and focused mindset with the intention that neither the block nor the set will be your excuse for not putting the ball on the floor...All this while still being able to pass half the court, in the most difficult of situations. 
You learn to conquer your nerves and master the psychological aspects of the  game while every opposing player and team ...guns for you ...and you revel and enjoy the chance to compete ..at the highest levels of competition.

That's what it takes. 
Sounds tough? Of course it is..but if it were easy...anyone would be named Gatorade Player of the Year. 
Congratulating my first Nevada State Gatorade Player of the Year and mama to be...Sydney Lasike. 
Do You Follow Me on Instagram?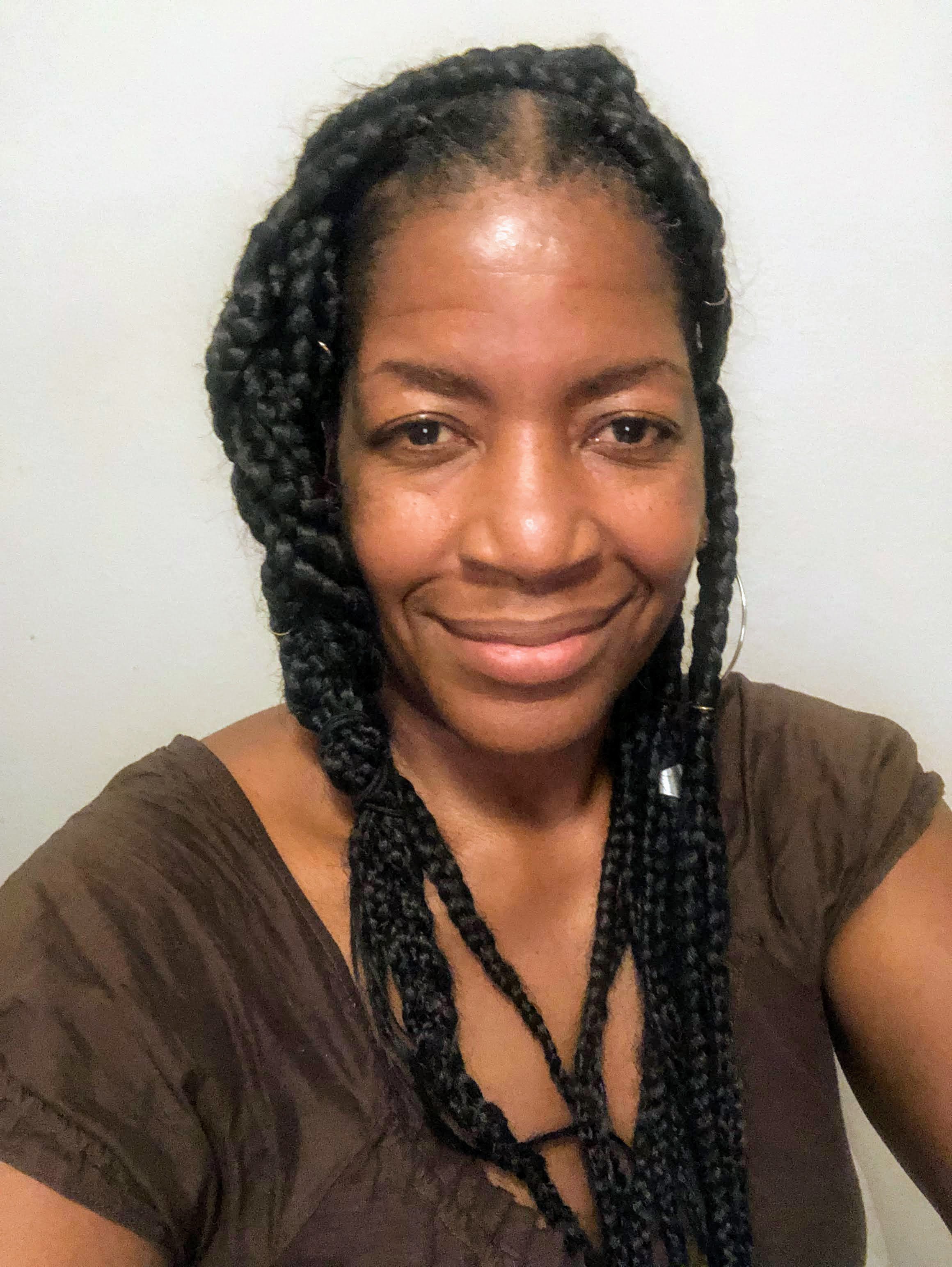 Follow me on Instagram @coach_apchap to improve your game even faster!
I share alot of individual, partner and easy-to-do volleyball serving drills we do in class with my followers.
Many of these volleyball practice drills you can do at home by yourself or try at your next practice with your teammates.

If you're a B team or JV player trying to make varsity next year...your goal should be to complete 1000 reps a day of at least three of the basic skills on your own...volleyball passing, serving and setting should be at the top of the list.