Big Ten Conference Volleyball Schedule

The Big Ten: Is It The Toughest Conference?

The Big Ten Conference has gained a reputation of being one of the two
toughest conferences in the NCAA race for the championship title, often
trading places each year with the Pac-12. 
University of Illinois at Urbana-Champaign

Indiana University

University of Iowa
University of Maryland
University of Michigan

Michigan State University

University of Minnesota
University of Nebraska-Lincoln

Northwestern University

Ohio State University

Penn State University

Purdue University

University of Wisconsin in Madison
New Jersey
---
Illinois  Fighting Illini
---
Coach Kevin Hambly is gone, this season is his first year at Stanford.
Photo by Richard Yuan

The Big Ten Conference has the one of the toughest and talented group
of teams in the conference and
---
Indiana  Hoosiers
---
---
Iowa Hawkeyes
---
2017 Schedule
---
Michigan Wolverines
---
As an NCAA volleyball Final Four participant in last season's playoffs the
Wolverines look to repeat or improve a magical 2012 outcome.
Recipient of the Coach of the Year for a female team award from MGo
Athletics Mark Rosen enters his 15th season where year after year he's
been improving his team's year-end records with five Sweet 16
appearances, one Elite Eight appearance and his best finish the
semifinal  show in 2012.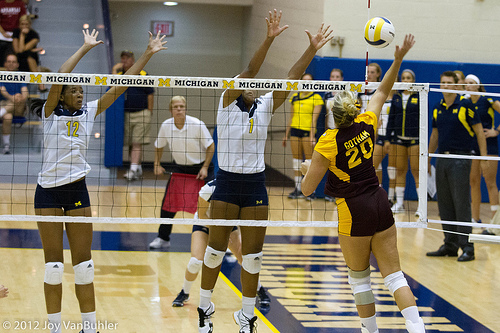 Photo by Joy VanBuhler

---
Michigan State Spartans
---
Coach Cathy George led her Wolverines to a 25 - 10 overall and a 11 -
9 conference finish for 2012. 
"Pre-season recognition is a bit of looking into a mythical crystal ball, and a bit of recognition for what you have done in the past - but everyone knows that those numbers really don't mean much once you step on the court," said Cathy George, entering her 13th season on the Spartan sideline - the longest tenure of any volleyball coach in program history. "We feel good about the experience we bring back, but there's a very challenging Big Ten season ahead for all the teams in the Conference. We are focusing on our own preparation and foundation - practice by practice and game by game. There's a lot of enthusiasm and excitement, but we're focused on this being a day-to-day process."
MSU will hold its annual Green and White Exhibition on Saturday, Aug. 19 at 4 pm at Jenison Field House, with free admission. MSU opens its home schedule on Friday Sept. 1 when it opens the Auto-Owners Insurance Spartan Invitational. 
Coming off a 25-9 (13-7) season in 2016, MSU finished the 2016 season at No. 19 in the final AVCA national poll. The Spartans are one of just three Big Ten programs to finish .500 or better in Big Ten play over the last six seasons – Penn State and Nebraska are the other two.
The Spartans are coming off their 19th overall NCAA Tournament appearance in 2016, and earned their sixth consecutive first round victory in the tournament – the longest streak in school history.


The Spartans return three AVCA All-America selections: Senior Alyssa Garvelink (Second Team, 2016), Redshirt senior Autumn Bailey (Honorable Mention, 2013, 2014, 2016), and Senior Rachel Minarick (Honorable Mention, 2014).
Among MSU's six freshmen are Corunna product and Michigan Miss Volleyball Meredith Norris and Oregon, Ohio native Jamye Cox, who both have extensive experience with USA Volleyball's High Performance program and were first team Under Armour All-Americans as prep players. Norris (No. 25), Alyssa Chronowski (No. 30) and Cox (No. 40) are all among PrepVolleyball's Senior Aces for 2017.


The Spartan roster is 17 players strong. MSU returns four starters and its starting libero from a year ago, welcoming back 11 letterwinners (12 players) from 2016. MSU's largest classes are the seniors (7) and freshmen (6). There are two each sophomores and juniors.


The Spartan senior class was the No. 6 recruiting class in the country in 2014, consisting of Alyssa Garvelink, Rachel Minarick, Abby Monson, and Holly Toliver. The class grew as Brooke Kranda and Megan Tompkins, part of the No. 7-ranked class from 2013, redshirted their true freshman season, and again after transfer Autumn Bailey missed the 2015 season with injury and she was granted a medical hardship waiver.
---
Minnesota Golden Gophers
---
Former USA Olympic Men's and Womens' coach Hugh McCutcheon will
begin his fifth year at the helm of the Golden Gophers women's
program.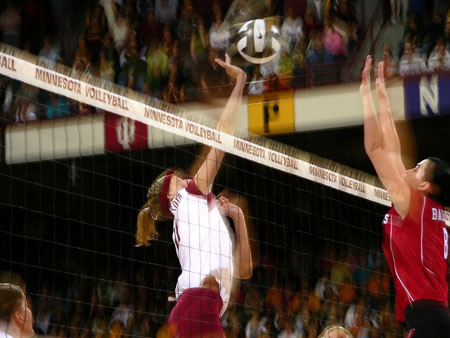 Photo by Robb

---
Northwestern Wildcats
---
---
Ohio State Buckeyes

---
---
Penn State Nittany Lions
---
The four-time NCAA volleyball champions finished with a 1
Coach Russ Rose led his No. 1 ranked team to the Final Four in last
year's NCAA volleyball playoffs before being upset by No. 5 Oregon in a
3 - 1 loss in Louisville's Yum! Center.
Photo by RRaiderstyle

Guiding the Lady Lions in his 34th season at the helm of the Penn State
women's volleyball team is Big Ten Coach of the Year Russ Rose, the
man with the recipe for 1000 career wins, winning an unprecedented
four NCAA volleyball championship titles.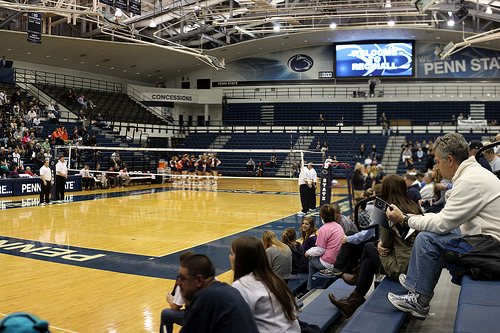 Photo by Richard Yuan

---
Purdue Boilermakers
---
The Boilermakers are looking to improve their 
Coach Dave Shondell took his team on a European trip in hopes of
creating a stronger bond among teammates and to gain invaluable
international experience.

---
Wisconsin Badgers

---
After years at the helm of the Dayton Flyers new Badgers coach Kelly
Sheffield got an early start to establishing himself and creating the
foundations of his new program during the 2013 spring season at
Wisconsin.
---
Nebraska Cornhuskers

---
Photo by Jeff Lautenberger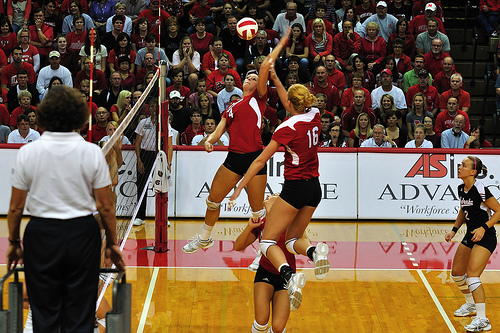 Photo by John Carrel

---
Check out more Volleyball Schedules in the pages below:
West Coast Conference Volleyball Schedule
---
Return to Volleyball Schedules For Preseason Division I Tournaments
From Big Ten Conference Volleyball Schedule

Return To Improve Your Volleyball Performance
From Big Ten Conference Volleyball Schedule