Improve Your Volleyball!
---
Learn How To Play Volleyball Like a Pro
---
It's true. You can improve your volleyball game performance.


I've learned from inspiring female volleyball players, after many years of
being an indoor and beach volleyball professional, that we learn just as
much about how to become better players by studying pictures and
exchanging inspiring stories about ourselves than we do just by going to
practice.
Whether on the court or off, when a  player reveals the
details of how she overcame a personal obstacle, it's amazing to see
how her story makes a difference in the life of another volleyball player,
team or coach.


I've seen it happen over and over again.
Whether I was playing volleyball in a European or Italian championship
final, competing on ESPN with my Budlight Four vs. Four championship
team, travelling the states as an AVP pro beach player, winning the
annual Manhattan Beach 6-man tournament, playing professionally as
a New York Liberty or just coaching at volleyball camps, I've seen how
players worked to improve their volleyball skills  by exchanging with
each other the personal life lessons learned from overcoming obstacles.
Luckily, while playing volleyball internationally, I asked some famous
female Olympic indoor and beach volleyball teammates to share their
stories of some obstacles they had to overcome.


And they did.


Were you ever told you were too short to be a setter?
Imagine this. What if you were kicked out of your house, because you
told your family that you made the USA national volleyball team, how
would you handle that?


Have you ever been teased for being too tall as a teen?


What if you were told you were too big to be a middle blocker? How
could that not hurt your feelings? What would you do to prove the
negative talkers wrong?
Or like yours truly, what if you had to wear Forrest Gump leg braces and
if that weren't enough what if your hair fell out which everyone told
you, made you look like a boy?
Could you possibly become a professional female volleyball player after
enduring that kind of drama?
Trust me, you can't help but be motivated by these inspiring female
volleyball players stories.
I was. And so have others.


You'll find lots of inspiring information here but there are still three
things missing.


You, your pictures and your inspiring story.
---
Stories

---
Inspiring Female Volleyball Players In Pictures
For inspiring female players and fans of all ages to celebrate, share and learn from stories, information, videos and pictures.
Female Volleyball Players Blog
Our players blog keeps you updated with all additions and changes to the Inspiring Female Volleyball Players in Pictures website. You can subscribe here by clicking on the orange RSS bar in the box in the left hand corner of the homepage.
Inspirational Female Volleyball Players Stories
Here's an amazing collection of inspirational stories written by the players, many who are Olympians, about the obstacles they had to overcome and the sacrifices they made in order to reach their collegiate and professional goals.
Don't miss one of the most popular areas of this site.
---
Stars

---
A Professional Volleyball Player Travels Worldwide
Becoming a professional volleyball player requires an American to travel and live outside of the US.
For years Brazil, Japan and Italy were the top destinations for the best pro players in the world to earn top dollar while playing in front of hundreds of thousands of fans and spectators.

In the past ten years many new and unlikely locations like Turkey, Russia and Azerbaijian have opened up to provide opportunities for American females to earn big money while playing in front of large crowds.
Learn more about the professional volleyball players job description, and famous indoor and beach players profiles.
For Beach Volleyball Girls Of All Ages Who Love To Play
If you're one of the many girls in beach volleyball looking to improve your technique, then this is the place to start.
In this section players learn about the six fundamental skills as they are performed in the sand game.
The pictures in this section allow you to watch girls beach volleyball players as they perform the correct technique.
---
Study

---
Volleyball terms and rules are defined for words commonly used by referees and vocabulary not so commonly used by players.
Definitions are broken down by skills so explanations are provided to describe aspects of hitting, setting, serving, spiking, blocking, defense,
Read about a brief history of American females in the Olympics. Also, learn how the game and its rules developed in the past 100 years to what it is now.
If you're in a hurry for information then check out a timeline of beach history as well as our page of basic history facts.

This section is one of the most important on our site and players will find basic volleyball rules for beginners along with rules for playing sand ball.
What sets us apart from other sites is our extensive exploration into why its important to communicate on the court. Many times learning how to communicate with your teammates especially on defense will help your team level the playing field against opponents.
We also review the rules about uniforms, about the college block and how it differs from the high school block and insight is given about the rules for incoming college freshmen.

Watching Videos Can Improve Your Game
Knowing how to use volleyball videos to your advantage can improve your skills if they know what to look for.
You can use videos as tools for scouting a team or for finding out what a beach opponent's tendencies are.
Now there are many resources for players who want online training from top professional players and world renown coaches. We share many of those videos on this site to our readers who want to improve setting, spiking, defense, blocking and other video clips that will teach skill training.

Exercises and volleyball drills are essential in the learning process for young players.
There are an assortment of drills taught by top collegiate coaches specializing in defense, the block, spiking, serving, the set and how to perform many practice drills.
---
Skill

---
Sure in this section you'll find explanations of the most basic skills in this sport like passing, serving and blocking but you'll also find what workouts can help improve your game and what a varsity coach is looking for in a player.

Spiking

This whole section is dedicated to the spike, the hit, the tip or the attack, you name it we explain it in this section.
The first opportunity to score a point in the game, the serve and all its aspects from terminology to the best locations to place the ball is explored.

Pass terminology is defined in the form of a study guide for players who want to learn more about bumping a ball or serve receive.
An extensive explanation of blocking terms is provided along with information on how to make blocking a ball easier to do.

What is necessary to be a libero? Learn more facts about this specialized position and  the terms associated with it.

Players should review these instructions on how to be a setter and don't miss the terminology associated with this skill along with the camps specifically for players who want to excel in this position.
---
Strategy

---
Go deeper into learning how to get better at certain aspects of the game. Actually learn more about the most important aspect the game like passing, serving, setting and hitting.
Each of the player positions are explored and discussed in addition tothe importance of communicating on the court.

There are 86 tips in a booklet written by editor And former pro volleyball player April Chapple divided by skill, Check it out. This section has a series of suggestions to DVDs and videos produced by top collegiate coaches giving their practice and game tips.

There are game time strategies, and practice ones to learn and adopt as well ways to communicate better while on the court.
---
Summer

---
Summer camps are a great way for players to build confidence on the court, learn new skills, meet and socialize with players that are better and to visit college campuses.

Reviews of popular volleyball clubs.
During the beginning of the collegiate season, once the preseason training camp which usually lasts for two weeks has concluded, the tournament season begins for four weeks where teams either host or travel to tournaments held on college campuses around the country.
---
School

---
Find college news in one place.
Pictures
---
Sand

---
Bikini Collection
Buy your next bikini from our collection.
Sunglasses
Get your sunglasses today.
Accessories
Buy your beach accessories like beach tents, umbrellas, folding beach chairs and beach towels.
---
Swag

---
Girls play in spandex shorts, what is that stretchy material that everybody calls spandex really?
Take The Jersey Quiz

Here's a chance to test your knowledge about the jerseys on the market today.
Uniform Styles And Technology
Volleyball uniform styles and technology has increased with the game's popularity.
---
Style

---
My Volleyball Shoes And I Have Alot In Common
My playing shoes reflect elements of my career as a professional volleyball player.
Socks, Here Are A Few Blister Reducing Tips
Reduce the chance of getting blisters by buying the right athletic socks.
Knee pads Have Come A Long Way Baby!
Volleyball knee pads are produced by major manufacturers like Mizuno, ASICS, Nfinity and Mikasa. Shop for them here.
---
Standards

---
The Court

Indoor court measurements, and information about the lines, antennae and other equipment.

Nets

Check out our collection of nets on sale.

Volleyball Ball
Famous ball manufacturers have a long history in the sporting goods market.
---
Stuff

---
Privacy Policy For Inspiring Female Volleyball Players
Review our privacy policy for the Inspiring Female Volleyball Players in Pictures.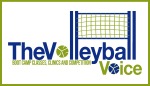 The Volleyball Voice
Boot Camp Class, Clinics and  Competition
Stupak Recreation Center, 251 W. Boston, Las Vegas, Nevada, 89142
Home to the Volleycats Elite Volleyball Club