Youth Volleyball Camps
For Hitters 
College Volleyball Camps
Offer Volleyball Spike Training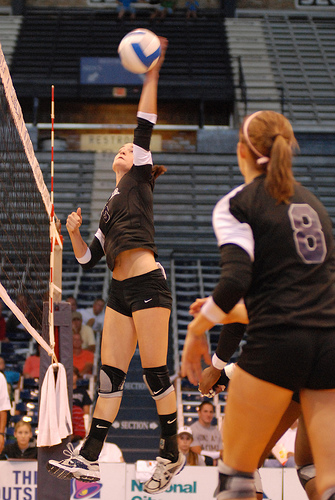 Why should you attend one of the many youth volleyball camps for
hitters offered around the country?

One of the goals that ambitious players usually set for themselves
before attending a specialized camp for hitters is to learn how to
become the "go to" hitter on their team.
---
What Players Attend
College Volleyball Camps For Hitters?

---
What are the characteristics of the "go to" spiker in volleyball?

In basketball, there's the "clutch" player who practices shooting 1000
balls a day because he or she knows they want to be that player who
gets the ball in the last two seconds of the quarter or the last two
seconds of the game and is willing to take the pressure-filled, game
winning shot, every time it's necessary.
In volleyball, that player is the "go to" outside hitter, usually a left side
player but increasingly some collegiate middle hitters have stepped up
to take on the added pressure and the responsibility of being the
"go-to" or the "clutch" volleyball hitter on the team.

This is the player who is almost always the statistical leader in hitting
attacking or spiking on their team and they are the player who always
calls for and who often gets the ball especially in "need-to-score"
moments of the game. 
These types of volleyball players are willing to take the risk associated
with being the "go-to player" in tight moments when the score is tied at
game point and their team absolutely needs to score the next two
points to win the game or the match.
---
Illinois State Redbirds Volleyball Hitter Tipping The Ball

photo by Bill Shaner

---
Quite often they have leadership qualities which are needed to show
confidence among the other members of their team and they are
required to lead their teammates through difficult moments in volleyball
games and tough matches.
---
Can You Improve Your
Volleyball Spike By Yourself?

---
Not everyone is willing or ready to take on this type of pressure.
It takes responsibility and leadership skills in addition to having a
considerable amount of talent and discipline to be the "go-to" player on
a team.
---
Memphis Tigers Volleyball Spiker Hitting Against Rice Blockers
photo by Michael E. Johnston

---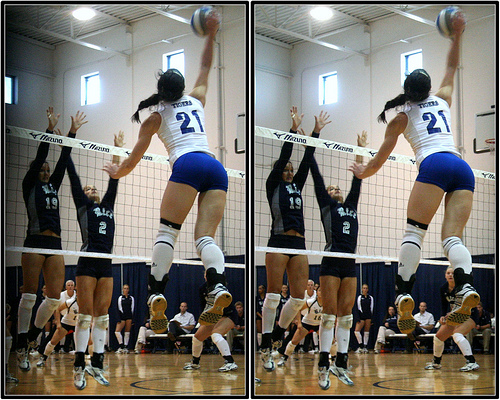 Notice, I didn't say you had to be born with these traits and
characteristics but by the time you know you want to be the "go
to" hitter on your team you sure better have started to develop them.
How do you get these traits and how can you start to develop yourself
into a possible "clutch" hitter for your team?
By setting goals for yourself and then doing the work it takes to 
be a better hitter in volleyball, and by dedicating time day in and day
out when no one is watching.
You need to remain determined enough to work hard to improve your
volleyball hits.
If that means you have to get up early to spend an hour before
breakfast hitting against your garage door so that you improve your
hand position on the ball during your volleyball spike?
---
Creighton Volleyball Spiker Contacting The Ball On The Left Side Panels
During Her Spike To Avoid The Double Block
photo by White and Blue Review

---
Then do it.
I did it and so did a lot of successful players in the outside hitter
volleyball position, I know. 
If that means you have to improve your transition footwork so that you
move quickly from blocking on the net to your defensive position and
then from there, move quickly getting into volleyball spike approach
position so you can take the most efficient footsteps to hit the ball?
Then get in the habit of taking 60-90 minutes after school and after
you've done your homework before you go out with your friends to
practice your volleyball approach spike footsteps.
I did it and so did many professional volleyball players that I know.
We all knew the importance of sacrificing some things for other things.
If being one of the best volleyball hitters on your team is important to
you, then you're going to have to spend time on improving your hitting
skills and that will mean giving something else up.
From little things like improving your volleyball spike footsteps, your
timing to the ball, your arm swing speed and your hand contact on the
ball these are all things that you can control, develop and work on bit
by bit by yourself.

How do you improve those volleyball spike basics that you don't know
about or that you can't improve on your own?
---
Specialized Youth Volleyball Camps For Hitters In Volleyball

---
By attending one of these youth volleyball camps for hitters, players will
be surrounded with other players in the same outside hitter position or
middle hitter position as they are and should be placed in to groups
according to each player's skill level.
---
Villanova Volleyball Outside Hitter
Aims For The Seam Of The Penn State Block
---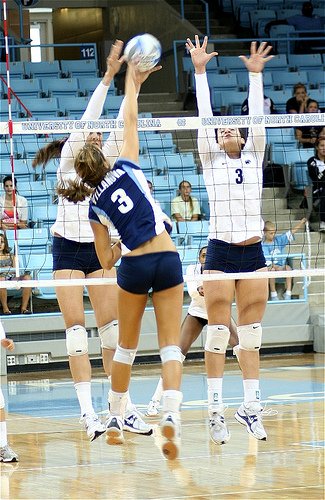 Attendees at these youth volleyball camps usually receive some sort of
volleyball spike analysis from a coach or group of camp coaches who will
analyze their spiking ability when they first get to camp and will make
suggestions on how to hit a volleyball before they spend the rest of
the camp working to improve their hitting skills. 
In some youth volleyball camps, the hitters will be asked to make a
volleyball spike approach video so coaches can evaluate what parts of
the approach a player needs to correct or change.
Usually much time is spent on perfecting the spike approach
because if you don't know how to get to a ball, then you won't be able
to hit a volleyball effectively.

So the lower body approach components include a review of the
volleyball hitters spike approach footsteps both for the right handed
player and the left handed player.
---
Tulane Left Handed Volleyball Hitter
photo by Michael E. Johnston

---
Camp coaches should review how fast each step should be for the
three-step approach and the four-step approach as well as where the
arms of the hitter in volleyball should be during the spike approach
process.

Location, location, location is an important part of reviewing volleyball
spike basics, so at camp you should learn where to place your steps
when you receive the perfect set and when you receive imperfect sets.

Moving on from the basics, at most youth volleyball camps for hitters,
players learn about hitting various types of sets starting with the high
ball set and then moving into quicker sets like the one set or the two
ball in the middle, the half shoot, the shoot to the outside, the X from
zone 2 and other commonly used variations of quick sets.
---
Nebraska Huskers Middle Hitter In Volleyball
photo by John Carrel

---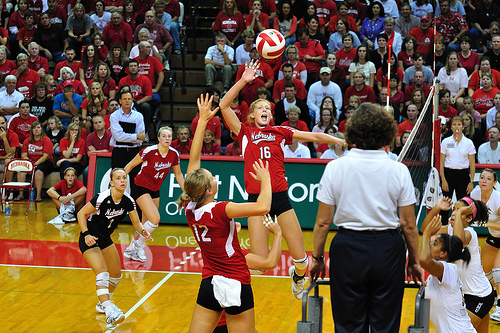 A review of the quick sets middle hitters should know will help spikers
learn how to position themselves in order for them to deliver their best
volleyball hit each time they go up to spike the ball.
Hitters at specialized youth volleyball camps will learn how to hit a
volleyball to certain areas of the court, where they should tip the ball
depending on the type of defense the opposing team is playing, and
they should learn how to wipe the ball off the block.
At volleyball hitters camps, as players progress through the basic

footwork, armswing work, and spike approach timing principles, camp
coaches will then review various attack routes for the back court
attack, and they will start to increase the repetitions required to finish
volleyball drills for outside hitters specifically for
conditioning purposes and increase mental and physical toughness.
Some youth volleyball camps teach mental techniques that players can
adopt to increase focus, concentration and most importantly self
confidence.
Confidence on the court is one of the most important factors a player in
the volleyball outside hitter position who counts on being the "go-to"
player can have.
---
Missouri Tigers Volleyball Outside Hitter
photo by Wunderlich Photography

---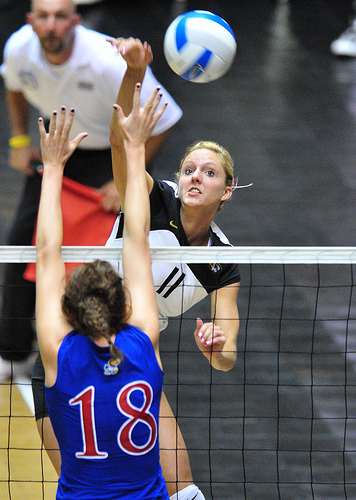 Learning how to increase that confidence without becoming cocky, or
arrogant is a priority for players looking to become the "go to" hitter.
You will find that various volleyball camps teach both basic and
advanced elements of a strong attack and will give you effective hitting
advice based on what position you play, whether you are a middle hitter
or a player in the volleyball outside hitter position.
Based on your playing experience, when you leave your specialized
camp for hitters you should at least have a working
knowledge of how how to score against a double block, have
improved your timing for high balls and/or quick sets, know how to time
your block against a high ball and be familiar with the areas of the court
where spikers need to hit to beat certain defensive strategies.
---
Check out more information about
local volleyball camps in the pages below.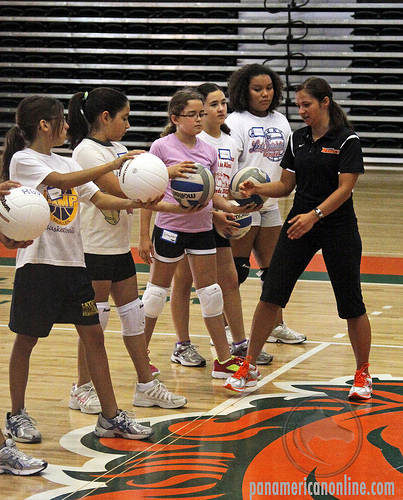 Youth Volleyball Camps for Hitters

Las Vegas Volleyball Boot Camp For High School Players

---
---
Return To College Volleyball Camp From Youth Volleyball Camps For
Return To Inspiring Female Volleyball Players in Pictures From Youth