USA Players Rock Adidas Volleyball Uniforms After Official Sponsorship

USA Volleyball Signs a Multi-year Partnership With Adidas Making Them An Official Sponsor 
Adidas volleyball uniforms are worn by indoor players and pro beach players like Tokyo Olympic hopeful Alix Klineman. (Adidas)
Adidas volleyball uniforms have some of the most innovative styles and designs among the top volleyball apparel makers.  
That could be why USA Volleyball signed a multiyear deal with them in 2017 which began a partnership to outfit all USA Volleyball teams with Adidas volleyball uniforms and head-to-toe kits for games, travel and training, as well as lifestyle footwear and apparel. 
Check out Kelsey on the court - the new commercial USA Volleyball Olympian Kelsey Robinson filmed to promote the Adidas volleyball brand which she showcased on her Youtube channel Kelsey & Brian. 
What do you think of her new commercial? Let me know in the comments below. 
Adidas, who's company is in Portland Oregon prides itself on being a leader, global designer and developer of athletic and lifestyle footwear, apparel and accessories. 
Their mission is to be the leading sports brand in the world.

As innovation and design leaders, Adidas states they engineer the best in high performance products to make athletes better faster and stronger while creating a range of classic and fresh lifestyle and high fashion lines.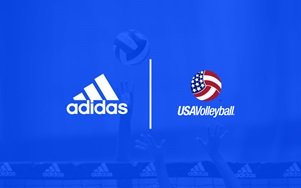 Adidas and USA Volleyball signed a multiyear partnership for Adidas to outfit all US National Volleyball teams with uniforms, apparel, accessories and footwear. (Adidas)
adidas has marketing agreements with the National Basketball Association (NBA), National Football League (NFL), Major League Baseball (MLB), National Hockey League (NHL), Major League Soccer (MLS) and Major League Lacrosse (MLL).

And now you can add USA Volleyball to that list. 
The Deal
USA Volleyball and Adidas Volleyball Uniforms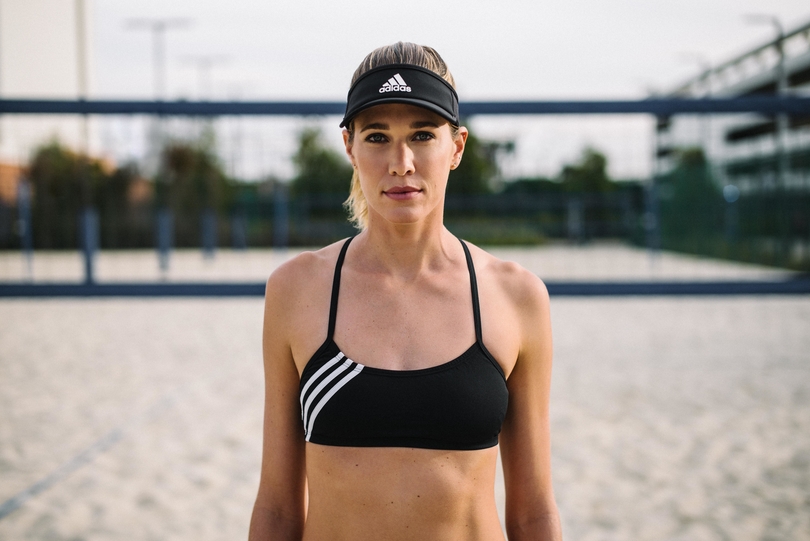 Pro beach Volleyball player and 2020 Tokyo Olympic hopeful Alix Klineman wears Adidas volleyball uniforms for beach players during competition.
Not only does Adidas supply USA Volleyball teams with the newest and most innovative gear designed for elite performance, adidas has collaborated with USA Volleyball on marketing activations at grassroots events, including
the USA Volleyball Open National Championships for adults, 

USA Volleyball Girls' Junior National Championships

USA Volleyball Boys' Junior National Championships

USA Volleyball Beach Championships

USA Volleyball High Performance Championships
Two years ago, in 2017, Adidas became the Official Sponsor of USA Volleyball, which includes
USA Men's and Women's National Volleyball Teams

the USA Men's and Women's Junior National Volleyball Teams 

USA Boys' and Girls' Youth National Volleyball Teams 

USA Beach Volleyball programs 

the Paralympic Programs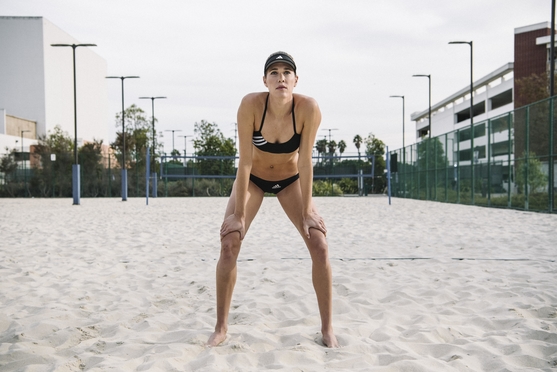 Famous volleyball player and Tokyo 2020 Olympic hopeful, Alix Klineman wear Adidas volleyball uniforms. (Adidas)
"USA Volleyball is extremely proud to be partnering with adidas as it's official apparel and footwear sponsor," said Jamie Davis, USA Volleyball Chief Executive Officer.
"With volleyball on a roll being the No. 1 women's NCAA and high school participatory sport and fastest growing boys' high school team sport, adidas is the perfect match with its innovative performance offerings.
I am convinced that this relationship will elevate both of our organizations in the United States and around the globe."
The USA Volleyball Women's teams will showcase the new adidas Climalite® miTeam uniform collection and CRAZYFLIGHT X featuring BOOST at a variety of events throughout the year. 
Lauren Carlini To Wear Adidas Volleyball Uniforms, Apparel, Footwear and Accessories
You may have seen her all over Twitter and that's because former Wisconsin Badger setter, now a pro indoor volleyball player in Italy, Lauren Carlini signed her own separate multi-year sponsorship with Adidas to be the face of the brand. 

The newly crowned CEV European champion with her Igor team has agreed to take a leading role in upcoming adidas brand marketing campaigns and collaborate on future volleyball sneakers, equipment and accessories.
A 2020 Tokyo, Japan Olympic hopeful, Lauren was a member of the gold-medal winning 2017 Pan American Cup and the bronze-medal winning 2016 Pan American Cup U.S. Women's National Teams.
Carlini was a four-time collegiate all-American and the first four-time All-Big Ten pick in the University of Wisconsin's Volleyball program history.

16 USA Volleyball Players 
       Join Carlini With Multi-Year                    Sponsorships To Rock             Adidas Volleyball Uniforms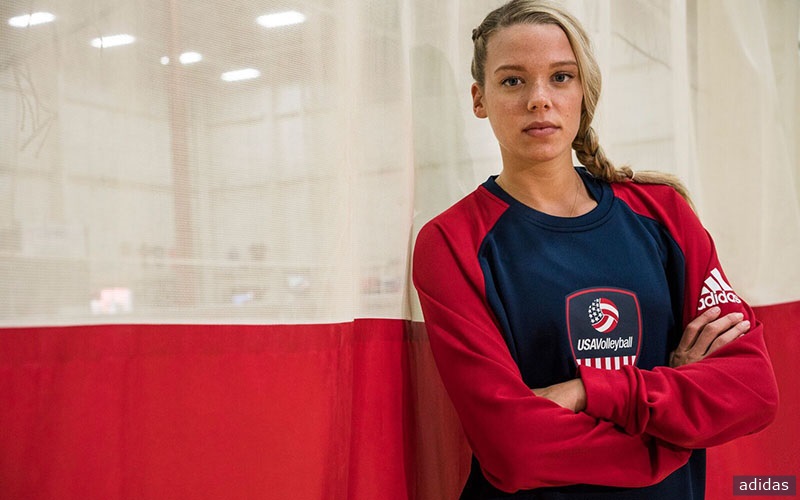 Paige Tapp one of 16 USA volleyball players has signed a sponsorship deal to wear Adidas volleyball uniforms, shoes, sneaker, accessories and apparel. (Adidas)
Adidas formed partnerships with 16 USA Volleyball athletes vying for spots on either the 2020 Olympic or Paralympic Games rosters.

Joining U.S. Women's National Team setter Lauren Carlini, who signed with adidas Volleyball earlier in 2017 are
From the U.S. Women's Sitting Volleyball Team, outside hitter Katie Holloway joins the adidas family. 

U.S. Men's National Team athletes joining team adidas are
The new roster of adidas Volleyball athletes will be included in upcoming brand marketing campaigns and will collaborate on future volleyball sneakers, equipment and accessories.
Do You Follow Me on Instagram?
Follow me on Instagram @coach_apchap to improve your game even faster!
I share alot of individual, partner and easy-to-do volleyball serving drills we do in class with my followers.
Many of these volleyball practice drills you can do at home by yourself or try at your next practice with your teammates.

If you're a B team or JV player trying to make varsity next year...your goal should be to complete 1000 reps a day of at least three of the basic skills on your own...volleyball passing, serving and setting should be at the top of the list.