Watching Beach Volleyball Videos Can Be Beneficial


Beach volleyball videos featuring professional beach players have grown
in popularity as self coaching tools for players and inexperienced
coaches.
It's great when you can hear professional beach volleyball players who
have played for years talk directly to you about how to perform the
beach volleyball skills that made them champions of the game.
I've always liked to watch beach volleyball on TV when pro beach
volleyball champions like Singin Smith, Karch Kiraly, Mike Dodd, Kerri
Walsh and Holly McPeak did the color commentary with Chris Marlowe
for the AVP Pro Beach Volleyball Tour games on television.
Listening to them on TV and recording their episodes was like having my
own beach volleyball coaches that I could listen to and take sand
volleyball tips from that I could later use in practice or try in a game.
All these pro beach volleyball players represent some of the greatest
beach volleyball players in the history of the AVP.
They are past Olympians with multiple gold, silver and bronze medals
in indoor volleyball and beach volleyball. 
Watching certain beach volleyball training videos produced by them and
other professional players like them gives you an opportunity to
learn skills from the players who had to use these tips and techniques in
order to win as many games as they have.
Beach volleyball is not an easy sport. It's not one that you conquer
right away.
Beach videos that feature players that have actually won titles and
championships and played professionally are really good tools for young
beach volleyball players to learn from and possibly gain an advantage
over  opponents with the knowledge gained.
Listening and watching beach videos with professional beach volleyball
players is like going to volleyball training school.
The more you do it...the better volleyball player you can become.
Check out more information on videos in the pages below:
Volleyball Spike Video Clips Provide Great Tips
Online Volleyball Training Videos
Beach Volleyball Videos Can Be Beneficial
How To Play Volleyball Video Clips Improved My Skills

Return To Watching Volleyball Videos Can Improve Your Game From
Beach Volleyball Videos Can Be Beneficial
Return To Inspiring Female Volleyball Players From Beach Volleyball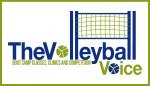 The Volleyball Voice
Boot Camp Class, Clinics and  Competition
Stupak Recreation Center, 251 W. Boston, Las Vegas, Nevada, 89142
Home to the Volleycats Elite Volleyball Club