America's Best Beach Volleyball Player The Liz Masakayan Story
Liz Masakayan, one of America's best beach volleyball players and raised in a single parent household talks about how she trained and improved her skills. 
First, let me explain that everything I'm about to write could only come from me now that I am an adult, and with that, a much more of an aware and in touch person with what I feel.

America's best beach volleyball player in the 90's Liz Masakayan explains why she chose to attend UCLA

It's easy to look back and know now where my choices came from. 
If you were to ask me then about any obstacles I had to overcome when I was a teenager, I would have told you that everything was fine, except for the fact that I felt cheated that all my friends had more material things than I did and that I had the strictest mom in the world.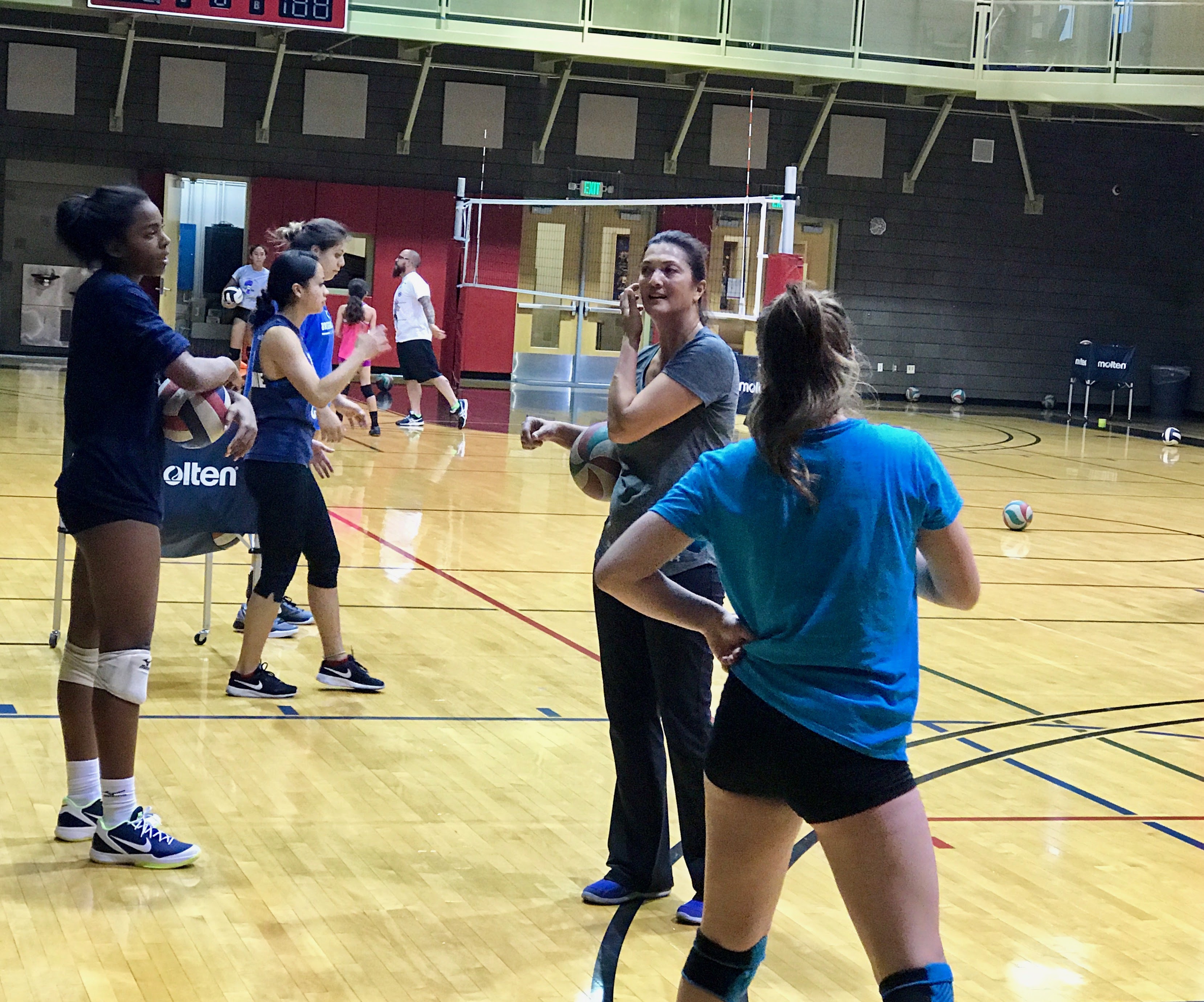 Liz Masakayan, guest coach at one of our Las Vegas Boot Camp classes at Stupak Community Center pictured with Kami Miner.
Learning how to improve her volleyball skills helped Liz get noticed by universities who wanted her to play for them in exchange for a paid education. 
-Liz Masakayan, one of America's best beach volleyball players
Legendary Beach Volleyball Player
Liz Masakayan

High School Years
As an adolescent and a young adult, I never knew how competitive and athletic I was. 
I just played, worked hard, had fun and enjoyed being popular for it.  It was all very simple for me at the time.

It was so simple that when I was 16, going into my senior year of high school and starting to get letters from universities wanting me to play volleyball at their school, I had no idea that I could get free college education because of my athleticism. 
I was very excited and very appreciative of what I was being offered, never once thinking I had actually earned it because I was always just doing what I loved to do--sports.
Participating in other sports also helped Liz improve her volleyball skills. 
 Legendary Beach Volleyball Player iz Masakayan
I played Little League Baseball at 10 years old when they first allowed girls to play.
Then when I was a junior in high school, we finally got the opportunity to form the first ever girl's soccer team. 
I already had been playing club soccer for 5 years and really wanted to play in high school like all the boys did.

Also, the closest club volleyball was about 30-45 minutes away. 

Today, there's about 10 different one's in the area.
I relied a lot on the other girl's moms to bring me to practices and competitions since my mom was working all the time having to raise four kids.
Because I believed I didn't really have any hang ups or handicaps, it gave me every opportunity in my mind to do whatever it was I wanted to do. 

That was a good thing and bad thing all in one.

On a positive note, I worked very hard and had a lot of desire to be better at sports and academics. 
That gave me alot of attention and love that any kid in a big family with one parent subconsciously wants to have. 

But, unknowingly, my sense of self was very wrapped up in my success. 
Watch legendary beach volleyball player Liz Masakayan, with championship winning partner Karolyn Kirby on the WPVA Pro Beach Tour. 

My value as a person was determined by winning or losing and that can be a very dangerous mindset. 
If I succeeded, I was a person and everyone liked me. And if I failed, I was worthless.
Liz learns life lessons about self image and self worth.
-Legendary beach volleyball player Liz Masakayan
It was a very conditional love I had for myself which attacked my self esteem and led to self criticism and negativity.

This motivated me to improve and do more at all costs because I was never satisfied, but it came from an unhealthy place and at the expense of having a lack of balance in my life. 
Watch as Liz, an indoor US National team member competes against the Cubans in the Yugo Challenge. 

It was an extreme focus, but not worth the things I was sacrificing and compensating.

Even though my mother and the nature of a single parent home installed a lot of great qualities, it also left me with a little sense of balance. 
We were all in survival mode, and if we were to stop and really feel and assess the situation, it would have been counterproductive to enduring our circumstances. 

This lack of balance that I experienced in my youth has been a huge hurdle in my young adult life.
It led me to lose a sense of self awareness--
enough to get injured numerous times, 

lose a sense of perspective in life, 

enough to not fully enjoy the process that got me the result, and 

lose a sense of how to choose quality relationships enough to not have had the confidence to be a good wife and mother in order to have a healthy marriage.
But these are all things I know now and am lucky that desire and determination I learned as a child, has given me the courage to improve my sense of balance today. 
I'm grateful for the hard lessons I have learned, but hope that young kids today have a different and healthier avenue to encounter them.

More important than anything I have accomplished in sports, I have learned and strongly believed in one thing. 
"I think the most significant purpose for anyone is to put effort into figuring out a way to have a healthy marriage so that as parents one can raise their children together (in the same house) to be complete and balanced individuals.
After all, our children are society's future and we need to be great role models as parents and people."

-Liz Masakayan, one of America's best beach volleyball players
Be sure to check out more inspiring volleyball players stories below.
Read more about the professional volleyball players in the pages below.