4 College Volleyball Players Named Volleyball Magazine All Americans

These pro volleyball athletes and 2020 Olympics hopefuls were famous college volleyball players named to the Volleyball Magazine All American list.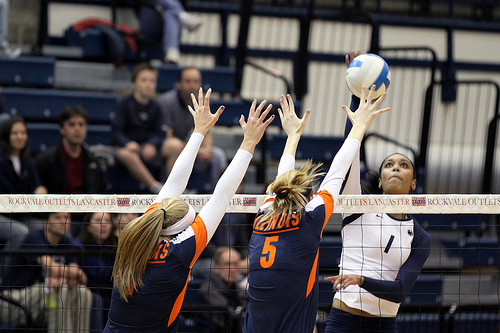 Deja McClendon was named to the Volleyball Magazine All American list in 2013 after being one of the most dominant college volleyball players in Penn State history.
Whether your goal is to join the list of famous college volleyball players become one of the American pro volleyball players playing overseas or just make your varsity volleyball team...its good to become familiar with the journey and accomplishments of others who've come before you.   
I hope this section and particularly this page will serve as a source of volleyball motivation when times get tough, when your muscles are super sore, when you want to quit and give up on all your goals.  
I created this famous indoor volleyball players section for hungry and motivated players like yourself, to have a destination spot where you can always come and read the stories, and catch up on inspiring volleyball news on players who started ...right where you are starting now.
Like you, each of them were on their middle school or high school volleyball team going through the struggle and frustration of just learning how to play the game and hoping to get good enough...to make their varsity starting team.

So, no...you are not alone! It just feels like it sometimes.

Hopefully this section, these players, these words, and their stories will help lift your spirits and motivate you to go outside and 200 more reps of setting drills, serving drills or passing against the wall volleyball drills completed today.  
Before They Were Pro Volleyball Players They Were College Volleyball Student Athletes Being Recognized For Their Hard Work
Each year, Volleyball Magazine selects a group of the nation's best female college volleyball athletes who they feel deserved to be honored for their accomplishments.

When a player has been named to a collegiate All American team that means a specific group of people, in this case, the editors at Volleyball Magazine have followed their stats, their team's win/loss record and that player's individual accomplishments both on and off the court for that year's season.
Have you seen the 2018 All DearVolleyball.com's list of best girls high school volleyball players in Las Vegas? 
Then based on their findings decided to choose them as one of the outstanding amateur players in the country competing in Division I.

They have been doing this every year since...okay since I was playing in college. 

They usually name eight players to the first team, nine on the second team and ten Division I female volleyball players on the third team.
I was named as a Volleyball Magazine Second Team All American so they've been doing it since the mid 80s.   
Just so you know a bit more about Volleyball: 

"Each issue of Volleyball  Magazine has all the latest beach volleyball players, college volleyball players, and juniors volleyball news, insightful profiles, training, instructional and nutrition tips, and exciting photos from the sport's top photographers.
I don't get paid to tell you this and I'm not a Volleyball Magazine salesperson but Ive read the magazine ever since I started playing when it was a large format, photography heavy monthly subscription sent to my house.  

I read it because all my female super heroes and role models like Flo Hyman, Rita Crockett, Mary Jo Pepper, Kathy Gregory, Paula Weishoff, Rose Magers and other top female volleyball athletes were featured every month and that's where I found my inspiration to keep practicing, and keep doing drills everyday. 


College Volleyball Players Named Volleyball Magazine All American

Micha Hancock


Pro volleyball player Micha Hancock is a 6' 2" setter who graduated from seven-time national Division I champion Penn State Nittany Lions. 
One of ten college volleyball players named to Volleyball Magazine's First Team All American list, Micha is a 2020 USA Volleyball Olympic hopeful who in 2018:
she helped lead the Nittany Lions to back-to-back Division I national titles in 2013 and 2014 

she was MVP of the 2013 championships 

named the AVCA Division I National Player of the Year in 2014


helped the women's USA national team win gold at the 2018 FIVB Volleyball Nations League 

helped Team USA get a fifth place finish at the World Championships in 2018

College Volleyball Players Named Volleyball Magazine All American

Bailey Webster
6' 3" outside hitter, Bailey Webster is one of the Texas Longhorns more famous college volleyball players named to the 2013 Volleyball Magazine                 All-America First Team and AVCA Second-Team All-America
During her senior year as a Longhorn she earned a ton of volleyball awards including:
named 2013 NCAA Lincoln Regional Most Outstanding Player 

2013 Capital One Academic All-America Third Team honoree

named to the AVCA All-Southwest Region

All-Big 12 First Team in 2013 

a 2013 Senior CLASS Award finalist 
College Volleyball Players Named Volleyball Magazine All American



Tori Dixon
Pro volleyball player and 2020 Olympic hopeful Tori Dixon is a 6' 3" middle blocker/hitter who excelled as one of the country's top college volleyball players while as a Minnesota Gopher. 
She was selected an AVCA All-America First-Team member in 2013 as a senior at the University of Minnesota after being a Second team selection in 2012

Tori competed in the NCAA Division I Sweet 16 in all four years while playing at University of Minnesota
Last year she played a part 

on the 2018 USA volleyball 5th place finishing team at the FIVB World Championships where she was voted Best Blocker of the League. 
College Volleyball Players Named Volleyball Magazine All American



Krista Vansant



One of the most decorated college volleyball players to play at the University of Washington 6' 2", outside hitter, Krista Vansant set a plethora of volleyball records that won't be broken anytime soon.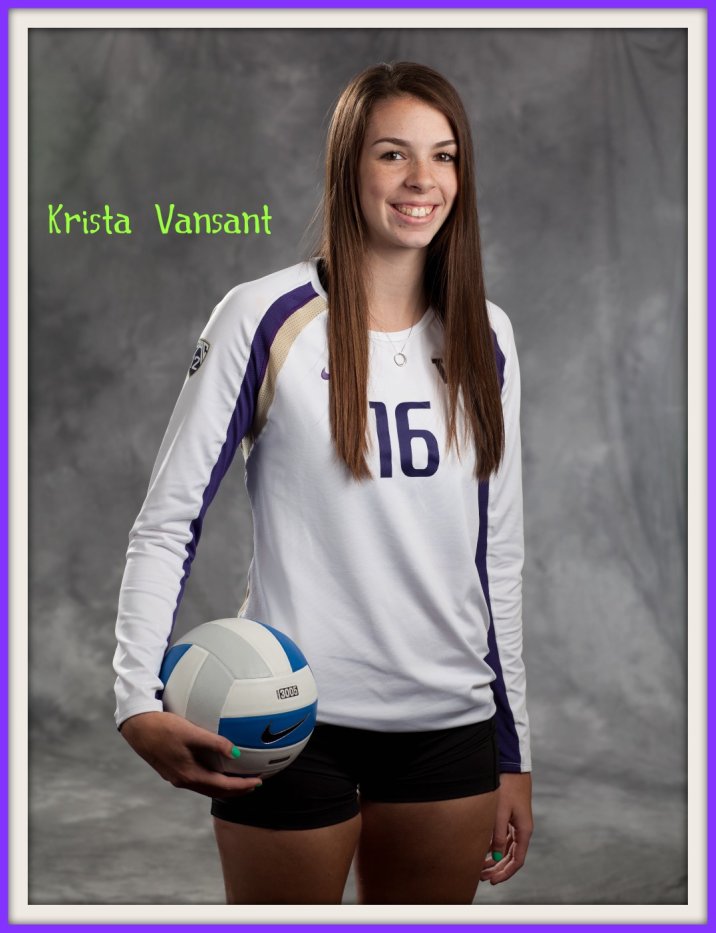 Krista Vansant was named to the Volleyball Magazine All American list in 2013 after being one of the most dominant college volleyball players at the University of Washington
As a senior she was named...
Pac 12 Player of the Year and Scholar-Athlete of the Year in 2014

Capital One Academic All-American of the Year in 2014

ESPNW National Player of the Year in 2014
Two-time Honda Award Winner for best collegiate volleyball player (2013-14, 2014-15)

AVCA Division I National Player of the Year for 2013
Famous Professional Indoor Volleyball and Beach Volleyball Players:
Where You Should Go From Here
Got it? Good! Where do you need to go now? Here are three options: 

Learn more about pro indoor volleyball players, beach volleyball players and Olympic volleyball athletes by exploring the Related Links below. 

Follow the suggested reading on our Sitemap page 

Learning How To Play

 (Sitemap)

Or visit the pages in the Indoor Famous 

Volleyball Players section in the 

drop down menu at the 

top of the page

.