Middle Hitter Volleyball Stories Elaina Oden on Being A Good Player 
World class middle hitter, US Olympic bronze medalist and professional volleyball player Elaina Oden shares her volleyball story on what motivated her as a teen.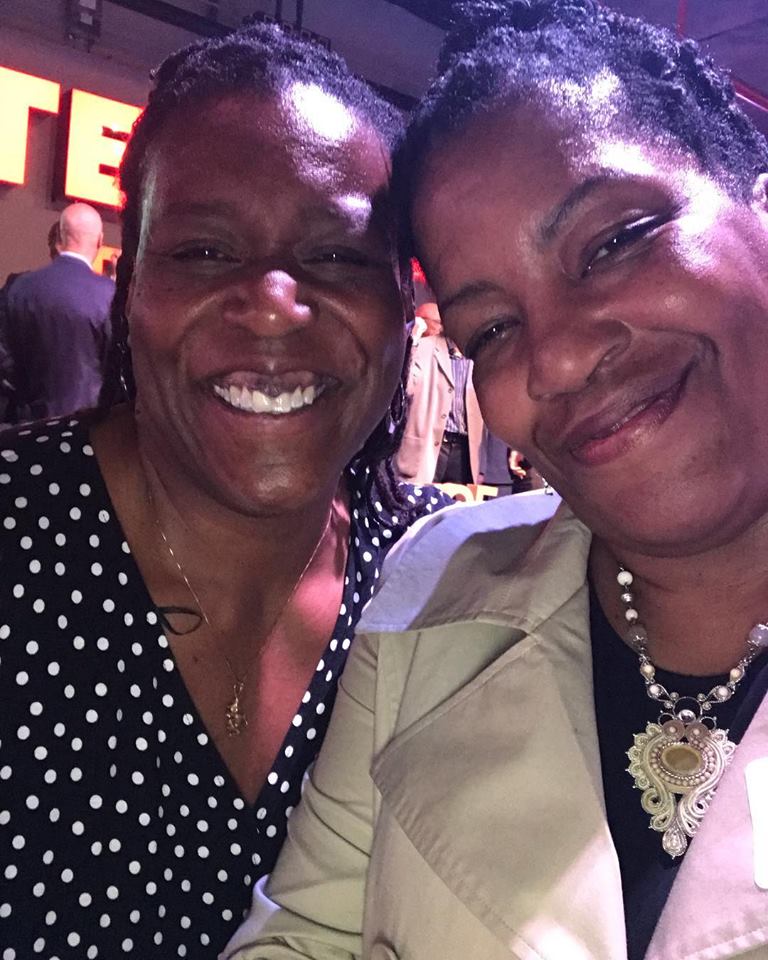 Middle hitter Elaina Oden and I were teammates in Fidenza Italy. A two-time Olympian Elaina won a bronze medal with the USA Women's team at the 1992 Summer Olympics in Barcelona, Spain.
Certain things in two-time Olympian Elaina Oden's childhood motivated her to learn how to be a good volleyball player.
One of the world's famous female volleyball players and two-time Olympic middle hitter Elaina Oden describes what it's like to play volleyball with a "pitchfork at her backside."
As I procrastinated in writing this story, I watched the television show "60 Minutes".
On this particular show, there was a segment on Carol Burnett and I really identified with something she said. Mike Wallace asked her how she got started. 

She said that she had done a play in college where she played this character that people loved. Although she had always considered herself a nerd, this was the first time she was really accepted. 

People were stopping her on campus and telling her what a great job she did and asking her out. She finally fit in. This concept parallel's my story.
When I was six years old, my father was home permanently from the Vietnam War and we moved from Birmingham Alabama to a military base in Tustin, California.
The south was very different from the West Coast. I went from being around grandparents, aunts, uncles and cousins and almost a completely African American area to being around multi-cultural military kids at home and affluent white kids at school.
It was a shock that took a long time to get used to, but I made some dear friends through it all.
Middle Hitter Volleyball Stories Elaina Oden
In this new environment I was an easy target for the relentless teasing kids get for being different.
I was a big black girl who's parents were struggling to make ends meet in an upper middle class environment.
My wardrobe wasn't as extensive as theirs and I quickly grew out of what I had.
My saving grace was that I was an athlete.
E.O. loved sports which helped her learn       how to be a good volleyball player.
-Olympic Middle Hitter Elaina Oden
In elementary school, during recess I could always be found playing kick ball or handball or whatever else was in season.

I was always the first girl picked and usually the top pick of the whole PE class or sport teams. 
This sport experience was the foundation for my love for sports and forged the beginnings of the competitor in me.
E.O. started to learn how to be a good volleyball player in the 7th grade.
-Olympic Middle Hitter Elaina Oden
I started playing volleyball when I was in the 7th grade.  I was about 5'10" and 180 pounds.
I only tried out for the volleyball team because my sister Kim had been playing volleyball for a couple of years and she really enjoyed it.
Plus I wanted to see if I could make the team.

So with my father's encouragement, I tried out for club volleyball.
I made the team. 
Since I was playing volleyball for a private club, I would not be identified by my peers at school as a volleyball player until I could play for the high school volleyball team when I got to 9th grade.
In this video, learn 14 facts about Olympian and professional middle hitter Elaina Oden. 
"Volleyball is a sport that requires a player to be incredibly skilled in proper technique.  

I've never seen anyone that was good at it the first time they tried it.
You don't have to be a great athlete, or 6 feet tall or jump 40 inches."
-Olympic Middle Hitter Elaina Oden
All that would be nice, but it isn't a necessity to be a good volleyball player.

I've seen too many people be great volleyball players that had one (or none) of these qualities. 
I'm more convinced you have to be smart, cagey, competitive, have great vision, or maybe even a quick arm swing.
These are qualities I have found to be much more prevalent in my favorite volleyball players than the obvious characteristics.
For the elite athlete, the timing of the development of these skills and winning mentality is crucial.
If they aren't honed and developed in some way during the early teen years, they might never develop to their full potential.
How do you become a good volleyball player? It takes alot of practice, good vision, smart court sense, lots of reps and a high degree of competitiveness.

-Olympic Middle Hitter Elaina Oden

Luckily I was able to develop my volleyball skills in one of the best places in the country.
For a time I resented the long hard hours I was putting in volleyball practice, while most of my friends were out being teenagers. 

But later on, I realized that people my age in the top volleyball countries in the world were training at least as hard as I was.
Without that kind of volleyball training, I might have been a step behind in the world standards.
It was a valuable experience, but a long way from fun.
Because I played club volleyball in 7th and 8th grade, I was ahead of most of the others when I tried out for the varsity high school volleyball team.
There weren't too many other freshmen that lettered in their first semester of their freshman year and it was huge to be among the first in the class to have a letterman's jacket.
I wore it proudly around campus before my other classmates had earned a letter.
During that freshman year, I was able to play volleyball along side my sister Kim on the Irvine High School Varsity Volleyball team.
We broke new ground for the Vaqueros winning the first CIF Championship in school history.
Middle Hitter Volleyball Stories    Elaina Oden
The high school volleyball team was tight and proud of what was happening through the season and so was the school.
On game days, we would dress funny to remind people to come and cheer for us.
I remember going to the Thrift Store with my teammates to buy the most obnoxious jacket and hat I could find. We really thought we were something.
Like Mrs. Burnett for the first time in my life, something I was doing was popular. Being a good athlete on a winning volleyball team  was a dream come true.
People who were too cool to talk to me in Junior High School were now calling me a stud as they passed in the hallway.

The idea that I might be an elite athlete affected the way my peers responded to me.
A lot of them said "I'm going to say I knew you when...". That expectation made me feel obligated to become something special.
It was as if volleyball was my lifeline to being "someone".
Playing with my sister Kim was good and bad.

She was a role model for me. She had that "classic" volleyball build - long and lean and she is a definite overachiever.
During her high school career, she played in the summers with other elite volleyball players around the country in tournaments where international volleyball teams competed.
My build was much different than hers and I wondered if I had to look like that--to do what she did.
Regardless of what my weight was, I made it a goal of mine to achieve the things she had by about the same time she had.
The drive that she inspired helped me to be the volleyball player I was.
Middle Hitter Volleyball Stories   
Elaina Oden
If Kim's accomplishments were a carrot stick in front of me, my younger sister Bev's talent was a pitchfork at my backside.
When I didn't feel like training, the thought of Bev easily achieving everything I had ever done made me work hard.
Yes, I was the Jan Brady of my family.
But I really, really wanted to be the one that came to mind when people asked who the best Oden sister was.
The pressure to be the best drove me to do some things that if I had to do all over again I wouldn't.
I had been heavy all my life and I assumed that I always would be.
It would have been nice to be thinner, but I thought my volleyball was progressing nicely. 
I was getting better and making All-Tournament volleyball teams consistently, so I was getting done what needed to be done, right?
It was always in the back of my mind to do something about it...some day...until a scale was brought in for us to weigh in at volleyball practice and some day was now.
Something I had feared came true, but I knew that things worth having never came easy. One of my goals was to become an Olympian.
Middle Hitter Volleyball Stories    
Elaina Oden
But if I was going to become an Olympian, I would have to find a way to shed the weight.
But seeing this weight loss through meant that my commitment went from being 3 hours three times a week at volleyball practice to a commitment 24 hours a day 7 days a week because of the weigh-ins. 
Now when I came home after practice, I couldn't partake in my vice--eating.
I learned how to lose weight in all the wrong ways.
When learning how to be a good volleyball player,    its best not to take any shortcuts.
-Middle Hitter Volleyball Stories Elaina Oden
As I shared this story with a few people, I've realized how common and destructive some of the things I did were.

At first I had no idea how I was going to get the extra weight off.
I thought that to lose weight, you had to eat only the foods that were specified on a diet. I didn't know the concept of burning off more calories than you take in or making calories count.
All I knew was that keeping it on was simply not an option.
Basically I found myself in a cycle of fasting before volleyball practice to make weight, then binging afterward. 
To get the weight off for the next volleyball practice, I would do everything from excessive exercise to diet pills. I made a game of beating the scale and it was miserable.
-Middle Hitter Volleyball Stories Elaina Oden
I won't get into details of the things I did to lose weight, but if I had it to do all over again, I would have been more conventional.
I would have sought professional help, read a book or two on the subject or got advice from someone who had lost weight and kept it off.
I still have ugly memories of my high school weight loss experiences and I wouldn't wish this on anyone.
Throughout my 17-year career, I never did manage to get my weight down to something that any of my volleyball coaches nor I would have liked.
I had to endure things like obnoxious fans at other schools in college yelling rude things at me, and panicking about having to weigh in. 
But somewhere along the line I learned to play volleyball harder and smarter when I was heavy because I would convince myself that the other volleyball team thought I was fat and slow. I was going to show them that I was a force to be reckoned with, no matter what I weighed.

Looking back at my career, I managed to accomplish most of my goals. 
          Through trial and error, Elaina learned how to                  be a good volleyball player.

-Middle Hitter Volleyball Stories Elaina Oden
I was the number one high school volleyball recruit in 1985. I won a State Championship in track my senior year.

I received a full volleyball scholarship to the University of the Pacific where I was a four-year starter (and won back to back NCAA National Volleyball Championships) and started for two Olympic volleyball teams.
About Olympic Middle Hitter Elaina Oden
ELAINA ODEN
Elaina Oden is remembered as one of the most decorated women's volleyball players in University of the Pacific history.
Oden is being inducted into the Pacific Athletic Hall of Fame for the third time. She was the key player on the 1985 and 1986 Tiger women's volleyball teams that have already been inducted into the Pacific Athletic Hall of Fame. Highlights of those seasons included defeats of UCLA and Stanford for the NCAA title in 1985 and the steamrolling of Texas and Nebraska en route to the 1986 crown.
Oden is Pacific's all-time single season hitting percentage leader (.380 in 1985) and she was named PCAA Most Valuable Player in 1985. Until recently, Elaina held the Pacific single season kill record (547) and the all-time career kills mark (1,485). Oden's .357 hitting percentage in 1986 places her third on Pacific's all-time list.
In leading the Tigers to back-to-back NCAA Championships, Oden was named an All-America at the middle hitter position in both 1985 and 1986 as the Tigers amassed a combined record of 75-6.
Volleyball Monthly recognized her as its 1986 National Player of the Year. Elaina added a third All-America honor in 1989, helping the Tigers to a record of 29-5.
When it comes to career records, the seven-year member of the United States National Team currently ranks second in career hitting percentage (.341), third in digs (1,229), third in block solos (138), fourth in block assists (396), and fourth in total blocks (534). In addition, Oden set the Pacific freshman record of 547 kills in 1985.
During her tenure on the U.S. National Team, Oden played in the 1992 Olympics in Barcelona, Spain, and the 1996 Olympics in Atlanta, Georgia. She also competed in the 1986 Goodwill Games and the 1986 World Championships. Elaina was a member of the U.S. Junior National Team in 1985 and was nominated for the NCAA's Broderick Award in 1985 and 1986. She is one of three Tiger volleyball players to have their jersey number retired by the Pacific Athletic Department. She graduated from Pacific in 1990 with a degree in Sociology.
Following her playing career, Elaina spent one season as an assistant coach at the University of Notre Dame, before serving in the same capacity at the University of Indiana for the past two years. Elaina is single and currently resides in Irvine, California.
(Pacific Tigers website)
Read more about the professional volleyball players in the pages below.