History of Beach Volleyball A Timeline of USA Volleyball Sand Success
History of beach volleyball Misty May Treanor, Kerri Walsh, Dain Blainton and Karch Kiraly make beach volleyball history on the sand for the United States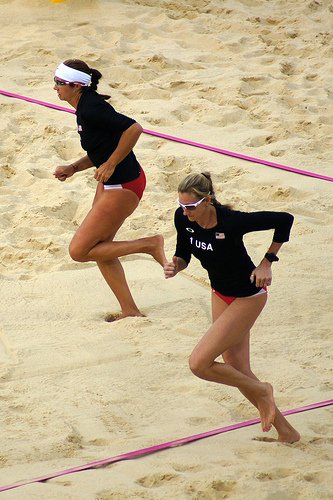 History of Beach Volleyball: Misty May Treanor, Kerri Walsh, Dain Blainton and Karch Kiraly make beach volleyball history for the United States (Daniel J Coomber)
This recent beach volleyball history timeline details the events that contributed to the highs and lows of beach volleyball in the United States.
1965: The California Beach Volleyball Association (CBVA) was formed.
---
The "Quicksand Documentary" is a beach volleyball documentary detailing the history of beach volleyball which started in Southern California and epitomized the Southern California lifestyle.
            Shop AVP Beach Volleyball Videos on            Amazon Prime

---
1986: The first professional beach volleyball association only for women was created called the Women's Professional Volleyball Association (WPVA) was formed.
---
WPVA(Women's Volleyball) 1994 Ft. Lauderdale Final
---
History of Beach Volleyball Timeline: 1990s
Four-Woman Pro-Beach Team Champions
1993  Team Champion (We won!) - Captain Paula Weishoff, Tammy Liley, April Chapple, Kelly Strand Van Winden, Cheri Boyer Fitzner
1996: In the Atlanta Olympics the two-person beach volleyball made its debut as an Olympic Sport.
---
1996 Olympics Beach Volleyball Quarter Final Match Pt. 1
---
1999: For the first time in the history of volleyball in the Pan Am Games, beach volleyball was introduced in the 13th edition held in Winnepeg, Canada.
History of Beach Volleyball Timeline
: 2000s
2000: Eric Fonoimoana and Dain Blanton (USA) defeat Brazilian champions Ze Roberto and Ricardo Santos claim the first Olympic Beach Volleyball Men's Gold medalists.
---
Dain Blanton and Eric Fonoimoana
Beach Volleyball 2000 Sydney Olympics
Gold Medal
---
2001: Christopher "Sinjin" Smith partnering with George Roumain, played his final match of his long and industrious career against Dax Holdren and Todd Rogers in the 4th round of the contender's bracket at the AVP Manhattan Beach Open. 

Sinjin retires as the leader in the most beach volleyball tournaments played with 416, second in all-time victories with 139, and fourth in all-time winnings with over US $1.6 million earned.

2002: In an effort to make the beach game more fast paced and TV friendly the beach volleyball court dimensions were reduced to 8m x 8m per side.


2003: Karch Kiraly created another milestone in beach volleyball history by becoming the first volleyball player to earn three million dollars in prize money and the oldest player to win an AVP beach volleyball tournament at age 42 years, 9 months and 14 days.
2004: Without losing a set, Kerri Walsh and Misty May Win the gold medal and the Women's Olympic Beach Volleyball Title in Athens, Greece.
---
Gold Medal Moments:
Misty May & Kerri Walsh
(2004, 2008 & 2012 Summer Olympics)
---
2005: Olympic gold medalists Kerri Walsh and Misty May-Treanor win their second Association of Volleyball Professionals (AVP) Open women's title and the 2005 overall women's championship.
History of Beach Volleyball Timeline:
 2006
2006: Elaine Youngs' second place finish with Rachel Wacholder in Seaside Heights pushes her career earnings past $1 million.
She becomes the third American beach volleyball player to achieve that mark.
---
Karch Kiraly retirement ceremony during the AVP Manhattan Beach Volleyball Open in 2007 by announcer Chris "Geeter" McGee.
---
2006: In Seaside Heights, both Casey Jennings with Matt Fuerbringer and Kerri Walsh with Misty May-Treanor won titles, becoming just the second husband-wife duo to win pro beach volleyball events on the same weekend. They join Mike and Patty Dodd, who accomplished the feat four times in 1989, but each time in different locations.
She is the 18th person worldwide to win over $1 million in her career, and did so in fewer events (90th tournament) as well as being one of just four to reach the mark before turning 28 years old.
History of Beach Volleyball Timeline: 
2007
2007: Misty May-Treanor passes Brazilians Adriana Behar and Shelda 

Bede as the winningest player since the women's competition on 

the international beach volleyball circuit

 began in 1992.
2007: Misty May-Treanor becomes the women's all-time wins leader by capturing her 73rd victory, surpassing Holly McPeak's record by winning with Kerri Walsh in Hermosa Beach. She reached this total in just 123 

tournaments -- winning 57.5% of her events.
2007: In a championship match that lasted 1:41, Nicole Branagh and Elaine Youngs defeat Jennifer Boss and April Ross 21-19, 18-21, 16-14 in Seaside Heights. The marathon set the record for the longest match 

in rally scoring, men or women, in domestic or international play.
Insuring his mark in beach volleyball history, Karch's longevity was marked by the fact he won a tournament in 24 different years, and he advanced to the semifinals in over 75% of all the events he ever played and was named as the AVP's Most Valuable Player a record six times.
History of Beach Volleyball Timeline: 
2008
         Shop AVP Beach Volleyball Videos                                  on Amazon Prime
2008: At the Beijing Olympics in a rainy final championships game against the host Chinese team Misty May Treanor and Kerri Walsh make beach volleyball history by defending their gold medal title becoming the first Americans men or womens beach volleyball team to win consecutive Olympic gold medals.
2008: At the Beijing Olympics despite an unfortunate incident where Olympic Men's volleyball coach's father-in-law was killed before the start of the volleyball competition, the US men's volleyball team won a gold 

medal while the women reached the finals and lost to Brazil which earned them a silver medal tying the best finish ever for an American women's volleyball team in the Olympics.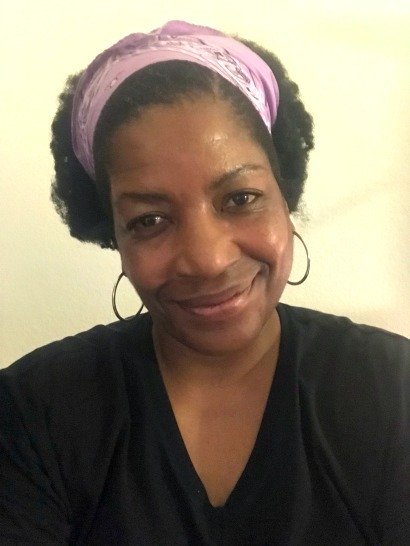 This has been an important message by your favorite volleyball coach! That's me!!
Thanks for visiting.
Be sure to check out more of my volleyball articles by clicking one of the links below!  (April Chapple)
Do You Follow Me on Instagram?
Follow me on Instagram @coach_apchap to improve your game even faster!
I share alot of individual, partner and easy-to-do volleyball serving drills we do in class with my followers.
Many of these volleyball practice drills you can do at home by yourself or try at your next practice with your teammates.

If you're a B team or JV player trying to make varsity next year...your goal should be to complete 1000 reps a day of at least three of the basic skills on your own...volleyball passing, serving and setting should be at the top of the list.