The Volleyball Block
A Volleyball Player's Guide To Blocking a Ball

photo by nraupach
The volleyball block is the squad's first line of defense against an
opposing team's outside hitters or any attack hits by their
players in the middle blocker position.
The block in volleyball is one of the most dynamic and most exciting
parts of this crazy game we love to play.
At the beginning of a rally, after the whistle blows and your team serves
the ball into the opposing team's court, every front row player
on your team should be focused on keeping your opponent from
spiking the ball down onto your court's floor.
Once the ball hits the floor, or hits a blockers hands and goes out of
bounds, that's a point for the opposing team, and you don't
Knowing how to put up an effective volleyball block will keep the

opposing team from scoring points from their front row while they are on
offense.
At the beginning of a rally, if your team is on defense, after the referee
blows their whistle and your team serves the ball into the other
team's court, the players in zone 2, zone 3 and zone 4 on your side
should be laser focused on keeping your opponent from spiking
In order to do that the front row players need to start by checking their

upper and lower body blocking ready position so that they can be as
efficient and as fast as they can while moving laterally, which
means from side-to-side along the net before jumping to block a
volleyball their opponent is trying to hit.
As a volleyball blocker, you want to be able to position yourself in a way

that you can present a barrier by using your arms and hands to deflect
any hit or spike attempts from an opposing team's spiker back into their
court.
So you are in fact trying to make yourself into a human wall, if you
will, and that wall should prevent an outside hitter or middle
hitter or back row attacker from the team on the other side of the
net from hitting the ball onto your side of the court.
This is just another way that I like to define the volleyball block.

As always when I talk about or coach volleyball skills to players, I like to
start at the bottom, with what you're supposed to do with your feet.
What should your feet be doing and where should they be positioned?
You want to start in a balanced position with your feet so that they are
parallel to each other.
They should be perpendicular to the net so that you can
maintain a balanced position that will allow you to move quickly to your
right, to your left or backwards off the net to get back in defense or to
transition so you can begin your spike approach if necessary.
You want to be in a position to be able to move laterally along the net
quickly, which means your knees should be in a slight squat.
The ideal position for your lower body is to have your hips, midsection

and upper body "squared to the net."

When you hear the phrase squared to the net, it means that your
body is completely parallel to the net. When all parts of your
body are facing the net then your body is squared up to the net.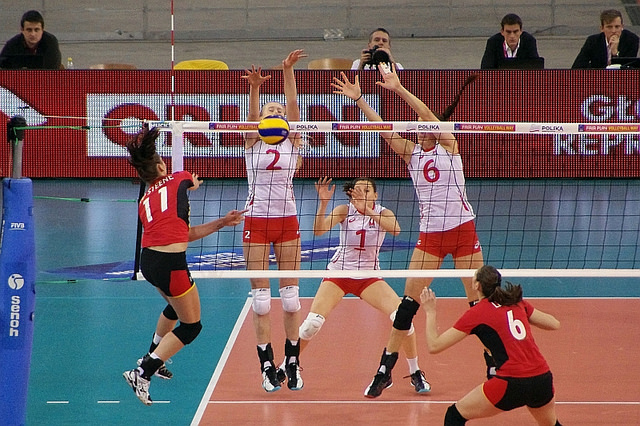 Volleyball block: (Jaroslaw Popczyk)
---
Timing The Volleyball Block Jump

---
Speaking of timing, during your block, you want to wait
until, just before the opposing player spikes the ball, then you jump.
As you jump, you want to extend your hands, arms and shoulders over

the net or if you can't reach over, then as high as possible in order to
grab the ball.
If you haven't been instructed by your coach to just take an

area of the court away with your volleyball block, then your
goal is to literally try to catch the ball before it passes over the
Keep your hands spread and your fingers wide apart in order to catch or
"block" the ball.
Once you block the ball, your widespread fingers and straight arms
which are backed by your solid rigid wrists should just deflect the ball
back into the middle of your opponents court.
Let me repeat. 
Imagine that you are making a wall with your hands and arms that you
will use to redirect the ball back into the middle of your opponent's
court.
That's the best way to think about how you should be blocking a
volleyball.
---
Volleyball Player Picture Gallery of
Blockers In Action

---
Do You Have Great Pictures of Volleyball Players Blocking?
I know you've taken the perfect shot of a college volleyball block, that no one has seen yet!

Well now they can...

If you have a fantastic picture of a volleyball player or volleyball players, male or female, blocking during a Division I collegiate game then we'd love to see examples of your work.

Did you get the perfect shot of a stuff block?.. a triple block? Or even your awesome photo of the perfect joust at the net between opposing players belongs in this gallery of volleyball pictures.

Please share your frozen moment of great blocking action whether you are an ace photographer for real or in your own mind, we encourage you to share examples of your best work with our readers. It's easy!

Be brave! Step up and show us what you have...the more creative you are, the better.

Our readers will love to provide their feedback on your volleyball blocking photography, please allow them to share in the beauty of your work.

You can submit up to four images of your best blocking action captured in a photo. When you submit more than one image, each image will appear as a thumbnail image in the submission that you submit. Each thumbnail will be clickable to show it as a larger image.

We reserve the right not to publish work that is inappropriate for our readers and that does not contain any collegiate volleyball blocking action.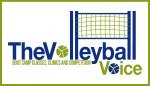 The Volleyball Voice
Boot Camp Class, Clinics and  Competition
Stupak Recreation Center, 251 W. Boston, Las Vegas, Nevada, 89142
Home to the Volleycats Elite Volleyball Club