Laura Stivrins Is A Middle Blocker And American Pro Volleyball Player
Laura Stivrins is a former Nebraska Husker middle blocker and is an American professional volleyball player in the Athletes Unlimited Professional League.
"They all have a lot of great input and when we were playing. Betty would have something to say. Something that I personally hadn't heard," Stivrins explained.
"What she sees versus what I see are two completely different things. It's so nice to have that perspective and to have it be from someone who is genuine and trying to help me and teach me to be my best."
Volleyball Quote by Erin Lauren Stivrins (Athletes Unlimited volleyball professional)
Watch every kill from Nebraska senior Lauren Stivrins throughout the 2021 NCAA women's volleyball tournament, where the Cornhuskers made a title match run, losing to Wisconsin in five sets. Stivrins finished her career as a two-time AVCA First Team All-American. 
The Lauren Stivrins volleyball player profile found on this page contains quick facts and biographical information about this standout middle blocker from Arizona. 
Check back often to see which world class professional volleyball players have been added to our list.
Lauren Stivrins is a pro volleyball player who has played in 
before joining the Athletes Unlimited Pro League for the
2020-21 and 2022 - 2023 season. 

Check out Lauren Stivrins Week 1 volleyball highlights at an Athletes Unlimited's volleyball game
Lauren Stivrins
Pro Volleyball Player 

Lauren Stivrins Highlight Video 
Lauren Stivrins




College Volleyball Athletic Accomplishments as a Nebraska Husker



Top College Volleyball Freshman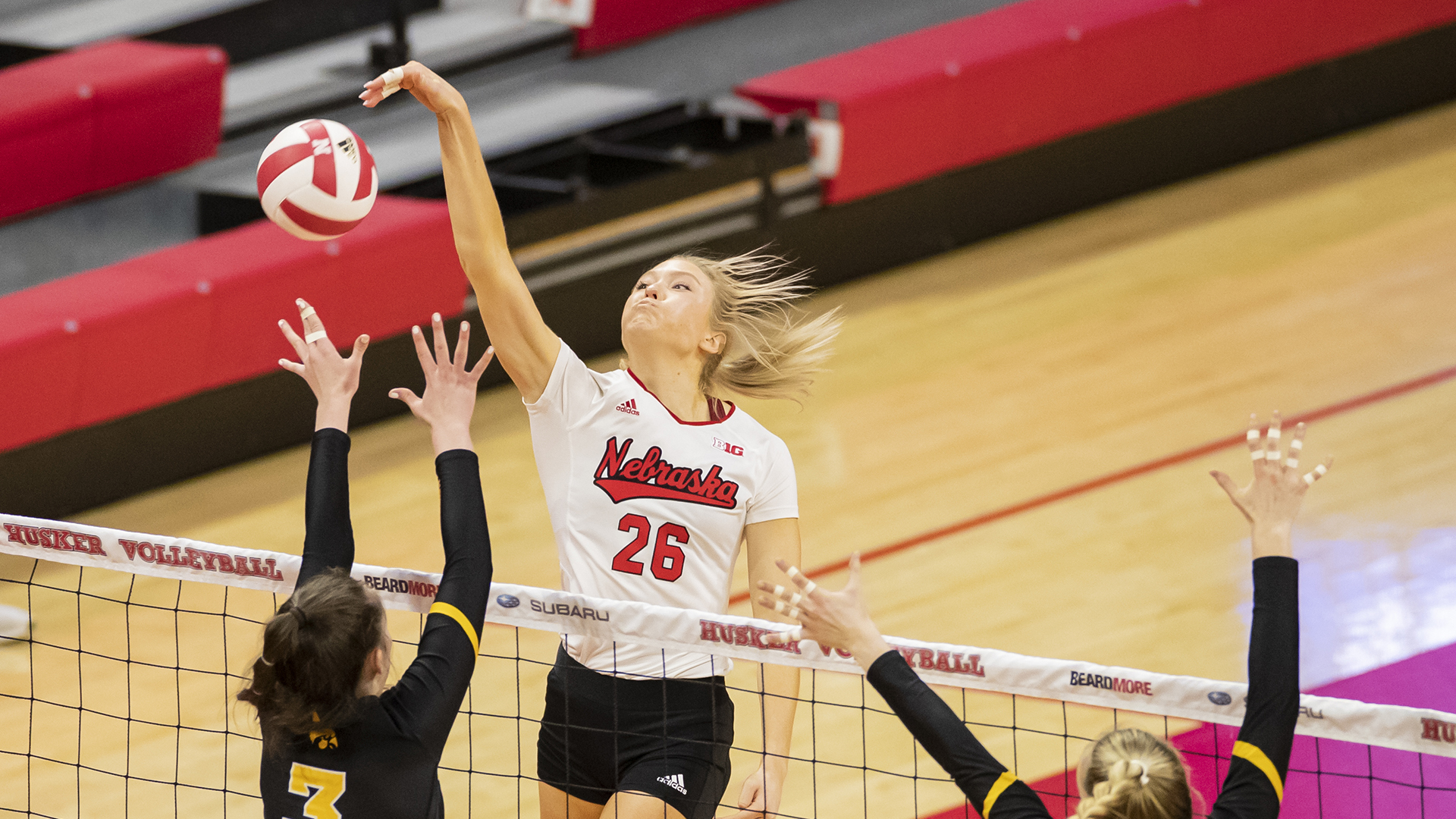 Get to know University of Nebraska volleyball freshman Lauren Stivrins.             (MaddieWashburn/Nebraska Communications)
AVCA All-America First Team (2018, 2020)
AVCA All-America Second Team (2019)
 AVCA All-North Region (2018, 2019, 2020)
NCAA Championship All-Tournament Team (2018)
PrepVolleyball.com All-America Honorable Mention (2017)
All-Big Ten First Team (2018, 2019, 2020, 2021)
Big Ten Co-Player of the Week (Oct. 1, 2018)
 B1G Defensive Player of the Week (Nov. 5, 2018, Nov. 26, 2018)
AS A FRESHMAN (2017 Redshirt)
• Named to the All-Big Ten Freshman team and received PrepVolleyball.com All-America honorable mention
• Finished the season with 2.07 kills per set on .309 hitting and 1.02 blocks per set while playing all 125 sets
• Tallied nine kills on .316 hitting against Florida in the NCAA Championship match
Top College Volleyball Sophomore
Lauren Stivrins returns to Nebraska Husker Volleyball in time to play Michigan and Michigan State
AS A SOPHOMORE (2013)


• Earned AVCA first-team All-America honors with 2.36 kills per set and 1.17 blocks per set while serving 25 aces
• Hit .421 during the season, the third-highest mark in school history and second during the rally-scoring era
• Selected to the NCAA Championship All-Tournament Team after a career-high 19 kills on .615 hitting in the championship match against No. 1 Stanford
• Named Big Ten Co-Player of the Week on Oct. 1 after a perfect 1.000 hitting percentage with 10 kills and three blocks at Northwestern
Top College Volleyball Junior
AS A JUNIOR (2019) 
• Was named an AVCA second-team All-American after averaging 2.55 kills and 1.07 blocks per set with a .374 hitting percentage in 33 matches played
• Earned AVCA All-North Region and All-Big Ten First-Team honors for the second straight year
• Ranked third in the Big Ten with a .412 hitting percentage during conference play
• Named to the Husker Invitational All-Tournament Team after nine kills and two blocks on .500 hitting against No. 18 Creighton
Top College Volleyball Senior
AS A SENIOR (2021) 
Recognized as first-team All-Big Ten for the fourth straight year
Missed the first 11 matches of her sixth year of eligibility after undergoing offseason back surgery and started the final 23 matches of the season
Ranked seventh in Big Ten play for hitting percentage (.346)
AS A SENIOR (2020)
• Named to the AVCA All-America First Team, her third-career All-America honor and second time on the first team
• Was a unanimous All-Big Ten First Team selection and an AVCA All-North Region pick for the third straight year
• Became the first Husker to earn three AVCA All-America selections since Kadie Rolfzen (2013-16) and the first middle blocker to do so since Melissa Elmer (2003-05)
Lauren Stivrins
High School Varsity Volleyball Achievements
Lauren...
Joined the Huskers from Chaparral High School in Scottsdale, Arizona

• Ranked the No. 9 prospect in 2016 by PrepVolleyball.com and No. 3 middle blocker

• Led Chaparral to the Arizona Division I state tournament as a senior with 5.3 kills per set, playing outside hitter

• Trained with the USA Volleyball High Performance development program

• Received Arizona all-state honorable mention

• Added 147 career blocks, 92 aces and 459 digs

• Played club volleyball for AZ Storm, which won the 16 open division at the USA Volleyball junior national championships in 2014
Lauren Stivrins
Pro Volleyball Player Athletes Unlimited
More About Lauren Stivrins


• All-Big Ten Freshman Team (2017)
• Minneapolis Regional All-Tournament Team (2018)
• Ameritas Players Challenge All-Tournament Team (2018, 2019)
• Husker Invitational All-Tournament Team (2018, 2019)
• Omaha Challenge All-Tournament Team (2017)
• Nebraska Scholar-Athlete Honor Roll (Fall 2016, 2020, Spring 2018, 2019, 2021)
• Tom Osborne Citizenship Team (2017, 2019, 2020)
Lauren Stivrins in the News, Interviews and Media
Check out 2018 AVCA All American Lauren Stivrins 
Photo credit