Ebony Nwanebu Is A 3x NCAA Champion Hitter And A Pro Volleyball Player
Ebony Nwanebu is a 3-time NCAA champion  who played at Stanford and an American professional volleyball player in the Athletes Unlimited Pro League.
Ebony Nwanebu is a former USC Trojan and Texas Longhorn outside hitter now a professional volleyball player in the Athletes Unlimited Professional League. (photo UT Longhorn Athletics)
"When I transferred to Texas, I medically redshirted," she said. "That year, it was just more of not just physically healing but mentally. So I got to just talk more. I started seeing a therapist regularly. I talked about it more. My coaches were super, super supportive.
They encouraged me to write more and talk to them. I met with them weekly. It was just a big healing year for me. I think that really helped and just continuing to reach out to people, not only letting them know that they're not alone but also I'm not alone. That helped a lot, too."
Part of that writing includes a blog: EbbOnTheWeb.
(auprosports.com website)
Volleyball Quote by Ebony Nwanebu explaining her personal interest in mental health advocacy for prep volleyball players. 
(Athletes Unlimited volleyball professional)
Listen in as Ebony Nwanebu talks about what it was like to watch from the bench as Texas roared all the way to the national championship match. She also touches on the loss of Chiaka Ogbogu  (2022 Olympic gold medal winning middle blocker) on the 2016 team due to academic ineligibility.
The Ebony Nwanebu volleyball player profile found on this page contains quick facts and biographical information about this amazing outside hitter from Fairview, Texas.
Check back often to see which world class professional volleyball players have been added to our list.
Ebony Nwanebu is a pro volleyball player who has played in Turkey and Italy before joining the Athletes Unlimited Pro League for the 2020-21 and 2021 - 2022 season. 
Check out Ebony Nwanebu mic'ed up  
at an Athletes Unlimited's volleyball practice
Ebony Nwanebu
Pro Volleyball Player Overseas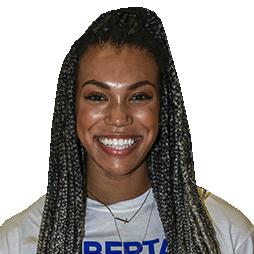 The portrait is of Ebony Nwanebu when she played for Serie A2 Italian Team ITAS CITTÀ FIERA MARTIGNACCO in 2019-2020. (Lega Pallavolo)
The portrait above is of Ebony Nwanebu when she played for Serie A2 Italian Team ITAS CITTÀ FIERA MARTIGNACCO in 2019-2020.
She played professionally in Turkey for the 2018 - 2019 season in A-2 for Buyukcekmece Volleybol Akademisi (TUR). 
Ebony's Top 13 College Volleyball Athletic Accomplishments as a Texas Longhorn 



2017 AVCA All-America honorable mention … 
2017 All-Southwest Region … 
2017 All-Big 12 First Team
2016 Honda Award finalist … 
2016 AVCA All-America First Team … 
2016 VolleyballMag.com First Team All-America … 
NCAA All-Tournament Team … 
Austin Regional Most Valuable Player …
2016 All-Region First Team … 
Big 12 Offensive Player of the Week (Nov. 21) … 
Big 12 Offensive Player of the Week (Sept. 26) … 
2016 All-Big 12 Preseason Team … 
2015 All-Big 12 Preseason Team
Top College Volleyball Freshman
 Get to know University of Southern California volleyball freshman Ebony Nwanebu.   
Freshman outside hitter Ebony Nwanebu accepts her AVCA first-team All-American award at the annual banquet in Seattle and does an interview with Olympian Courtney Thompson. SUBSCRIBE to USCAthletics
AS A FRESHMAN 2013 (USC)
Led USC with 3.47 kills per set (413 kills)...
The only freshman and the only non-middle blocker to rank in the league's top 10 for hitting percentage...
Recorded double-digit kills 24 times including a career-high 30 kills without an error (53att) for a .566 hitting percentage against Washington in the NCAA regional final on Dec. 14.
Top College Volleyball Sophomore
2014 (USC) As A Sophomore
Selected to the USA Volleyball Collegiate National Team in China during the summer ... 
Played with the U.S. Senior National Team at the Montreux Volley Masters tournament in Montreux, Switzerland and helped USA to a silver medal ... 
Posted 337 kills (3.12/set) on 993 attempts for a .226 hitting percentage ... also added 156 digs (1.44/set), 55 blocks (0.51/set) and 17 service aces in her sophomore season.
Impact Player: That time Ebony scored 30 points with no errors in the NCAA Regional finals vs Washington. 
Top College Volleyball Junior
AS A JUNIOR (2016) 

Posted 16 kills and seven digs vs. Stanford in the national championship match (12-17-16) … 
Had 15 kills (.378) vs. Nebraska (12-15-16) … registered a team-high 13 kills (.619) vs. Creighton (12-10-16) … 
Recorded 19 kills, six blocks and six digs vs. BYU (12-9-16) … posted 15 kills (.577) vs. SMU (12-3-16) … had seven kills (.462) vs. UTRGV (12-2-16) … registered seven kills and matched a season high of four block assists for the fourth time vs. West Virginia (11-26-16) ... 
Had a career high for hitting percentage at .625 on ten kills vs. Kansas State (11-19-16) … recorded a third game of the season with a .500+ hitting percentage and a tenth with .400+ with .560 on 15 kills vs. Texas Tech (11-16-16) … 
Broke 300 kills on the season with 18 at Iowa State (11-12-16) … 
Posted a .600 hitting percentage with nine kills, three digs and two block assists vs. Oklahoma (10-26-16) … had 16 kills and five digs at Texas Tech (10-21-16) … matched a career high of three service aces vs. TCU (10-19-16) … 
Registered a hitting percentage of .483 with 16 kills and had six digs, three block assists at Baylor (10-12-16) …  
Top College Volleyball Senior
AS A SENIOR (2017) 

Finished her senior season with 212 kills (2.52/set), hitting .345, 78 blocks (0.93/set), and 36 digs (0.43) … 
Had a season-high 13 kills two times (vs. TCU, .500; at Baylor, .478) … 
Posted a season-high hitting percentage (.778) vs. Fairfield (7 kills, 0 errors on 9 swings) … 
Recorded a season-high 7 blocks vs. Georgia Tech.
High School Varsity Volleyball Achievements
As a prep player Nwanebu played for Texas Advantage Volleyball Club in Fort Worth, Texas, under coaches John Sample and Ping Cao...
named Most Valuable Player of the 2013 USAV Junior National Championships after leading TAV 18s to the national title...
Ebony helped lead her club to the silver medal at the Junior National Championships in 2012... 
selected to the 2012 JNC All-Tournament Team ...
Nwanebu prepped at Lovejoy High School in Lucas, Texas, under head coach Ryan Mitchell and while there she was named the Mizuno/Volleyball Magazine High School Player of the Year...
PrepVolleyball.com Senior Ace No. 7... named an Under Armour All-American and helped Team West win the Under Armour All-American game...
Chosen as the Under Armour Skills Competition Hardest Hitter... picked to the Dallas Morning News SportsDayHS All-Area Team (first team as a sophomore and senior, and second team as a junior) and named the DMS Player of the Year in her senior season...
A three-time selection to the LoneStarVolleyball.com All-Texas First Team Ebony was a finalist for the PrepVolleyball.com and won the Freshman of the Year award in 2009...
She led Lovejoy HS to three Texas 3A state championships (2010-12) and was named tournament MVP in 2010 and 2012...
Ebony had 26 kills and 11 digs in the championships match and finished her senior season with 701 kills, 356 digs, 103 blocks, and 35 service aces.
(video by Athletes Unlimited)


Pro Volleyball Player Athletes Unlimited
During the 2021 Season:
EBONY NWANEBU SELECTED AS NO. 1 PICK IN VOLLEYBALL'S WEEK 2 DRAFT
With the No. 1 pick, De la Cruz selected opposite Ebony Nwanebu. Nwanebu had 39 kills and hit .260, and had 25 digs over the first weekend of competition. With 603 overall points, Nwanebu is currently 11th on the leaderboard.  
Team De La Cruz
Bethania De La Cruz
Ebony Nwanebu
Kelly Hunter
Ali Bastianelli
Nomaris Vélez Agosto
Deja Mcclendon
Molly Lohman
Erica Wilson
Nia Grant
Sareea Freeman
Amanda Peterson
More About Ebony Nwanebu

Check out Ebony when she spends the weekend at the US Olympic Training Center in Colorado Springs.
Ebony Nwanebu in the News, Interviews and Media
"When you're going through mental-health stuff, you just feel super lonely," she said. "I remember not knowing if I could talk to my teammates about it or my coaches or if I did, some of them just didn't understand. That feeling, when you go through it, is the worst feeling in the world. If I could help just one person not feel that way, I wanted to."
(auprosports.com website) 
Sophomore outside hitter Ebony Nwanebu shows off her very unusual hidden talent that has "Statisfaction" host Ryan McGrady roaring with laughter
Senior ebony Nwanebu talks about her social media series Ebbs on the Web which became one of the first viral video series in the US. 
Photo credit