Improve Your Mental Toughness in Sports Specifically For Volleyball 
Playing and practicing against male volleyball players helps you develop volleyball mental toughness in sports quickly. Here's how.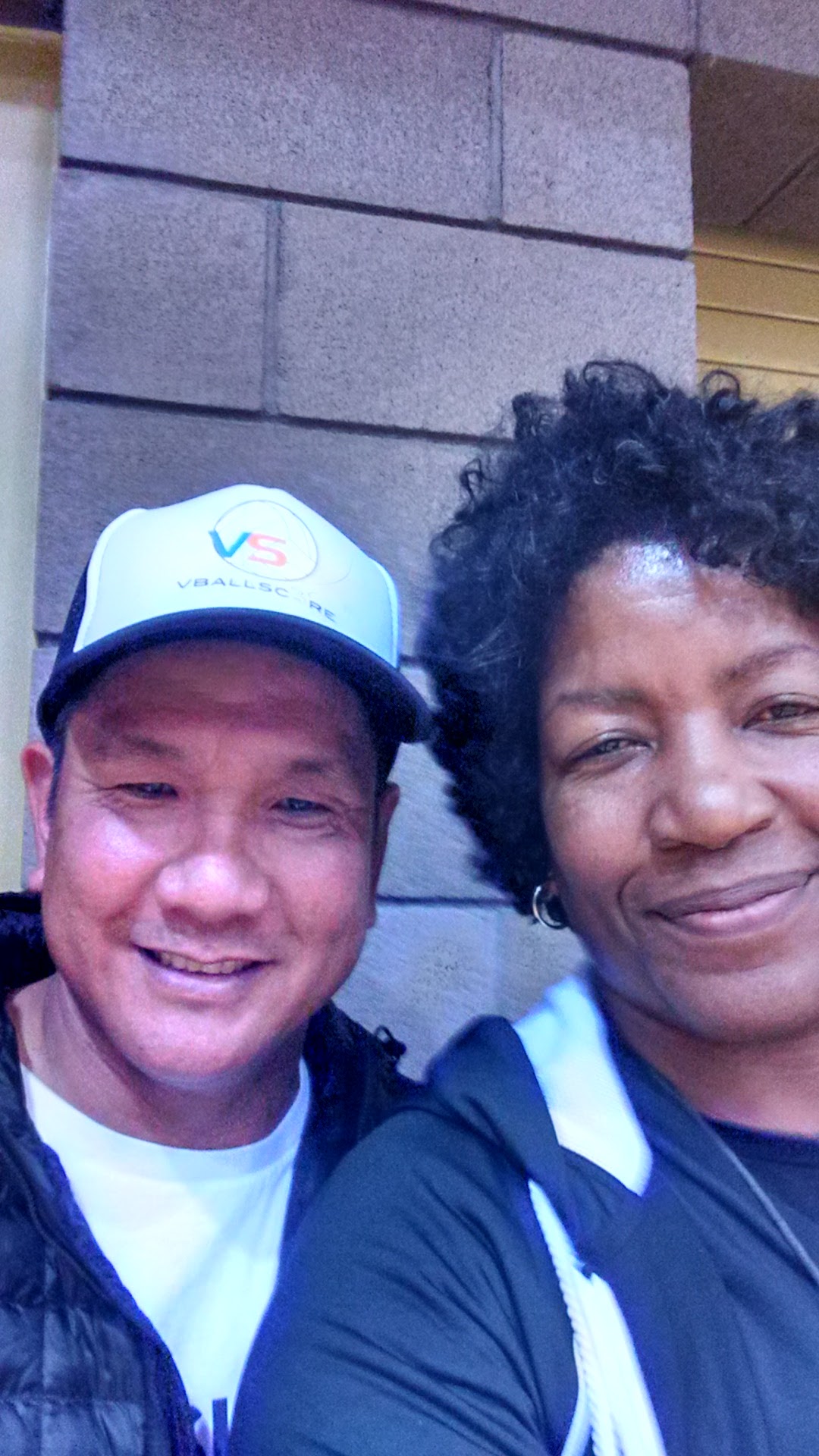 Eric is the younger brother of Olympian Liane Sato and former Olympic Men's Volleyball coach and two-time gold medalist Gary Sato.
How did I improve my mental toughness in sports while training for volleyball?
One way was to adopt the "never let a ball fall" philosophy. 
The "never let a ball drop" attitude I first adopted when I was practicing pepper with Olympic gold medalist Eric Sato.

Eric is the younger brother of Olympian Liane Sato and former Olympic Men's Volleyball coach and two-time gold medalist Gary Sato.  
When I was first learning the high school volleyball game, in my off season I use to hang out with the Sato family. They would take me to Liane's and Liz Masakayan's club or junior olympic volleyball practices and tournaments.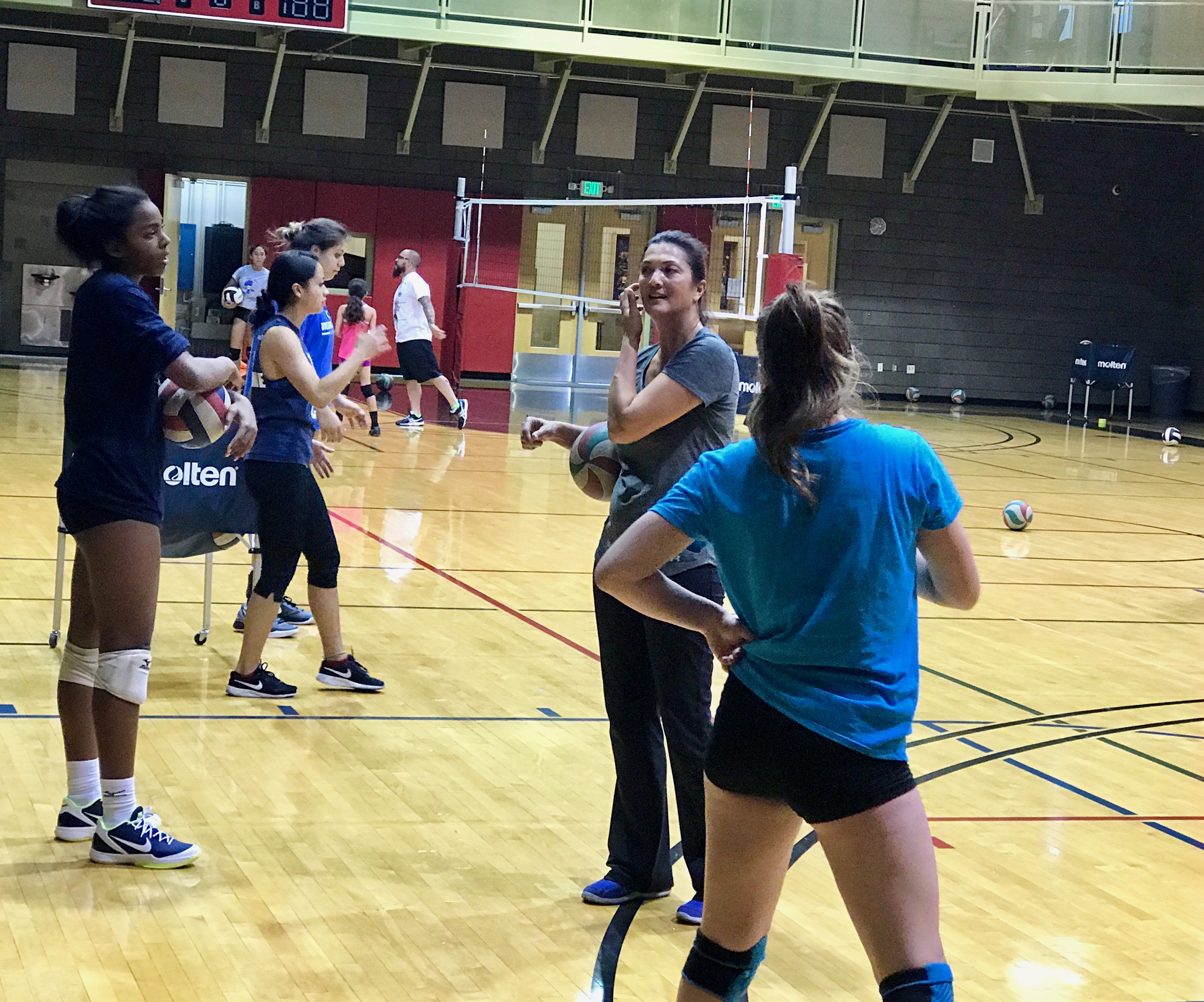 Indoor Olympian and Beach Olympic coach Liz Masakayan at Boot Camp Class with Coach C'era Oliveira and USA Youth Girls Setter and Max Preps National Sophomore Player of the Year Kami Miner.
When Liane and her best friend Liz Masakayan were playing volleyball, Eric and I would play pepper or do some sort of volleyball workout/training continuously for hours on the sideline.
We would never quit and he would never let me get away with just letting the ball fall.
We played peppered for hours all over the gym and even though he was younger than I was, he was the youngest member at the time, in the first family of American volleyball which meant he was technically more advanced than I was.
And that made me want to get better at the game even more.
Although I didn't know it at the time, the lessons I learned from playing defense with Eric for all those hours had a lasting impression on me.
Even after high school volleyball, when I came home occasionally from college or even later on, between trips from Italy, when I needed to get some indoor volleyball training, we'd still get together at open gym practice in Santa Monica because he would always challenge me to play the best volleyball I could all the time I was on the court.
What I learned about mental toughness training for volleyball...
If you practice at 50% of your ability all the time then you will play at 50% of your ability all the time.
If you practice at 100% you will play at at 100%  of your ability. 
When it comes to really competing to win, you want to train in a way that constantly increases your volleyball mental toughness all the way through your workout.
Do it at a level which forces you to have to play at high levels of concentration and at the best of your abilities for longer periods of time, that's when you will really make lots of progress as a seriously competitive volleyball player.

That's what happens when you play games or do your workout with guys that are better than you.  
You develop your mental toughness training for volleyball while learning to play hard for longer periods of time. 
Mental Toughness in Sports Training For Volleyball
Guys Help Because
They Don't Care
Starting when I played high school volleyball, I noticed that guys would say whatever was on their mind in a competition.
After the workout was over, it was like whatever they said never happened.
For the most part, guys leave everything on the court. Either you learn to take it or you learn to give it right back.

I learned to dish it and I learned to take it.

I definitely learned to talk on the court and to be as verbal as they were without backing down easily from an argument

When I was playing with or against guys in high school volleyball, my physical toughness improved also because guys hit harder and moved quicker.  

If they were going to continue to let me play and if I was going to compete with them then I knew I'd have to learn how to dig their hard hits and set the ball to them high and accurately so they could hit the ball effectively against the opposing team...of guys. 
I'd also have to learn how to place my shots and just play smarter volleyball in order to add value to my team and so I'd be picked to play in the next game.
I figured that if I could do some sort of volleyball training with guys on a regular basis then I could play against guys which would ultimately mean that I could definitely play well in a girl's high school game.
One thing that is important to note is that I didn't play to look cute or waste their time.
I played to improve my skills since I knew my goal was to make the USA volleyball team and to become a professional volleyball player in Italy.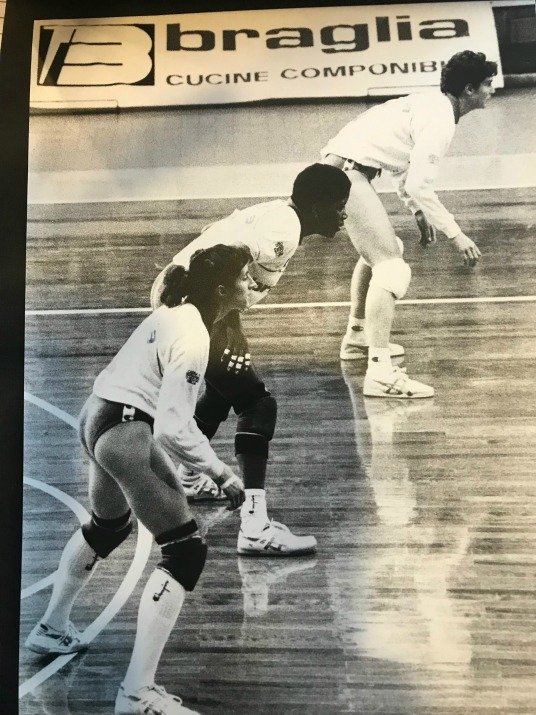 April Chapple and three-time Olympian Paula Weishoff on Division I professional volleyball team Braglia Cucine Reggio Emilia in the Italian D1 Championship playoffs.
As a sophomore, while playing high school volleyball I set these goals for myself and I did everything I could to reach them. 
One of the ways that was effective for me was to keep finding workout and practice opportunities to play with people who were bigger, better and faster than I was.
This also guaranteed that I would increase my mental toughness training for volleyball skills. 
In college I played with the UT Men's club volleyball team in the offseason.
On the beach, I'd practice volleyball on the men's beach courts at the famous Venice Boardwalk courts so that I could hit on a men's net in the sand.
And it didn't stop there either, when they'd let me play, I'd play beach volleyball with/against guys in four against four and coed doubles games in California.
Remember this idea of doing your volleyball workout with guys, may or may not work for everybody but it may give you some ideas as to what will work for you, especially if you are looking quick ways to improve your indoor court skills and to build mental toughness in volleyball training.
How To Play Volleyball
Where To Go From Here
Where do you need to go now? Here are three options: 
Learn more about increasing your Mental Toughness in sports and Volleyball by checking the links in Related Links section.

Follow the suggested reading on our Sitemap page 

 (Sitemap)

Or visit the pages in the How To Play Volleyball 

section in the 

drop down menu at the 

top of the page

.