Under Armour Volleyball Sponsors Kelsey Robinson and AVCA Youth Events
When the Under Armour volleyball uniform was introduced, they raised the bar on developing performance fabric and sponsoring All America youth volleyball events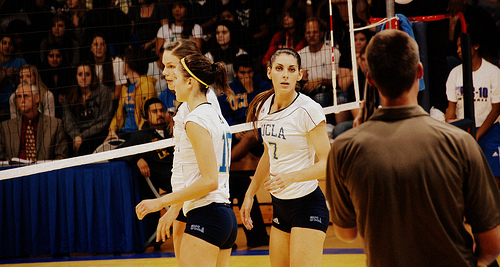 When the Under Armour volleyball uniform was introduced, they raised the bar on developing performance fabric and sponsoring All America youth volleyball events
It didn't take long for the Under Armour uniform to take the sports world by storm.

UA has made no effort to hide the fact that they were ready and willing to take on the big names in the volleyball apparel market.

When the Under Armour volleyball uniform was introduced, they raised the bar on developing performance fabric and moisture management technologies to a whole new level.
The First Under Armour T-Shirt
Ten years ago, after the creation of the first T-shirt, Under Armour developed its trademarked line of microfiber gear and launched their amazing entry into the performance product industry.

The company's latest textile innovations and the development of new technologies that continue to improve their products are developed in their own fabric lab.

Sure, Under Armour started out by producing athletic apparel for football players, but as the success of their company grew so did the need to manufacture apparel for other sports.
Famous Volleyball Players Sponsored By Under Armour
When sportswear companies need to get the word out about their products they usually partner with spokespeople, other famous volleyball athletes that agree to
wear their 

clothes

use their equipment 

give testimonials
about how great their brand is. 

Kim Glass Sponsored By
Under Armour Volleyball
USA Volleyball Olympian Kim Glass and Under Armour Volleyball
USA Volleyball Olympic Silver medalist Kim Glass, one of the first famous female volleyball players sponsored by UA has worn Under Armour uniforms, clothes, workout apparel as one of the company's the first volleyball testimonials.

Under Armour goes behind the scenes with world class Volleyball player Kim Glass about how she trains and what motivates her to the best.
Meet Kelsey Robinson, Olympian
Under Armour Volleyball Athlete

Kelsey Robinson - USA Volleyball's Olympic Bronze Medalist - Under Armour Volleyball Athlete

Although she's on the USA Volleyball National team which is exclusively outfitted by the Adidas volleyball brand, Kelsey is personally sponsored by UA.
Meet Kelsey Robinson
Here she is in a video produced by Eastbay and featuring Under Armour volleyball apparel. 

Kelsey Robinson and pro indoor Turkish teammate, 2016 Olympic Most Valuable Player, China's Zhu Ting both are Under Armour sponsored volleyball players. 
Newly crowned 2018 - 2019 Turkish league champions, Kelsey and Zhu both play together professionally in the Turkish Champion league.

Watch how Kelsey documents what its like to win a Turkish championship game. 
Witness what an Under Armour volleyball apparel photo shoot featuring two of the world's most famous volleyball players, USA Volleyball's Kelsey Robinson and China's Zhu Ting looks like. 

Under Armour Volleyball Sponsors
AVCA All American Programs and Events
Since 2011, Under Armour All America Volleyball has been the sponsor the American Volleyball Coaches Association identification, nominations and selection of High School All Americans.
Under Armour Volleyball is the title sponsor of the AVCA Girls Talent Showcase during the AVCA Convention.
AVCA PHENOM powered by Under Armour
According to the AVCA this recruiting event draws nearly 350 athletes from all over the country to be seen by just as many coaches. 
The AVCA All American Program Sponsored by Under Armour Volleyball
Here's a quick video demonstration on how to use the MaxPreps website to nominate a high school volleyball senior for Under Armour All-American.

Stanford-bound Elena Oglivie chats about Under Armour All-American honor
High school volleyball season ended a month ago for 'Iolani senior Elena Oglivie, but she has another globe-trotting adventure ahead.
Oglivie was presented her jersey for the Under Armour All-American volleyball tournament and will play in Florida on Dec. 31.
The four-time Star-Advertiser All-State, two-time player of the year chatted after a morning presentation in Seton Hall. (Honolulu Star Advertiser)

Under Armour Volleyball
All American Athletes 
Flo Volleyball interviews two Under Armour Volleyball All Americans Madi Kubik and Kendall Kipp about the 2018 All American weekend. 
The 2016 Under Armour Volleyball All American Match and Skills Competition
What are Under Armour volleyball uniform reveal videos?
These are called "volleyball uniform reveal videos" promote the new uniforms that will be worn the current season during travel matches, home matches and at tournaments. 
I consider these "commercials" featuring team members used as a way to hype and promote the brand name of the company providing the uniforms to the team. 
What a brilliant way to get people to talk about a brand.

it's become a big annual event each year for collegiate teams to shoot a commercial or hype video which features your brand, logo and clothing.
Under Armour
Volleyball Uniform Reveal
South Carolina Gamecocks
South Carolina gets my vote for best looking uniforms this season...Don't know about the army green in the color scheme, but it works!
The "other" USC managed to get everything on their jersey, from SEC logo, to Gamecock logo to UA logo, to a baseball and/or hockey striped sleeve AND block printing all on a 3-4 colored jersey, wow! 
Texas Tech Raiders
UCLA Bruins Volleyball

Bruins rockin' lots of powder blue with their Under Armour volleyball gear...
Hartford Hawks Volleyball 

Two years ago Hartford University rolled out a new logo for their Hawks athletic program. The logo features a huge red H with a hawk in flight to serve as the cross bar in the H.
All the Hartford athletic teams received new gear and a choreographed  "surprise" locker room reveal was filmed as the team saw their new uniforms with the new logo for the first time. 

Cal Berkeley Golden Bears

Cal volleyball revealed their new Under Armour volleyball uniforms on video.
Featured are three volleyball jerseys in Cal blue, Golden bear gold and white all with contrasting colored stripes along the sleeves elbows.  
One of the few teams to spotlight their playing shoes, the video highlights the Under Armour Charger volleyball shoe which comes in high top and low top versions. 

Coastal Carolina Volleyball

Watch as Coastal Carolina reveals their Under Armour uniforms.
Particularly gorgeous because of the color hues chosen to match the ocean waters. 
Notre Dame Volleyball
The Fighting Irish are honoring the 175th anniversary of their collegiate institution with a patch on their new uniforms. 
Do You Follow Me on Instagram?
Follow me on Instagram @coach_apchap to improve your game even faster!
I share alot of individual, partner and easy-to-do volleyball serving drills we do in class with my followers.
Many of these volleyball practice drills you can do at home by yourself or try at your next practice with your teammates.

If you're a B team or JV player trying to make varsity next year...your goal should be to complete 1000 reps a day of at least three of the basic skills on your own...volleyball passing, serving and setting should be at the top of the list.