10 Womens Volleyball Uniform Reveal Videos Feature Adidas, Nike, UA
Here are my top 10 favorite womens volleyball uniform reveal videos that feature the dopest volleyball team uniforms from Adidas, Nike, and Under Armour.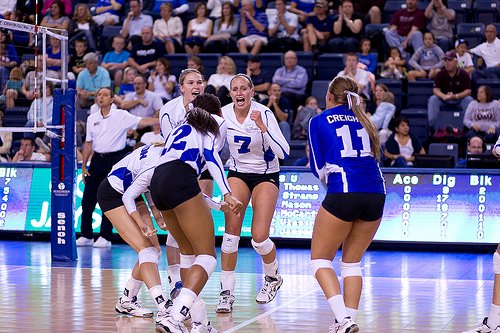 Top 10 favorite womens volleyball uniform reveal videos that feature the dopest volleyball team uniforms from Adidas, Nike, and Under Armour.
What's a volleyball uniform reveal video?
These videos are called "uniform reveal videos", that're used to hype and promote the new uniforms that will be worn the current season during 
travel matches,

 

home matches and

at tournaments. 
I consider these "commercials" featuring top volleyball players and team members used as a way to hype and promote the brand name of the company providing the uniforms to the team. 
Videos themes range from cinematic closeups of fabric and uniform materials to
the use of dope music

competitive action shots and

suspenseful locker room surprise entrances
which are a brilliant way to get people to talk about a team's volleyball uniform.
Interesting idea!

An added "benefit" for the sports programs producing these volleyball uniform reveal videos is that expenses are low because the athletes don't get paid extra for appearing in these commercials!
A Quick Review: What's the womens volleyball uniform usually made of?
A womens volleyball uniform consists of a jersey and spandex shorts.
These two items make up the most basic pieces of apparel items for the uniform worn by a player on the court.  
In addition to the two basic items your entire  womens volleyball uniform attire for  a player on a team consists of 
uniform jersey

spandex shorts

socks

knee pads

sweat jacket

sweat pants
Womens Volleyball Uniform Reveal:
Does 

anyone in college wear Asics?



Quick question before I get started. Funny thing...the uniform brands featured are Mizuno, Under Armour, Adidas and Nike.
Does Asics sponsor collegiate volleyball teams anymore?

Not from what I can tell.
Asics seems to dominate the club volleyball scene so that's why you wont see any Asics volleyball uniforms below. 
#1 Womens Volleyball Uniform Reveal Video
Minnesota Gophers 
Nike Volleyball Uniforms
Minnesota Gophers Womens Volleyball Uniform
The Minnesota Gophers video production team did a great job of pairing attitude, music and sass in this volleyball uniform reveal for the Gophers. 
Brand building by focusing on the small details from
sleeve embellishments

to necklines

to team name embroidery
on important visual focal points on the uniforms the Minnesota video works...
to make the viewer understand the importance of attitude and

how wearing this uniform should make a player feel...empowered. 
The video is top notch, and great care was taken to pick the right song expertly edited sequences meant to build and create excitement, do just that. 

#2 Womens Volleyball Uniform Reveal Video
Purdue Boilermakers
Nike Volleyball Uniforms
Purdue Boilermakers Womens Volleyball Uniform
I personally, am not into fashion shows, unless they are so extra...people talk about who was wearing what for days.
What I do like alot is the right combination of hype music, dope camera shots, dramatic lighting and confidence.
I also like action ...which helps display the uniforms being used in action which is what the Boilermakers did in their follow up to their fashion show video. 

I also want to know what its like to play with a golden ball, don't you?
#3 Womens Volleyball Uniform Reveal Video
South Carolina Gamecocks
Under Armour Volleyball Uniforms
South Carolina Gamecocks Womens Volleyball Uniform
When the South Carolina Under Armour volleyball uniforms came out I was hooked.
They got my vote for best looking uniforms mainly because I fell in love with that armband element on the long sleeve jerseys.
I was intrigued about the army green effect but it grew on me because it represented for me the competitive fight that takes place on the court and in each player's mind...when it comes down to beating the competition. 

And if I were a USC player every time I put that jersey...I'd be reminded to that it was time to battle. 
The "other" USC also managed to tastefully include three different logos on each player's jersey so, wow! 
Those were my thoughts BEFORE I saw the video. 
Once I saw the shots and heard the music...I was hooked!
#4 Volleyball Uniform Reveal Video
Cal Bears
Under Armour Volleyball Uniforms
Cal Berkeley Golden Bears Womens Volleyball Uniform 
Bears indoors and beach teams drippin' in these videos with that new UA swag. 
Featured are three volleyball jerseys in Cal blue, Golden bear gold and white all with contrasting colored stripes along the sleeves elbows.  
Reppin' Under Armour swag from head-to-toe as one of the few teams to spotlight their playing shoes in the same frame as the uniform, the indoor volleyball uniform video highlights the Under Armour Charger volleyball shoe which comes in high top and low top versions. 

#5 Volleyball Uniform Reveal Video
Stanford Cardinals
Nike Volleyball Uniforms
Stanford Cardinals Womens Volleyball Uniform
One of the coolest hype vids for Kobe's kicks, the Cards who need no intro...introduce their new Nike volleyball shoes... 
..after a quick reminder opening shot
...of who won the NCAA title two of the last three years...
#6 Volleyball Uniform Reveal Video
Western Kentucky Hilltoppers
Nike Volleyball Uniforms
Western Kentucky Hilltoppers Womens Volleyball Uniform
The Western Kentucky Hilltoppers for the 2017 season just revealed their new Nike volleyball jerseys. 

Check out their stylish promo that looks more like a music video than a uniform reveal...but of course..that is the whole idea, right? 

From the black long sleeve jersey with Kentucky red trim, and on the lower left sleeve "Western" is imprinted while on the right sleeve is "Kentucky" in contrasting colors this video is all about the drip.
#7 Volleyball Uniform Reveal Video
Coastal Carolina
Under Armour Volleyball Uniforms
Coastal Carolina Womens Volleyball Uniform
Watch as Coastal Carolina reveals their Under Armour uniforms.
Particularly gorgeous because of the color hues chosen to match the ocean waters.