USA Volleyball and Adidas Sign Big Womens Volleyball Apparel Deal
Volleyball apparel manufacturers like Mizuno, Asics, Nike and USA Volleyball's official womens volleyball apparel sponsor Adidas create players uniforms.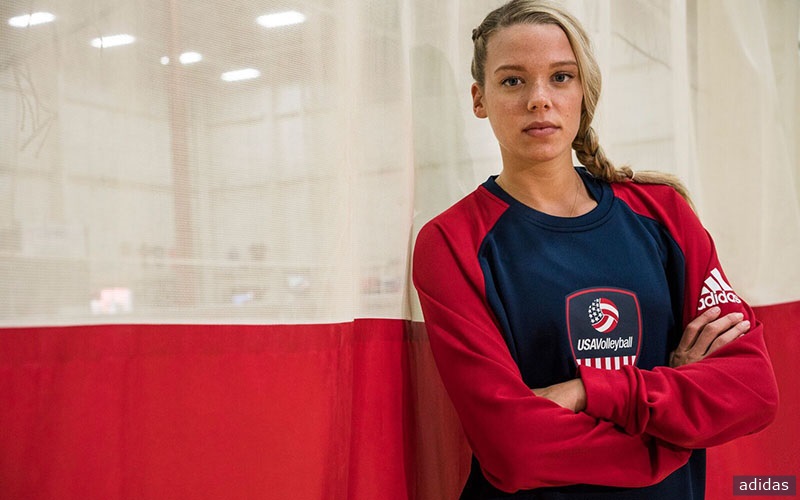 Womens Volleyball Apparel: Paige Tapp one of 16 USA volleyball players sponsored to wear Adidas volleyball apparel, shoes, sneakers and accessories exclusively. (Adidas)
Womens Volleyball Apparel Manufacturers 
Once you've learned the basics of your sport, it's time to master specific techniques that help you play more skillfully in game time situations. In sports like tennis and volleyball, the serve can make or break your game. Dominate the court by learning how to jump serve with power and score more aces.

There are six major volleyball apparel manufacturers who have produced player uniform pieces, some for generations and some only most recently after years of producing apparel for other sports.  
The most popular are
USA Volleyball Signs An Official Partnership Womens Volleyball Apparel Deal With Adidas 
After generations of being sponsored by the Mizuno Volleyball brand,  USA Volleyball and Adidas signed the biggest womens volleyball apparel deal in the history of volleyball, a multi-year and multi million dollar deal which makes Adidas the official apparel brand for the sport in the United States. 
Adidas became the Official Sponsor of USA Volleyball in 2017 which means they will exclusively furnish, dress and outfit the following teams with Adidas uniforms and USA volleyball apparel, accessories, lifestyle clothes and shoes: 
USA Men's and Women's National Volleyball Teams

the USA Men's and Women's Junior National Volleyball Teams 

USA Boys' and Girls' Youth National Volleyball Teams 

USA Beach Volleyball programs 

the Paralympic Programs
Lauren Carlini and Alix Klinemen Official Womens Volleyball Apparel Spokespersons for Adidas
Two of the most visible spokespersons who assigned multiyear sponsorship deals with Adidas are 2020 Tokyo Olympic hopefuls...pro indoor volleyball player, setter Lauren Carlini and pro beach volleyball player Alix Klineman. 
About Adidas Womens Volleyball Apparel 
The official apparel brand for all USA Volleyball teams, the line of Adidas volleyball uniforms, particularly their popular Adibody compression shorts have a combination of polyester/spandex blended materials.
These materials, exclusively developed by Adidas are a microfiber fabric called Climalite. 

Before you ask, let me give you the 411 on what I understand this term to mean. 
"Clima" is one of the trademarked Adidas apparel systems which include the Cool, the Lite, the Warm and Proof technologies.

As far as Adidas womens volleyball uniforms and mens competitive athletic wear are concerned the three technologies I mention below are the ones you most commonly see used in their spandex shorts.
ClimaCool is an integrated system of technologies that work together to regulate the volleyball player's body temperature. 
Adidas also utilizes climaCool as a cooling system in their footwear.
ClimaLite fabric is designed to pull sweat away from the skin to the outer fabric face for quick evaporation. 

ClimaLite is supposed to enhance the body's natural temperature regulation.
In other words, Climalite is an Adidas water-wicking technology designed with cotton threads on one side of the fabric and synthetic fibers on the inside that work to wick moisture from the skin to the fabrics surface for easy evaporation.
ClimaWarm works as a lightweight, breathable insulation that keeps the volleyball player dry and comfortable in cold weather conditions.
Got it? Good. Because I didn't until just a few minutes ago.
In the Adidas volleyball spandex shorts line, the Adibody compression shorts are a great example of how the company incorporates one of their trademarked apparel systems called Climalite into specific items within their volleyball apparel line. 
In several styles of Adidas volleyball shorts, the company uses Climalite, described as an Adidas water-wicking technology designed with cotton threads on one side of the fabric and synthetic fibers on the inside that work to wick away moisture from the skin to the fabrics surface for easy evaporation. 

Cool, right?