Volleyball Serving Drills
For parents looking for volleyball serving drills that may help improve
your daughter's technique, let me first help you get more acquainted
with the skill.
The volleyball serve is the first opportunity for an individual volleyball
player on a team to attack the ball so that it results in a direct point.
Yes, it is a way to just start playing the game but what junior club
volleyball players are being taught (or should be) more and more is that
once they step behind the boundary line not only do they have a
chance to start the game, but even better yet, she has a chance to
score a point.
If you've ever seen a tennis game, the player who is serving is not just
lobbing the ball over the net so that the other player can smash the ball
back to her.
The server is literally serving as hard as she can and as
tactically as she can in order to serve an ace, which gets her a direct
point without her having to expend any extra energy rallying the ball
back and forth with her opponent.
Ideally, that is what a volleyball player about to serve the volleyball is
supposed to do as well. Ultimately her goal is to serve tha ball
aggressively so that she, and she alone can serve the ball for a direct
point for her team.
If she can't do that, no worries. Her next goal is to serve the ball in the
opponent's court so that the opposing team has difficulty in passing the
ball up to their setter so that they can't run an attack against her
team.
And thirdly, if she can't do that...then all she needs to do is get the ball
in the opposing team's court without making a mistake.
Now you see that a volleyball serve can make a huge difference in the
outcome of a game and if you are the parent that is looking to help your
daughter excel at a particular volleyball skill then I highly suggest you
start with the serve.
So the first thing your volleyball girl needs to learn is how to serve a
volleyball correctly.
Then she gradually needs to learn how to serve the volleyball
aggressively each time she steps back behind the service line so that
she increases her chances of scoring a direct point for her
team...without her team having to do any work at all.
The coach that has a volleyball player that has a strong aggressive
serve that scores points consistently will more times than not, give that
player regular playing time.
Want to help your daughter possibly get more playing time on the
Then when she is at home and is wondering what skill
to work on in her free time, you can help her practice her serving
technique with various volleyball serving drills.
Volleyball serving drills should be included in every practice.
They usually have various components that should usually focus on
one or more of the following: target practice, consistency, accuracy
and the ability to make a tough serve while tired or in a pressure
filled situation.
For ideas on how to help your daughter improve her serving I've listed a
selection of Championship Productions DVDs by some of the top
college volleyball coaches teaching specific volleyball serving drills.
Maybe one of these volleyball serving drills may be beneficial to you
and your volleyball girl.
Did you come to this page because you were shopping for volleyball
stuff?
Great! Then you've found the right place. Here is my disclosure about
this section. Read it before you get started.
In this section dedicated to shopping for volleyball stuff some of the
pages contain affiliate links.
This means, if you buy a product after clicking my link, I might be paid
a "commission" on the sale. I may also earn money from advertisements
appearing on my blog.
I just wanted to let you know that and I thank you in advance for
your time and consideration.
Game Speed Serve & Serve Receive Drills
Improve your volleyball team's serve and serve receive

Learn how to fit volleyball serving drills around your team

Carry practice competitiveness into game situations
Game Speed Serve & Serve Receive Drills - Volleyball -- Championship Productions, Inc.
with Terry Gamble,
McNeese State University Head Volleyball Coach;
former Iowa Western CC Head Coach,
2006 AVCA National Coach of the Year,
2006 NJCAA National Champions
Coach Terry Gamble feels that there are two important components for successful serve receive and volleyball serving drills - 1) movement, keeping multiple players active, engaged, and accountable; and 2) making the volleyball serving drills competitive with the goal of carrying practice competitiveness into game situations.
Gamble integrates these components into more than 15 drills and variations that emphasize movement and competition for serve and serve receive.
Throughout each drill, Gamble offers narrations of how to coach the drill to simulate game play, and strategies for wrapping these volleyball serving drills around your system.
Gamble is a strong proponent of individual player and team accountability for every phase of skill and drill development and shares ideas rewarding success for proper drill execution.
Gamble's volleyball serving drills are fun, competitive and easy to incorporate with high school and club teams.
This DVD is sure to assist your team's serve and serve receive development.
58 minutes.

The Complete Guide to Serving: Technique, Tactics & Drills
Maximize service opportunities

Improve serve percentage

Make serving your scoring threat

 
The Complete Guide to Serving: Technique, Tactics & Drills - Volleyball -- Championship Productions, Inc.
with Russ Rose,
Penn State University Head Coach;
back-to-back-to-back-to-back NCAA Championships (2010, 2009, 2008, 2007), 5x NCAA Championship Coach;
3X AVCA National Coach of the Year,
over 1000 career coaching victories,
recognized by USA Volleyball as one of their All-Time Great Coaches in 2005
The serve has a great impact in the Rally Scoring era of volleyball.
To capitalize on this area, Coach Russ Rose shares technical aspects of the standing serve, the jump float and the jump spin in this three-part DVD.
He begins with the technical aspects of each of these serves. While teaching, Rose offers ongoing commentary of the nuances of the serve along with repeated demonstrations of each that you can show your players.
He also touches upon the importance of establishing a serving ritual that allows focus and preparation for the serve.
In Part 2, Tactical Factors, Rose shares insight into maximizing service scoring opportunities for your individual athletes and your team as a whole.
Part 3 features volleyball serving drills from three distinct categories: Control, Tactical and Stamina that are all designed to help "test" individual players and your team to be prepared in every foreseeable game time serve situation.
Turn your serves into scoring opportunities with the volleyball serving drills in this excellent DVD from Russ Rose.
32 minutes.

 Defensive Drill Solutions: Serving, Blocking & Digging
Improve your volleyball serving drills

Volleyball serving drills for every player on your team

Learn how to develop tough blockers and fearless defenders
Defensive Drill Solutions: Serving, Blocking & Digging - Volleyball -- Championship Productions, Inc.
with Mary Wise,
University of Florida Head Volleyball Coach,
2X AVCA National Coach of the Year!
For the younger and/or developing players, Mary Wise believes that serving is perhaps the most important skill in volleyball, while blocking and digging development can be especially difficult.
In Part 1 of this three-part presentation, Coach Wise serves up 14 different volleyball serving drills and progressions for the overhand serve.
Beginning with the skill of throwing the ball, she progresses to close-to-the-net serves and into more advanced competitive drills; such as target serving.
In Part 2, Wise goes through a 12 drill progression for blocking. She begins the blocking progress without a ball or net and adds hitting, jumping, boxes and footwork. She ends the segment with competitive drills.
In Part 3, Wise repeats her simple to complex progression for digging. She uses eight drills that progress from catching and lifting drills and ends with aggressive, fearless digging.
This is a great DVD that has something for every player on your team.
44 minutes.

 Becoming a Champion: Passing and Serving
Proven skill instruction for better passing and serving

See a complete skill breakdown for better passing

Master error free serving
 Becoming a Champion: Passing and Serving - Volleyball -- Championship Productions, Inc.
with John Dunning,
Head Coach Stanford University,
2004 & 2001 NCAA Champs;
former University of Pacific Head Coach,
1985 & 1986 NCAA Champions
 
Part 1: Passing. John Dunning breaks down what he feels are the four key elements for successful, accurate passing: Physical, Skill, Movement, and Mental.
Coach Dunning teaches and takes his demonstrators through: proper starting position detailing the positioning of the feet, body, and arms and passing posture and the technique for a developing a successful passing platform.
Drill progressions include: Tilt Drills, Change of Direction Drills, and individual drills a player can work on to become a Champion passer!
Part 2: Volleyball Serving Drills. Dunning's approach: "Never serve easy, never serve rockets, have a good serve every play!"
Dunning first details the Floater Roundhouse Serve. He first discusses the importance of injury prevention and shares detailed sequences for learning the Floater Serve (he also illustrates positioning of the feet, hands, body, and shoulder with a serving sequence of "Toss, Step to Target, and Hammer the Nail"!).
Effective Wall Drills and Lane Serving Drills for developing accuracy and technique are also shown.
Finally, he shares instruction and volleyball serving drills for a Jump Serve with a "Toss and Attack" approach.
53 minutes.

Serving Progressions
Step-by -step beginning volleyball serve instruction

Learn beginning float and jump serve progressions

Get proven methods for players of all ages, sizes, and ability levels 
Serving Progressions - Volleyball -- Championship Productions, Inc.
with Chris Lamb,
Wichita State University Head Volleyball Coach
3X Missouri Valley Conference Coach of the Year,
has led the Shockers to three Missouri Valley Conference Championships;
former Head Coach and founder of the Empire Volleyball Club (California)
In this video, Chris Lamb shares with you his systematic teaching progression for the float and jump serves.
In Part 1: Float Serve Progressions, Lamb shares a 7-step progression and in
Part 2: Jump Serve Progressions he shares a 6-step progression. Included in both are the body position set-up, toss positioning including tips for delivering a successful and controlled toss, body rotation, striking hand technique, ball contact, and proper follow-through techniques.
Throughout each progression are special verbal cues and unique naming of each of the specific moves/techniques necessary to implement a successful serve.
Lamb uses demonstrators ranging in age from 4th - 8th grade, showing you firsth and how these lead-up progressions can positively impact players of all ages, sizes, and ability levels.
35 minutes.
 Advanced Technique Training: Hitting, Serving, & Blocking
Take your hitting, setting, serving and blocking up a notch

Master solo blocking technique
Advanced Technique Training: Hitting, Serving, & Blocking - Volleyball -- Championship Productions, Inc.
with Bond Shymansky,
Marquette University Head Coach;
former Georgia Tech Head Volleyball Coach; 2004 ACC Coach of the Year
In this comprehensive 3-section video, Bond Shymansky shares the arm swing skills expertise that has catapulted Georgia Tech Volleyball into national prominence!
In all of the instruction, Coach Shymansky follows a pattern of showing the entire skill, breaking down the skill into components, and re-building the entire skill. Game footage included allows you to see these skills in a competitive situation.
Part 1: Hitting - Break down of hitting components for middle and outside attackers with straight-on and cross-body arm swings. Also included are the roll shot, the deep tip, and the sweep shot.
Part 2: Volleyball Serving Drills - Both the aggressive float serve and the jump serve are taught. Shymansky builds both of these serves from the ground up using drills and techniques that offer you an easy-to-follow teaching progression.
Part 3: Blocking - Shymansky details the technique and instructional methodology for solo blocking and the swing block. He begins with set-up positions followed by lead-up drill progressions that lead to blocking skill perfection.
70 minutes.

If you aren't looking for volleyball serving drills, be sure to check out
the other fun volleyball drills below.
Volleyball Serves Info on Pinterest
---
Check out more tips on serving in volleyball on the pages below.

---
Volleyball Practice Drills
Return To Volleyball Drills From Volleyball Serving Drills
Return To Inspiring Female Volleyball Players in Pictures From Volleyball Serving
The images on this page are in the public domain or are covered by a Creative Commons license with some rights reserved.  Click on the link underneath the image to visit the photographer's webpage or for more information.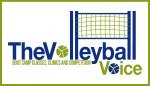 The Volleyball Voice
Boot Camp Class, Clinics and  Competition
Stupak Recreation Center, 251 W. Boston, Las Vegas, Nevada, 89142
Home to the Volleycats Elite Volleyball Club