4 Serving Tips For Volleyball Players To Add More Power To Their Serve
Here are four serving tips for volleyball players to add power to their serve...face your target, visualize your serve, toss the same way, serve like you spike
Here are four tips on serving for volleyball players to add power to their overhand serve.
Face your target

Visualize yourself serving

Toss the same way every time

Serve like you spike
Visualize yourself serving a tough volleyball serve that lands in the court, right to the specific position you are aiming for. 
Use the power of visualization as an effective mental tool before you serve.
See yourself going through the motions of your serving technique when you are off the court, so that when you are on the court, every serving motion comes naturally. 

Believe it or not, this is a great way of conducting your serving practice when you are outside or away from the gym.
Serving Tips For Volleyball
 -Toss The Ball The Same Way Every Time
It's critical when you proceed through all of the serving steps, that you toss the ball the same way every time you serve. 
Create a ritual that you will perform each time you serve so you 

don't

 

rush your serving process.
4 Serving Tips For Volleyball

Ella Serves An Ace Between The Left Back and Middle Back Passers
That ritual could be
bouncing the ball three times in a row

taking 

a breath

followed by pointing your hip and tossing arm in the direction 

you want to serve 
before serving.
Whatever your tossing ritual is, work it out so you do the same thing every time.
This helps you
especially if you have to serve after a long rally.
4 Serving Tips For Volleyball

Serve Like You Spike
Before you serve, you can follow two types of serving strategies. You can decide to either
If you decide that you are going to begin the play by attacking with your serve...
...then develop the ability to maintain the same mentality with your deep serves that you have with your spike.
Get aggro!  Be aggressive.  

4 Serving Tips For Volleyball

Toni with the float serve during Happy Hour Class Training
Many players mistakenly think that every serve of the ball should be just to start the rally.
This type of serve looks like an easy lob, high over the net just to get the ball over, to let the other team start the play.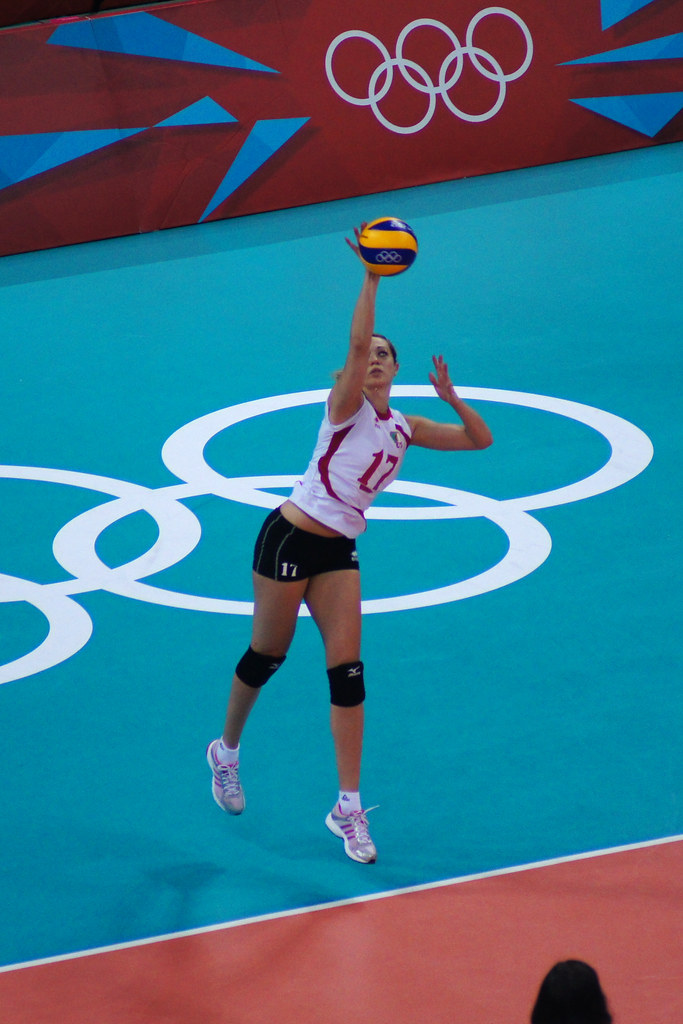 4 Serving Tips For Volleyball Players To Add More Power To Their Serve
In reality, your serve should first be used to score a point for your own team.
This has been an important message by your favorite volleyball coach! That's me!!
Thanks for visiting.
Be sure to check out more of my volleyball articles by clicking one of the links below!  (April Chapple)
Do You Follow Me on Instagram?
Follow me on Instagram @coach_apchap to improve your game even faster!
I share alot of individual, partner and easy-to-do volleyball serving drills we do in class with my followers.
Many of these volleyball practice drills you can do at home by yourself or try at your next practice with your teammates.

If you're a B team or JV player trying to make varsity next year...your goal should be to complete 1000 reps a day of at least three of the basic skills on your own...volleyball passing, serving and setting should be at the top of the list. 
4 Serving Tips For Volleyball Players To Add More Power To Their Serve
Where Do You Go From Here?
Where do you need to go now? Here are two options: 

Learn more about Volleyball Training by exploring the Related Links below. 
Follow the suggested reading on our Sitemap page  Learning How To Play (Sitemap)