A Setter Volleyball Checklist With Tips To Improve How To Set A Ball

Learn how to improve your setter volleyball technique with these tips that breakdown what to do with each body part. 
This setter checklist gives you a series of tips to use to check your setting technique, especially when you are doing setting drills by yourself.   
If you are on a quest to become a better setter then you first want to develop great setting technique.
You should become comfortable with the technical part of the setting skill before you begin to work on trying to outsmart the opposing team's middle blocker by disguising your set.
The Setter Volleyball Checklist
How To Set A Pass Coming
From The Backrow
If you're in the front row, and you want to set a volleyball that is coming from the back court, and you know that you are going to need to set the ball to your outside hitter who is in the front row with you, you first...
Then, you face exactly where you want to set the ball, so that all your force and energy is directed in a straight line and 

concentrated

 on getting the ball to your target before
You shouldn't be twisting or setting sideways or setting the ball over your shoulder while contacting the ball.
Not yet, save that for the college players or until you become much, much more experienced...
The Setter Volleyball Checklist
Whenever Possible Face Your Target Before You Set A Volleyball
Volleyball players should always remember to face or "square" themselves to their target before setting the ball!
,br>
Don't forget that your right foot should be 1-2 inches in front of your left foot. 

Since you have already squared up and are facing your intended target, your arms and shoulders should follow through straight up (not out, but up to the ceiling towards the ball!) keeping your shoulders close to your ears and keeping your arms in line with your body.
Once the ball is within reach of your hands, you 
The Setter Volleyball Checklist 
When you've finished setting the ball, I recommend that you do a self-check.
You can stop and hold your position to check and make sure that your arms are fully extended above your forehead and your hands are only 1-2 inches apart from each other still in the shape of a loose triangle.
Your palms should still be facing forwards towards your target with no breaking or flexing of your wrists!
Your fingers should still finish in the shape of a "broken" triangle.

This should be your finishing position when setting a volleyball.

Check your finishing position if your sets aren't getting where you want them to go.
More Setter Volleyball Checklist Tips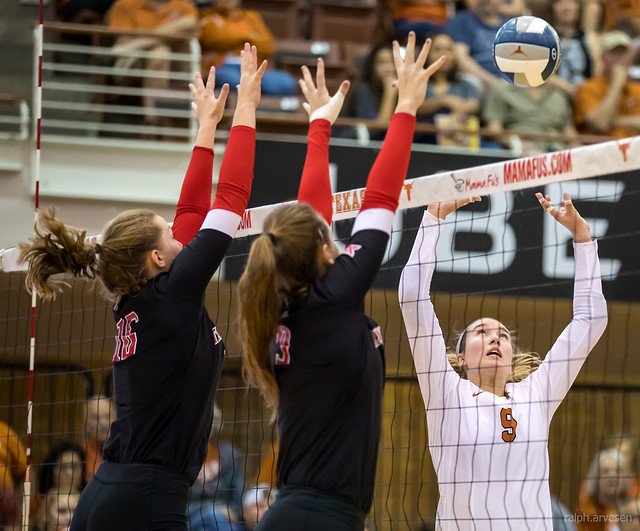 Your palms should still be facing forwards towards your target with no breaking or flexing of your wrists! Your fingers should still finish in the shape of a "broken" triangle. (Craig Fildes)
If you finish setting a ball and your arms finish on top of your head or behind your forehead your sets will not get to your

outside hitter

and will likely finish right where you are standing or on top of your head which makes it difficult for any of your intended hitters to hit or pass the ball.
Where is your body facing?
Where are your arms once you've finished setting the volleyball?

Is your butt sticking out?
When you set the ball its best to have everything lined up under the ball so hips underneath shoulders, shoulders lined up underneath outstretched arms ..ideally without body parts sticking out
This is why its important for young players to use their foreheads as their guide for correct body positioning.
Once your forehead is underneath the ball, then you use that as a guide for where your whole body needs to be lined up as well.
By following these tips, you will be able to tell by yourself whether you are positioned correctly to set a ball to the target.
Do You Follow Me on Instagram?
Follow me on Instagram @coach_apchap to improve your game even faster!
I share alot of individual, partner and easy-to-do volleyball serving drills we do in class with my followers.
Many of these volleyball practice drills you can do at home by yourself or try at your next practice with your teammates.

If you're a B team or JV player trying to make varsity next year...your goal should be to complete 1000 reps a day of at least three of the basic skills on your own...volleyball passing, serving and setting should be at the top of the list. 
Volleyball Tips 
Where Should You Go From Here?
Good times! Where do you need to go now? Here are three options: