Setter Volleyball Tips For Players Who Run The Offense

Volleyball setter instruction for players who need to run their team's offense. 
These setter volleyball instructions will help you set a ball better so you can run your team's offense.
If you are on a quest to become a better setter then you first want to develop great setting technique.
You should become  comfortable with the technical part of the setting skill before you begin to work on trying to outsmart the opposing team's middle blocker by disguising your set.
Setter Volleyball Steps
Setting A Pass Coming from The Backrow
If you're in the front row, and you want to set a volleyball that is coming from the back court, and you know that you are going to need to set the ball to your outside hitter who is in the front row with you, you first...
1. identify where the ball is going to come down
2. then quickly move your feet to get underneath the ball so that
you beat the ball to that location
3. then, you face exactly where you want to set the ball, so that
all your force and energy is directed in a straight line and
concentrated on getting the ball to your target before
You shouldn't be twisting or setting sideways or setting the ball over your shoulder while contacting the ball.
WATCH! Breno Buzin's video
Top 10 Best Setter Volleyball Actions
Not yet, save that for the college players or until you become much, much more experienced...
Setter Volleyball Skills
Whenever Possible Face Your Target Before You Set A Volleyball
Volleyball players should always remember to face their target before setting the ball!
Once the ball is within reach of your hands, you will lower your body into the slightly squatted position by bending your knees 3-4 inches into a loaded position.
Remember how you sit in a chair?

This means you feel like you are about to sit down in a chair.
Don't forget that your right foot should be about a couple of inches in front of your left foot. 
Since you have already squared up and are facing your intended target, your arms and shoulders should follow through straight up (not out, but up to the ceiling!) keeping your shoulders close to your ears and keeping your arms in line with your body.
---
The Setter Volleyball Self Check
When you've finished setting the ball, I recommend that you do a self-check.
You can stop and hold your position to check and make sure that your arms are fully extended above your forehead and your hands are only 1-2 inches apart from each other still in the shape of a loose triangle.
Your palms should still be facing upwards toward the sky with no breaking or flexing of your wrists!
Your fingers should still finish in the shape of a "broken" triangle.

This should be your finishing position when setting a volleyball.

Check your finishing position if your sets aren't getting where you want them to go.
More Setter Volleyball Tips on Things To Check
If you finish setting a ball and your arms finish on top of your head or behind your forehead your sets will not get to your

outside hitter

and will likely finish right where you are standing or on top of your head which makes it difficult for any of your intended hitters to hit or pass the ball.
Where is your body facing?
Where are your arms once you've finished setting the volleyball?

Is your butt sticking out?
When you set the ball using your legs this action alone usually produces the force and the power you need to get the ball long distances
If you set the ball with your butt sticking out this usually means you are setting with just the power of your arms which means you won't set the ball as far as you could if you were using the power of your legs.

This is why its important for young players to use their foreheads as their guide for correct body positioning.
Once your forehead is underneath the ball, then you use that as a guide for where your whole body needs to be lined up as well. By following these tips, you will be able to tell by yourself whether you are setting a volleyball correctly.

Good times! Where do you need to go now? Here are three options: 

Learn more about the Setter  in Volleyball by explorting he Related Links below. 

Follow the suggested reading on our Sitemap page 

Learning How To Play

 (Sitemap)

Or visit the pages in the Volleyball Positions section in the drop down menu at the 

top of the page

. 

Reintroduce yourself to Miss Ricci the Raccoon, #5 , the setter and team captain for the All Beast VolleyBragSwag All Star Team.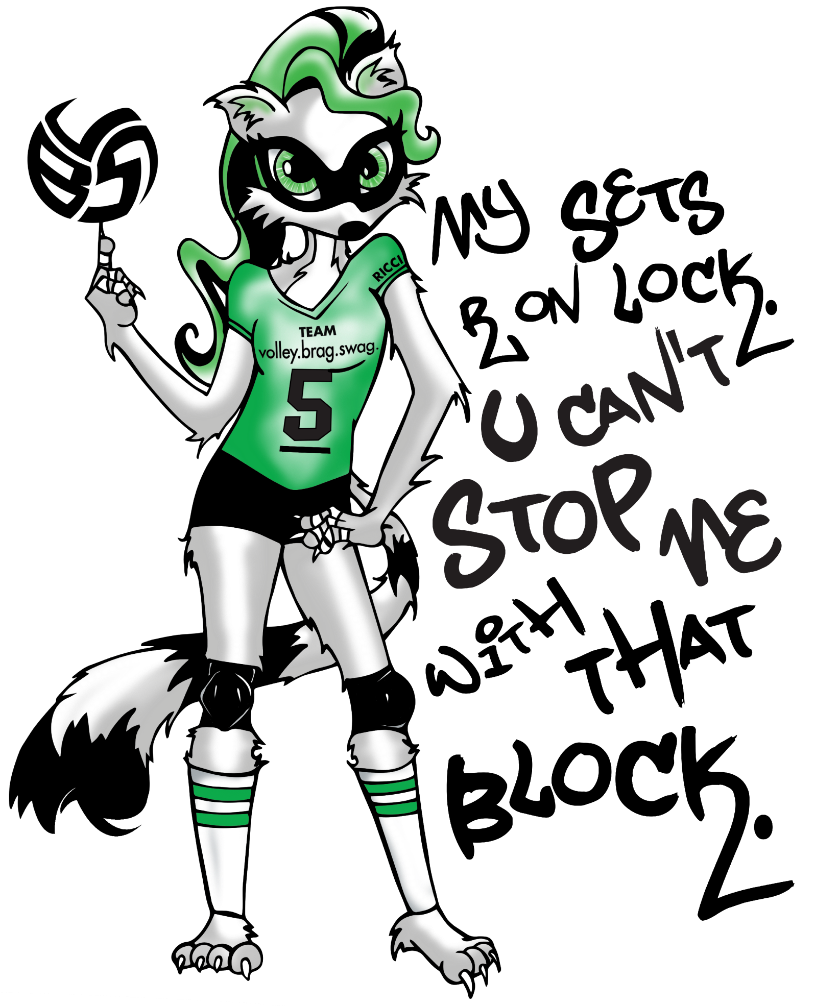 Related Links: 
Setter Volleyball Tips for Players Who Run The Offense
Ways To Improve Your Volleyball Setter Training
The Volleyball Setter Position: Who Leads The Team, Why and How
Ways To Improve Your Volleyball Setter Training
More Links:

Learn How To Serve A Ball Overhand