What You Ought To Know About Cool Volleyball Shirts By Volleybragswag
I created a line of cool volleyball shirts by Volleybragswag which combine popular volleyball slang that players know with the plural form of the word "ball."
My ETSY/Volleybragswag shop has cool volleyball shirts in my growing collection of tongue-in-cheek, funny and super clever sayings that you'd be proud to wear or give as a senior or coach gift idea. 

If you have a wacky sense of humor and are looking for really funny but cool volleyball shirts to give as a gift to a teammate? Or to surprise someone as a gift to your favorite libero mom? Or as an assistant coach gift? 
If you are, then you've come to exactly the right place!
Scroll down to check out examples from my latest collection. 
Whether you're looking for a
volleyball coach shirt, 
setter volleyball shirts, 
an end of volleyball season gift, 
libero gifts, 
middle blocker shirts as birthday gifts 
(or Christmas volleyball gifts) for yourself, 
your coach, 
your favorite volleyball mom, 
an awesome teammate or even 
a well-respected opponent in your life...you will find them in the Volleybragswag Etsy shop.
You know its illegal in volleyball for a team to contact the ball four times right? 
If it happens thats a definite whistle by the referee, a sideout for the non serving team, a point and a chance to rotate and serve the next ball. 
When your drills are done in volleyball practice, all the players need to go and pick up the balls and put them in the ball baskets or ball bags. 
The act of picking up the balls is called shagging...players shag balls by gathering them up after a drill so they can start the next drill.  
This unisex fit is 100% cotton (Heather colors contain polyester) and is so versatile that you should get two - one for when you need a gym workout shirt and one to use as volleyball streetwear in your off-the court moments.
This is a "must-have" in your growing Volleybragswag volleyball gift collection!
Buy 1-2 sizes larger for an oversized shirt fit....volleyball streetwear for the fellas and girls to pair with jeans, shorts or jean skirts....
These cool volleyball shirts are everything you've dreamed of and more. They feel soft and lightweight, with the right amount of stretch. They're comfortable and flattering for both men and women.
• 100% combed and ring-spun cotton (Heather colors contain polyester)
• Ash color is 99% combed and ring-spun cotton, 1% polyester
• Heather colors are 52% combed and ring-spun cotton, 48% polyester
• Athletic and Black Heather are 90% combed and ring-spun cotton, 10% polyester
• Heather Prism colors are 99% combed and ring-spun cotton, 1% polyester
• Fabric weight: 4.2 oz (142 g/m2)
• Pre-shrunk fabric
• Shoulder-to-shoulder taping
• Side-seamed
It's when your setter or whoever sets you the ball sets the ball so tight its already in the net before you get a chance to hit it.
So you'd tell your setter "Hey that was a trap set, I couldn't hit that because the ball was in the net Please set me further off the net next time, thank you!!"

One way to attack hit the ball is called a pokey and that's when you close your fingers to make a fist, then you turn your fist sideways so the forefinger and middle finger knuckles contact the ball to push it in the air or where you want it to go. 
Are you happy to play volleyball?
Are you happy to be a volleyball setter?
Show your happiness and spread the love with the Volleybragswag Happy Volleyball Face tshirt!
I know you're going to love it!
The Volleybragswag Volleyball Ball Logo
I created the signature Volleybragswag ball while working with a designer who originally started out by just creating a word logo. 
I thought the word logo by itself was unremarkable and boring.
But a word ball...now that's one of the most interesting volleyball t shirt ideas created for a logo. 
The ball is our trademarked logo and appears in all of our Volleybragswag volleyball t shirt ideas and designs in one way or another.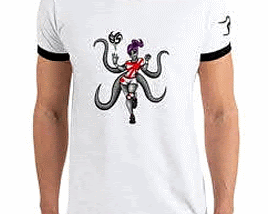 I know you're going to love the new Volleybragswag collection of beast inspired designs on 100% cotton volleyball shirts, hoodies and lots of other swag.  

If you haven't found your inspirational spirit animal on this page then be sure to find yours among the Volleybragswag collection of beast competitors in the list below
Cool Volleyball Shirts By Volleybragswag Sold On ETSY: 
Where Do You Go From Here?
Your three options are: 

You can learn more about Volleybragswag shirts and accessories by visiting the Related Links below.  

Follow the suggested reading on our Sitemap page   

Learning How To Play

 (Sitemap)

Or visit the pages in the How to Play Volleyball section in the drop down menu at the 

top of the page to 

get started.