How To Dig A Volleyball Better
Libero Volleyball Camps Offer Ways To Improve Your Defense Skills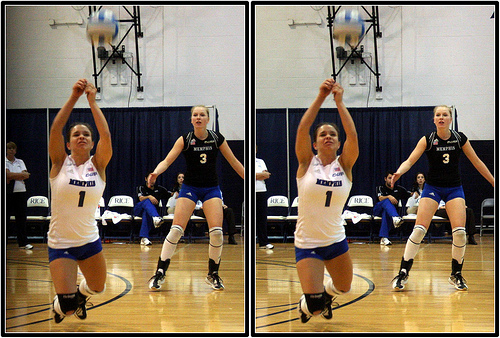 Learn how to dig a volleyball, better by attending specialized libero volleyball camps during the summer.  

In addition to reading the tips and articles on volleyball digging
on this site planning to attend a libero camp during the summer is a
great way to learn how to dig better. 
Defensive specialists,  liberos and players who want to learn how to
dig a volleyball better have their own specialized camps
where they can go to learn digging technique, while
improving defense skills, communication in defense while becoming
better back court players.
Learn How To Dig A Volleyball At Camp
With the growing numbers of female players specializing in the

libero position, there has been an increasing assortment of libero camps
that have been created around the country for all levels of players
who want to learn how to dig and play better defense.
The libero camp can come in the form of a one-day or multi-day clinic
offered to those players who are concerned about sharpening and
improving their digging and defensive back court game.
The back court skills usually covered are forearm passing, serve

receive, individual defensive techniques like the sprawl, the
extension, the roll and the dive as well as the study of different team
A player you should have a list of goals when attending a one day
libero camp or clinic which should include learning how to dig a
volleyball consistently to your front row setter or at least to the middle of
the court where she can get to it pretty easily.
Goals For Learning How To Dig A Volleyball
Other goals include knowing how to play in zones  1, 5 and 6
successfully, understand back row court positions, defensive
base starting positions and how to adjust to play defense behind
In some parts of the country, colleges and universities offer the
volleyball defense camp for tall girls.
These are usually  in the form of a "clinic" that is designed to give tall
players that usually only play front row, the opportunity to touch a
lot of balls in serve receive and a lot of repetitions in dig drills.
Since players should really try to become all-around
players, being able to play front row and back row is an invaluable skill
and definitely increases your playing time.
This type of camp provides instructions on defensive
movement, correction of a player's platform and ball contact point, as
well as different volleyball dig techniques.
If you are a tall volleyball player that only plays the three front
row positions and you want to avoid being subbed out every time you
go back to serve, you are going to have to learn how to dig in
volleyball and you may be interested in attending this type of defense
camp.
Before I go I wanted to review some tips I've mentioned in previous
articles which I hope will help you to choose the right libero camp.
One was to choose a camp with a low coach-to-player ratio.
Anywhere between a 1:6 (excellent) to 1:12 (average) should give you
a good opportunity to touch a lot of balls and to get your questions
answered.
Another was to attend a libero camp (or the camp of your
choice) at one or more of the colleges you may be interested in
attending in the future so you can get a feel for what it will be like to
play at that school.
The last tip I wrote about was to find a libero camp (or a skills camp of
your choice) that offers an experience that you can not recreate at
home by yourself.
So if a camp promises to give you an opportunity to learn how to dig a
volleyball by doing a lot of individual drills or conditioning that
you can do at home, find another libero camp that offers more
drill progressions where you go from simple drills to complex
drills with five other people involved or that offers more game-
like playing situations, situations that you can't do by yourself at
Submit Your 2018 Volleyball Camp Information For Free
Add your 2018 Summer Volleyball Camp Information to our Directory for free!

Free Volleyball Camp Advertising

Share it!

Do you want to write a review or comment about one of these volleyball camps that you have attended?

Now's your chance.