Famous Volleyball Players Kelsey Robinson  USA Pro Hitter and Libero 
It's been a minute since I've vlogged! I'm taking you with me through a typical training day at home in the USA Volleyball gym before leaving for Volleyball Nations League. xoxo
Famous volleyball players Kelsey Robinson is talented enough to be an elite pro level outside hitter and starting libero for the USA Volleyball National Team

 

Check out Kelsey on the court - the new commercial USA Volleyball Olympian Kelsey Robinson filmed to promote the Adidas volleyball brand which she showcased on her Youtube channel Kelsey & Brian. 
What do you think of her new commercial? Let me know in the comments below. 
Famous Volleyball Player: Kelsey Robinson
6' 2" Kelsey Robinson is a professional indoor volleyball player, lifestyle writer and 2020 Tokyo Olympics USA Volleyball Olympian.
       Introducing the Tokyo Olympics 2020       USA Men's and Women's Volleyball Teams
Kelsey Robinson (born June 25, 1992) is an American indoor volleyball player, a member of the United States women's national volleyball team and Turkish club Vakıfbank Istanbul, a participant of the 2016 Summer Olympics bronze medalist of the 2016 Olympic Games, 2015 World Cup, and a gold medalist of the 2014 World Championship (Metro Volleyball)

Kelsey Robinson: The USA Pro Indoor Volleyball Player Who's Passionate About Life.
Born and raised in Illinois, Kelsey graduated from St. Francis High School in 2010.

Nicknamed "Ke$ha" she discovered a passion and raw talent for volleyball early on in life which she began playing at just ten years old with the local youth club!

In college, Kelsey played three years of volleyball at the same school I attended and played for ...the University of Tennessee, Knoxville.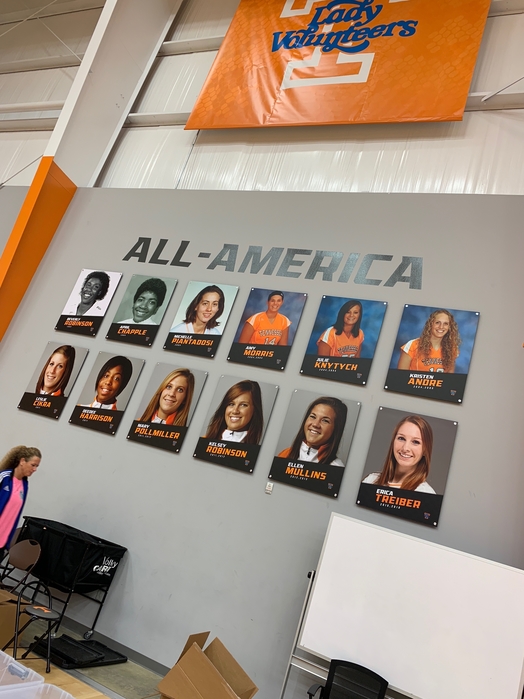 University of Tennessee Knoxville Wall of All Americans - That's me second from left in the top row and that's Kelsey Robinson, third from the right in the second row.
While at Tennessee in 2011, Kelsey was named SEC Player of the Year and AVCA All American Second Team. 
An inside look at SEC Player of the Week, Kelsey Robinson by utsportstv

A look at the Captain for the Lady Vols volleyball team, Kelsey Robinson.

Then she transferred her senior year and played for the Huskers at the University of Nebraska-Lincoln where after one year, she won the Big Ten Player of the Year, was named as an AVCA First Team All American in 2013 where she graduated with a degree in Broadcast Journalism.

The Nebraska Volleyball Team welcomed to two transfers from the University of Tennessee in the offseason. Hear from Mary Pollmiller and Kelsey Robinson in this Nebraska huskers video feature!

Here is 2013 AVCA First-Team All-American Kelsey Robinson (Nebraska) at the AVCA All-America/Players of the Year Banquet presented by Northwestern Mutual. This banquet was held in conjunction with the 2013 AVCA Convention in Seattle, Washington.

Famous Volleyball Player 
Kelsey Robinson
Pro Volleyball Career
Kelsey's pursued a full-time professional volleyball career after graduating from Nebraska. 
Her first pro team was in Beijing from 2014 - 2105 and she returned to the team for the 2016 - 2017 season. 
In 2015 Kelsey played for a Puerto Rican team Leonas de Ponce and in the same year was signed to play her first year in Italy one of the top league's in the world. 
Italy
In 2016 -17 she played in Italy on the Imoco Volleyball Team where she helped win a silver medal in the CEV European championship title match.
She was named Best Outside Spiker for the match.  

Istanbul, Turkey
In 2017 was Kelsey's first year in Turkey where she played for two years on the Vakifbank Istanbul.
Newly crowned 2018 - 2019 Turkish league champions, Kelsey and Zhu both play together professionally in the Turkish Champion league.

Watch how Kelsey documents what its like to win a Turkish championship game. 
8 months and one million games, it all comes down to one last game in our best of five championship series! We finished the season champions and I couldn't be more proud of this special group of humans!! Check out the moments before/after us winning and coming home to America :)

Famous Volleyball Players 
Kelsey Robinson 
International Volleyball Accomplishments
Meet Kelsey Robinson, outside hitter for the USA Volleyball Women's National Team. Video by ASU Cronkite School

In Kelsey's own words, "it's humbling to be one of 12 that get to wear that jersey when it's time to play, and it means everything" (Lincoln Journal Star, 2016.) 
Changing teams or getting a new partner on the sand can be a big life change. Professional volleyball athletes, like Kelsey Robinson, Phil Dalhausser and Lane Carico, give their tips to adapting to those changes, and not letting the daunting transition wear them down.

In 2014, Kelsey won gold at the World Championships alongside her national team, defeating China 3-1.
That same year she was selected for the USA Women's National Team in 2014 and participated at Montreux Volley Masters where she won a silver medal. 
When the FIVB Volleyball World Grand Prix Finals rolled into, Omaha, USA, one player who drew plenty of attention was Kelsey Robinson. With the international season now at an end, the FIVB is looking back at the best players from all of the major tournaments from 2015. The home crowd were familiar with the 23-year old's powerful hitting having seen her turn out for NCAA side Nebraska Huskers a few years earlier. Robinson duly delivered a devastating performance at the Finals to be named second best outside spiker as the hosts took gold.
She also won bronze at the World Cup in 2015 and in the same year at the FIVB World Grand Prix, Kelsey was named the second Best Outside Spiker. 
The highlight of her career was being selected to represent her country at the Olympic Games in 2016. 
In 2016, she was a participant in the Summer Olympics where she contributed to Team USA winning a bronze medal.  

Other notable awards include winning the CEV Champions League silver medal in 2016-17. 

2018 was a big year for Kelly and her teammates. 
She won gold in the FIVB Volleyball Nations League and came in 5th place in the FIVB World Championship.  
Famous Volleyball Players
Kelsey Robinson
Volleyball Trivia 
One of Kelsey's sporting heroes is Michael Jordon. Kelsey wears the no. 23 jersey as an honor to the NBA legend. 

On top of this, Kelsey also created her own YouTube channel, "Kelsey & Brian" that follows her personal journey as a professional athlete working internationally.
Watch a Day in the Life of a Pro Volleyball Player
Check out how I wake up in the morning and what I do to give my body that extra love it needs! Plus a few fun clips of what I do in Istanbul when I'm not in the gym.

She also founded her independent website, "Woman Play. 

In her website, Kelsey explores her passion for travel and adventure. 
She also promotes an active and healthy lifestyle, providing creative recipes, travel tips, and an exclusive insight into the world of a pro athlete.
Do You Follow Me on Instagram?
Follow me on Instagram @coach_apchap to improve your game even faster!
I share alot of individual, partner and easy-to-do volleyball serving drills we do in class with my followers.
Many of these volleyball practice drills you can do at home by yourself or try at your next practice with your teammates.

If you're a B team or JV player trying to make varsity next year...your goal should be to complete 1000 reps a day of at least three of the basic skills on your own...volleyball passing, serving and setting should be at the top of the list. 
Volleyball Professional:  
Where Do you Go From Here?
No need to guess where you need to go now? Here are three options: 
Learn more about

Famous Volleyball Players

by clicking the related links below. 

Follow the suggested reading on our Sitemap page    

Learning How To Play

 (Sitemap)

Or visit the pages in the How to Play Volleyball section in the drop down menu at the 

top of the page to 

get started.