Ten Steps On How To Bump A Volleyball To Maximize Your Serve Receive 

Learn to bump a volleyball so that you get the ball to your setter consistently by moving quickly to where you anticipate where the ball will be.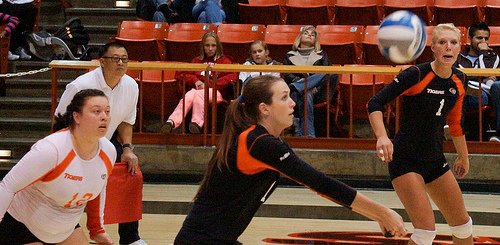 How to bump a volleyball: The pass is the first contact a player makes when their team is receiving the serve of the opposing team.
When you learn how to bump a volleyball, you are learning how to transfer the ball from one player to another or over the net
without letting the ball come to a complete stop

while clasping both hands together at the wrists and 

contacting the ball above your wrists and below your elbows 

on your forearms 
Whether you call it the "volleyball bump", the "serve receive", the "underhand pass" or the forearm pass every player needs to master the art of controlling the ball. 
To control the ball and deliver it to your intended target consistently (most often this is to your setter) you need to improve the accuracy of your forearm pass.
Learn How To Bump A Volleyball In Ten Steps
Here are my 10 volleyball tips you can use to maximize your serve receive and passing skills. 
1. Keep your feet shoulder - width apart, with your legs slightly bent.
Having your right foot 1-2 inches in front of the left lets you move quickly in any direction.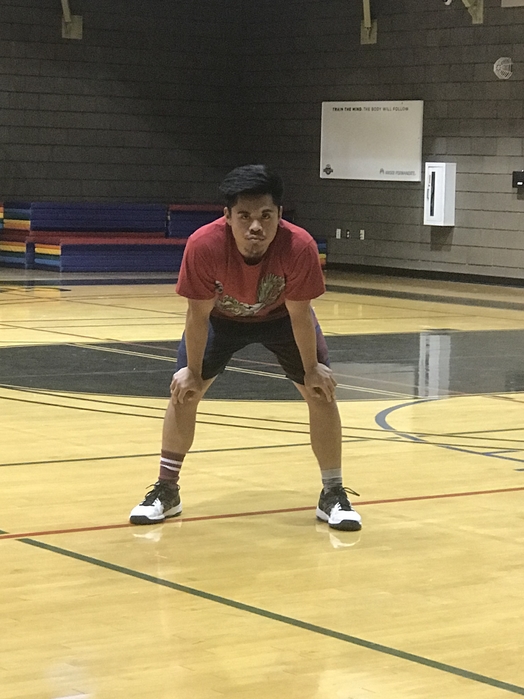 Prep Passing Position: Before the whistle and while you're in serve receive you should watch the server and talk to teammates about passing responsibilities. Have your hands on knees. (photo April Chapple)
  Coach April Chapple's Volleyball Passing Tips For Youth Volleyball Players
How To Bump A Volleyball
How Do You Create Your Platform?
2. Create your platform by wrapping your left hand around your right fist, with your thumbs pointing straight down to the ground.
This positions your elbows and arms in a straight platform.
3. Contact the ball on your forearms.
Check that your thumbs are always pointing to the ground, which helps you maintain the straight platform needed to pass the ball. 
Passing in Volleyball: When Passing Face The Net, Drop The Inside Shoulder and Angle Your Platform

4. Keep your elbows straight while in serve receive.
Straight elbows maintain a wider platform, giving you maximum control of the ball. 
How to bump a volleyball: Keep your elbows straight by pointing your thumbs to the ground when you bump a volleyball. (photo April Chapple)
5. Press both wrists together when passing, without breaking them apart no matter how hard or easy the serve.
Make ball contact above the wrists and below the elbows. Contacting the ball on your wrists won't allow you to control the ball. 
6. Keep both arms together when you learn how to bump a volleyball.
Keeping them together instead of breaking them apart and passing with one arm helps guide the ball better to the target.
7. Square your shoulders to the target.
Face your body to the net and angle your platform towards the target before contacting the ball. This eliminates adjusting your arms once making contact with the ball. 
8. Remember your goal is to keep from swinging your arms during the serve receive.
Most serves in high school, club or college are fast enough so very little additional arm movement is needed for the ball to reach the target. 
Don't swing your arms when you pass the ball. Keeping your platform too close to your body forces you to swing. Instead keep your platform a ball's distance away from your body.  
9. Finish your pass with your serve receive platform below your shoulders not above your head.
This allows you to control the ball when keeping your arms and shoulders within your body range. 
10. Move your feet first to position yourself behind the ball as much as possible.
Get your body behind the ball instead of reaching with your arms. "If you've heard your coach say "pass with your feet first"" they mean to let your feet not your arms be first in guiding you in serve receive. 
Beat the ball to where you think its going to land in your court and get there before the ball does instead of timing the ball and getting to the spot at the same time.
You need to learn how to bump a volleyball in order to make your freshman, JV or high school varsity team and it's important for you to learn how to move quickly to get to the ball.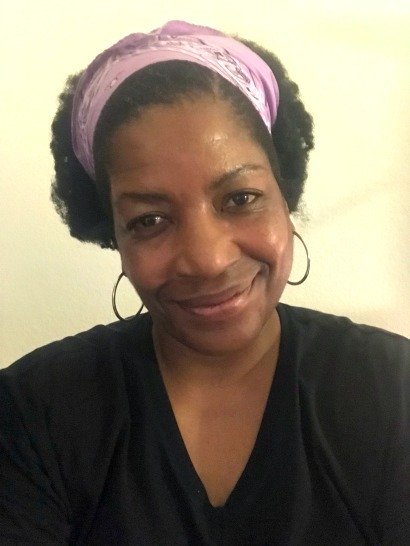 This has been an important message by your favorite volleyball coach! That's me!!
Thanks for visiting.
Be sure to check out more of my volleyball articles by clicking one of the links below!  (April Chapple)
Do You Follow Me on Instagram?
Follow me on Instagram @coach_apchap to improve your game even faster!
I share alot of individual, partner and easy-to-do volleyball serving drills we do in class with my followers.
Many of these volleyball practice drills you can do at home by yourself or try at your next practice with your teammates.

If you're a B team or JV player trying to make varsity next year...your goal should be to complete 1000 reps a day of at least three of the basic skills on your own...volleyball passing, serving and setting should be at the top of the list. 
How To Play Volleyball: 
Where Do You Go From Here?
Your three options are: 

You can learn more about Volleyball Passing by visiting the Related Links below.  

Follow the suggested reading on our Sitemap page   

Learning How To Play

 (Sitemap)

Or visit the pages in the How to Play Volleyball section in the drop down menu at the 

top of the page to 

get started. 

Before leaving this page Say "Hi" to  Ms. Resee the Kangaroo, wearing the #11 jersey below. She's a left side hitter with precision passing and a member of the VolleyBragSwag All Beast Third team.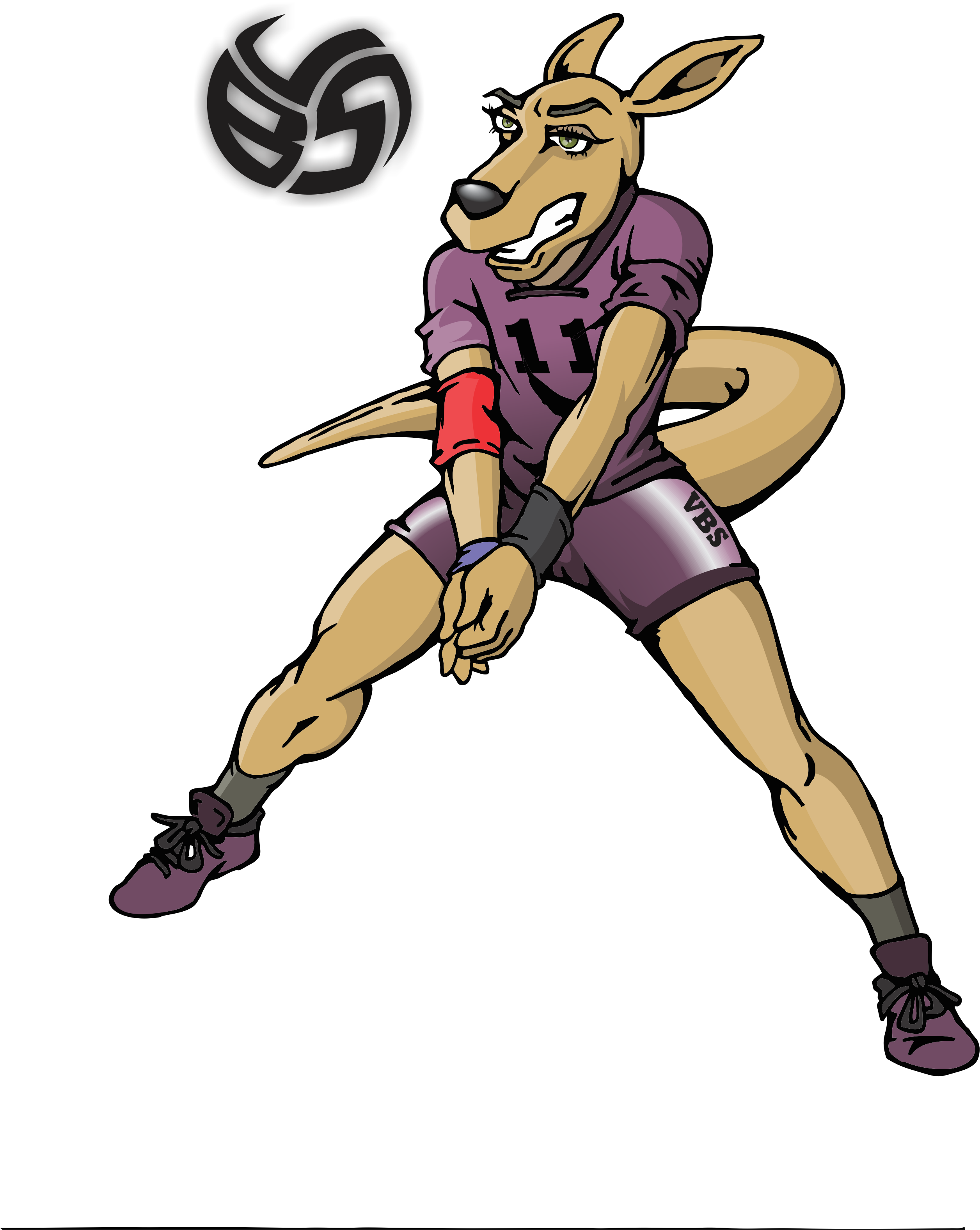 Say "Hi" to Ms. Resee the Kangaroo, wearing the #11 jersey below. She's a left side hitter with precision passing and a member of the VolleyBragSwag All Beast Third team.